The Vintage Japanese Jacket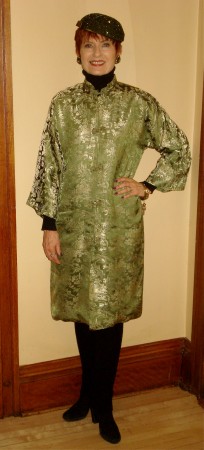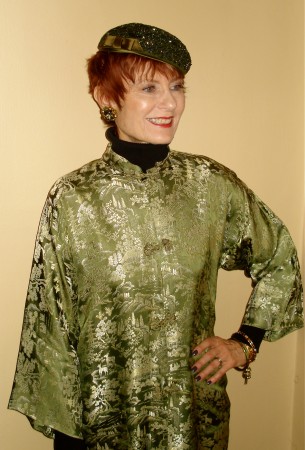 Photos by Nelson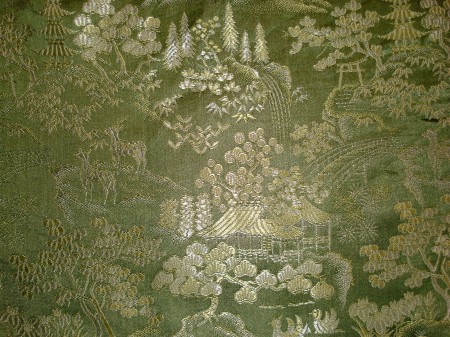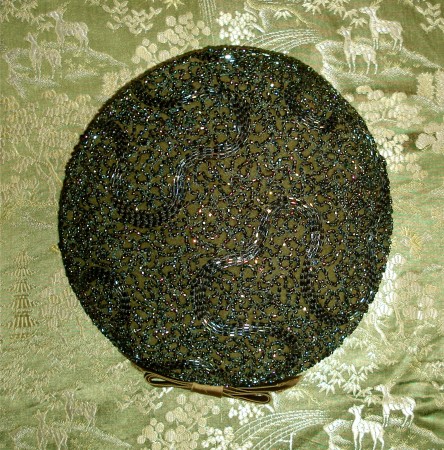 Photos by The Style Crone
Vintage sage green Japanese jacket and vintage green beaded earrings-estate sales, vintage green beaded hat-gifted.
Last evening The Style Crone briefly attended a friend's birthday celebration with Nelson's strong encouragement and with cell phone close at hand. For this event I chose to wear a timeless vintage Japanese jacket which has been a part of my extensive  Asian collection for about 25 years.  When I wear this jacket, I feel like I'm a walking meditation. I adore the beautiful, serene and repetitive scenes in this green on green patterned rayon. Calling all experts – is there a term for this type of fabric?
I wore this beloved piece for a presentation on 'Domestic Violence Awareness in Health Care Systems' in Portland in the mid 90's, and yesterday as the jacket softly covered my shoulders, seminar memories flooded my thoughts.  Participating creatively in areas that I felt strongly about and engaging in activities that matched my values was what I loved the most about working in health care.  Choosing the outfit for each experience was always a part of my self expression and process.  For the most part I was fortunate to have supervisors who supported and enjoyed my love of hats.  I have been known to change jobs when the environment was not hat friendly; spending time in a 'hostile hat environment' would be unthinkable for The SC!