Several weeks ago Daniel and I met at Camp Christmas, the campy immersive experience created by my friend, revered installation artist Lonnie Hanzon and his partner Terry Keopsel, in collaboration with the Denver Center for the Performing Arts. Lonnie and Terry have been friends since 1982, when Lonnie created jewelry for my hat shop. Since then I have watched he and Terry during each amazing era of their artistic evolution. I adore both of them and I view them as family. With this blog post I share a very small portion of Camp Christmas, which will be open through January 5th at Stanley Marketplace in Denver.
Lonnie is best known in Denver for designing the Evolution of the Ball sculpture at Coors Field, The Wizard's Chest, and the Clocktower Cabaret, as well as the original Parade of Lights floats. Other major Colorado installations can be seen at Palazzo Verdi, MOA, Marjorie Park, Red Rocks Community College, Denver Pride celebrations and throughout the Kenneth King Performing Arts Center. His national and international work includes large outdoor urban entertainment projects including Houston Zoo Lights, immersive visual merchandising displays and fine art for Neiman Marcus, and large-scale displays and events at Hong Kong's Pacific Place.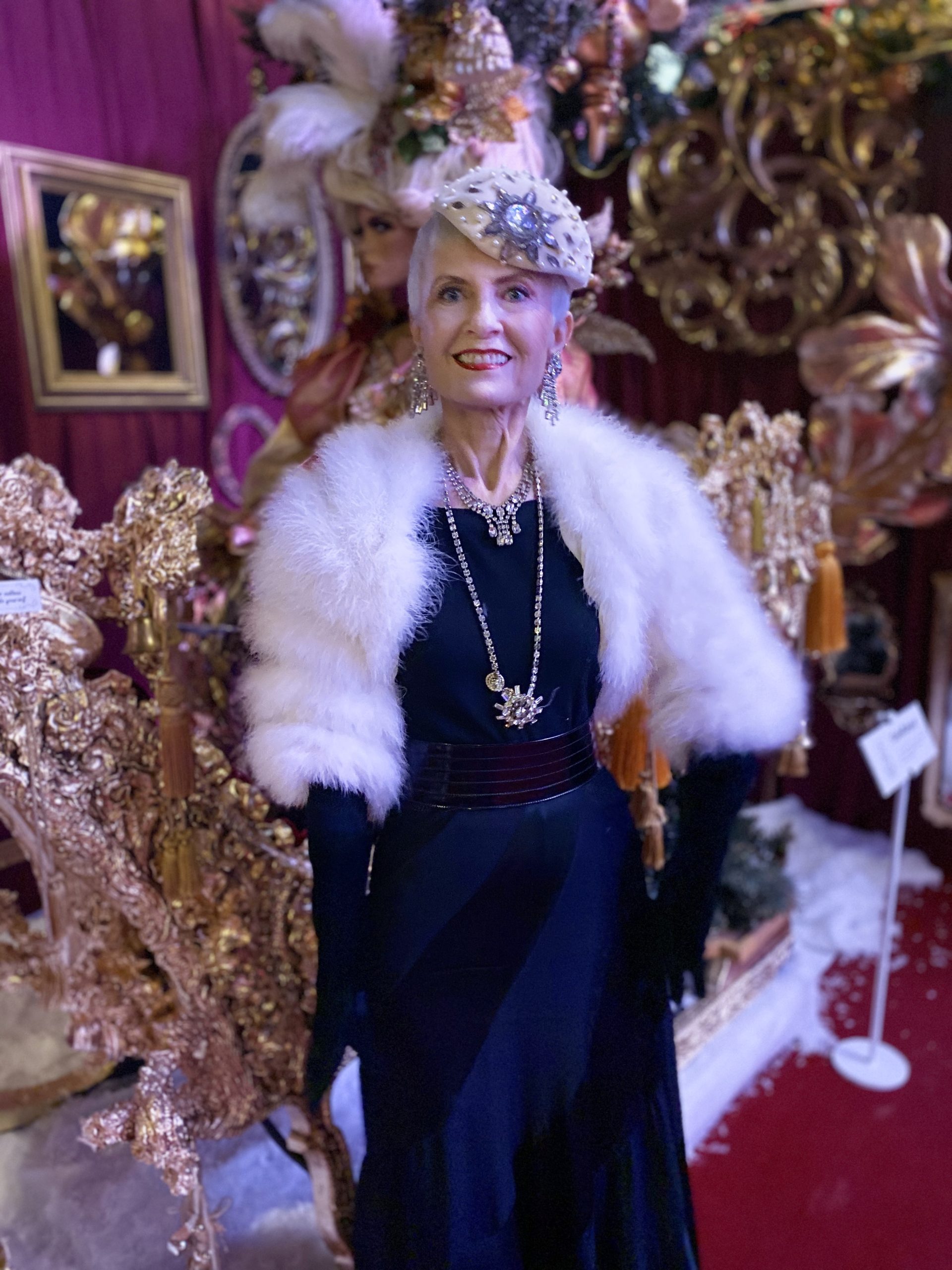 The installation travels through a variety of Christmas eras starting in ancient Rome and covering the Renaissance, Baroque, Rococo, Victorian, Art Nouveau, Art Deco, mid-century modern, disco and present day. Traditions of the past and present come together in a massive 10,000-square-foot yuletide wonderland. A secular experience, Camp Christmas is a sensory sensation, a light show, and a mesmerizing display of art.
"As you move through these different environments, you create your own narrative and you discover your own throughlines and surprises," Lonnie was quoted during an interview. "This journey through the history of Christmas is really the history of our very human need to find light in the darkest time of year. It's a journey to find community and warmth and celebration. We're telling the story of how we've celebrated this thing we call Christmas for the last 2,000-plus years."
Camp Christmas is for all ages. For children there is cocoa and for the adults, there is a Santa Bar which provides opportunities to do period toasts in each environment. In the above photo I'm at the Santa Tiki bar and feeling very merry. And that's without the enhancement of a drink!
My experience with Camp Christmas was profound. My favorite spot was the pink room, where pink is not just a color – it's a place. This experience deserved two outfits, and in the initial photos above, my vintage feather jacket, vintage Schiaparelli headpiece, and shimmering vintage rhinestones were embraced by the radiance of the sumptuous surroundings.
My second ensemble was composed of my vintage red maxi coat trimmed with black velvet and my red top hat by one of my favorite milliners Cha Cha. I felt as though I was part of the installation as I became a camp-goer, strolling through the most campy extravaganza that I've ever experienced!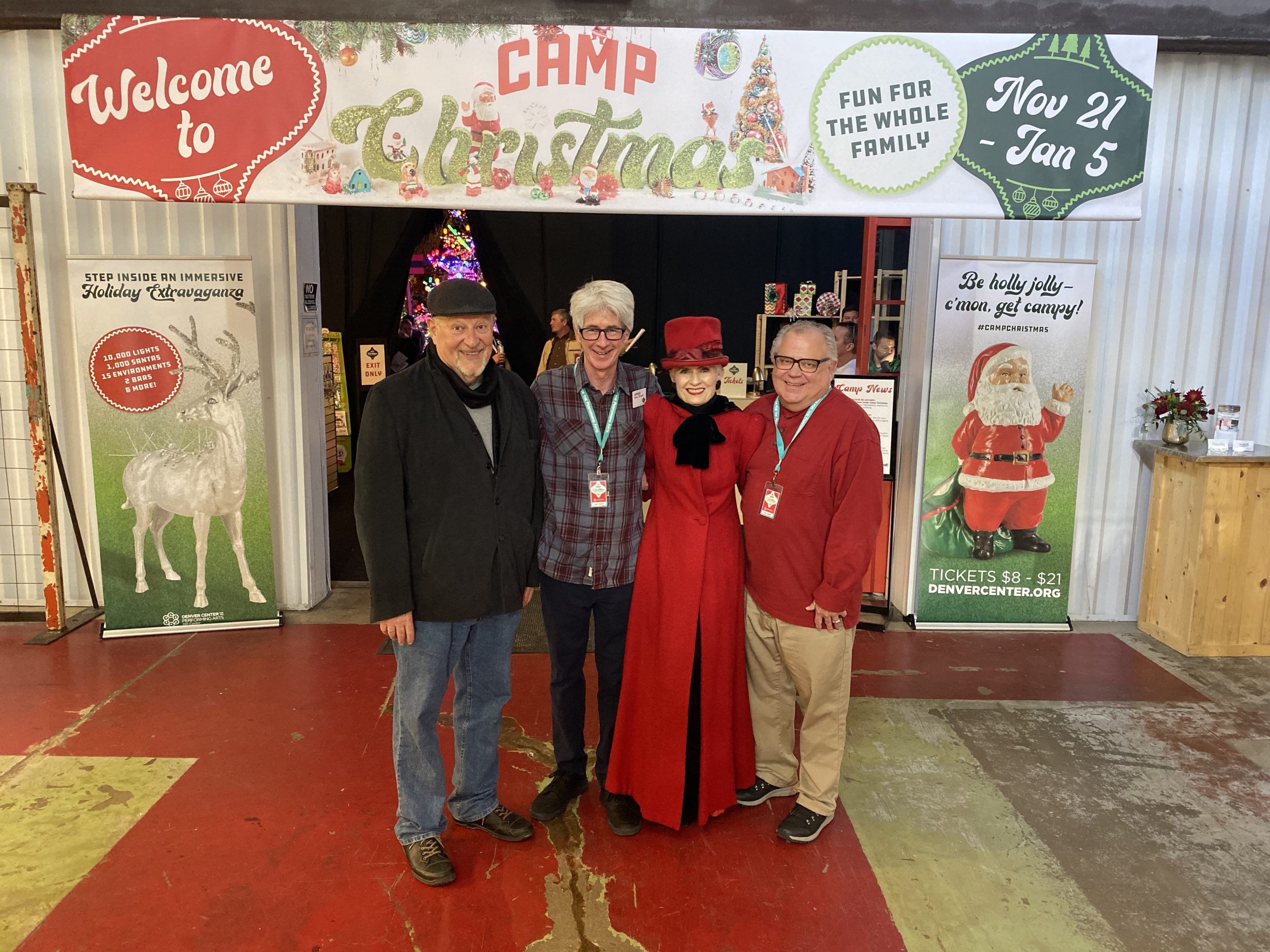 Photos by Daniel
The photo above includes, from left to right, Daniel, Lonnie, myself, and Terry. If you live in the Denver area, tickets for Camp Christmas are available HERE I highly recommend this highly entertaining and festive holiday immersion!
Happy Holidays to my wonderful followers, whether or how you celebrate the season, or you don't. I appreciate each and every one of you, as I approach my 10-year blogaversary. Style Crone wouldn't exist without you, and I am very grateful.