The Idiosyncratic Fashionistas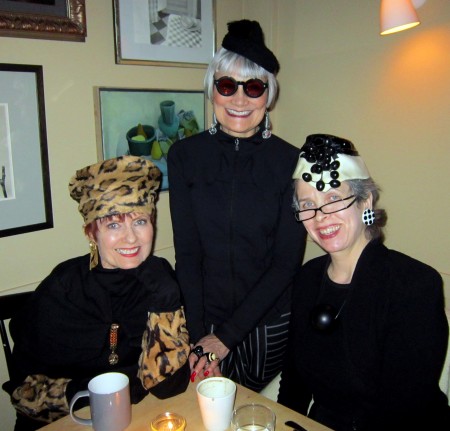 The IFs and The SC.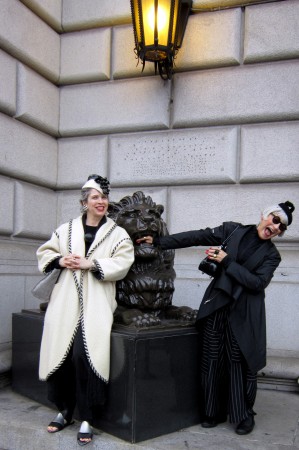 Never a dull moment!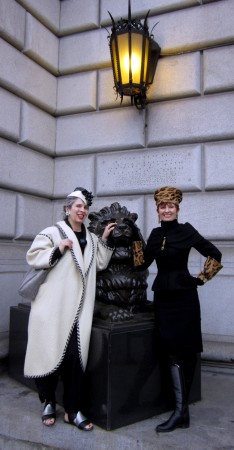 Valerie's vintage hat with moving fruit on the Bowery.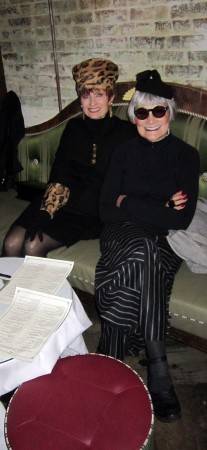 Cocktails while admiring Jean's hat designed by Ignatius.
All photos courtesy of The Idiosyncratic Fashionistas
What are the chances that The SC would meet a woman who was in love with hats AND enamored with the concept of crone self-identification.  In walk the Idiosyncratic Fashionistas (The IFs for short) and I meet not one, but two women who are also hatted crones.  On the eve of the scattering of ashes, The SC met the IFs at Tender Buttons (a button store that made my heart sing) and the hat-venture evolved from there.  Nelson would have highly approved of the frivolity that was about to begin!  The IFs blogged about our time together with their usual humor and remarkable commentary.  CLICK HERE to check out the Idiosyncratic Fashionistas, more photos, and the details described in their post, 'Cronology and What Happens When Crones Collide.'  No one knows how to tell a story like The IFs.
I found the IFs before I launched Style Crone, and was inspired by their motto, 'Growing old with verve!'  I have to say that they are as witty, warm and stunning in real life as they are on their blog. After meeting at Tender Buttons, the itinerary included Julie Artisan's Gallery, a trip on the train downtown to Apotheke for cocktails, dinner at a Latin Bistro, and coffee and more conversation at another spot close by.  Though my camera was not in hand, The IFs kindly sent the photos which documented the best possible way to spend the eve of Nelson's NY memorial service.  The 'Deal Closer' cocktail at Apotheke didn't hurt either.
As our glorious time together came to an end, Jean and The SC stood on a cold and windy street corner in downtown Manhattan while observing Valerie's impressive and highly developed cab hailing' skills; laughing and waving wildly I was whisked off into the night with memories that I continue to savor as I wait for the IFs to blog about their appearance at the Easter Parade.  The SC cannot wait for another fun filled crone collision and the hats that will surely accompany the occasion.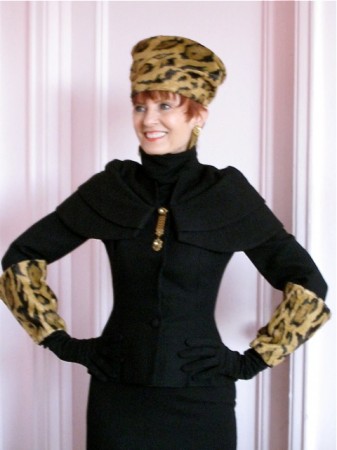 As The SC prepared to fly out the door to meet the IFs, my dear friend Jackie HERE (who generously offered her apartment as our home for the weekend) took this pic of the outfit of the day:  Norma Kamali leopard print toque and gauntlets – The SC's hat shop 1980's, black wool vintage jacket and pencil skirt – purchased from a friend's inventory (some people really do downsize),  vintage pin and earrings – estate sales, and the boots that didn't leave my feet during my entire NY visit.  This ensemble will be making a visit to Patti's Visible Monday!