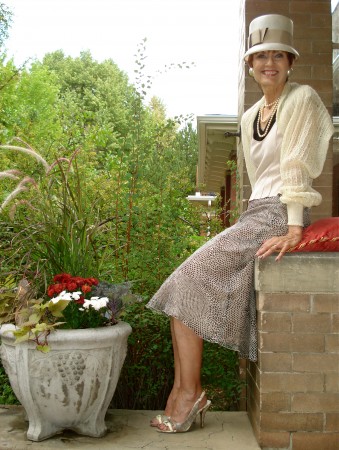 The SC was inspired by this 60's off-white tower of straw which has been providing entertainment from its perch in the hat room for several years.  It was purchased at an estate sale and I've often wondered about the mysteries and adventures that had been absorbed in the past by this crown of glory.  How could I honor its splendor with an outfit that reflected its collection of neutrals, including the slivers of black in its wide ribbon trim?  So with my tongue in my cheek, I set out on the journey of creating an ensemble for the love of a hat.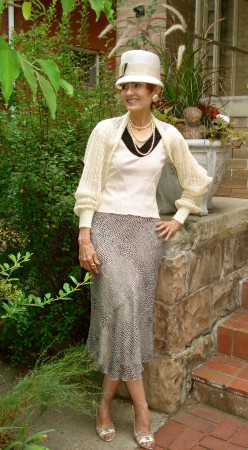 For the first day in months, the weather allowed the addition of an estate sale off white shrug layered over an off white and then black tank.  The silk snake-print patterned skirt purchased at a flea market played with the consignment store snake-print heeled sandals which adorned crone feet.  The over sized pearl earrings and strand of pearls were also discovered at estate sales.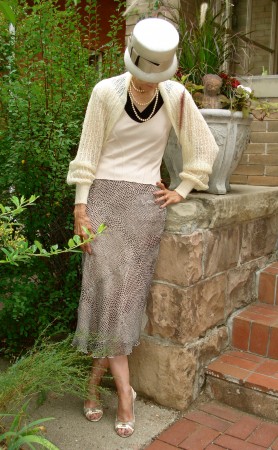 Photos by Diana
This is not the hat to wear to the theatre, but it would be fun to wear to lunch with friends who have a sense of humor at a restaurant with white tablecloths with a little wine on the side.  Life is too short not to tip my hat with a wink and a smile.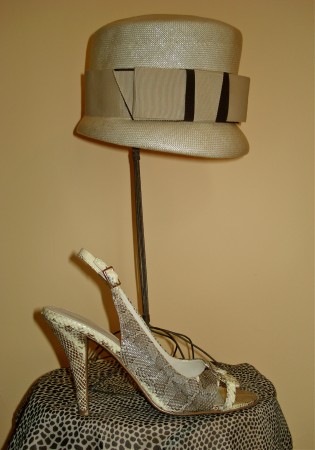 Close up of hat with reptilian shoes and skirt.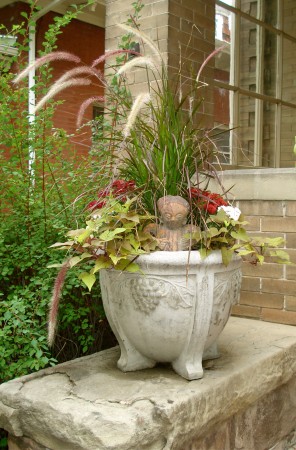 The SC has been working on the pots which frame the front porch for months, since the pansies that my dear friend planted in April took a hit during the intense heat of the summer.  By the time I finished the plantings this past week (a little late, I know) fall flowers had replaced summer in my favorite garden center, so mums and ornamental cabbages were added to the regal ornamental grasses and sweet potato vines awaiting a touch of color; the intact piece of the primitive goddess that took a fatal tumble off a shelf in the back garden found a safe refuge tucked within the foliage.  Even planting pots has become a work in progress!
Thank you to the generous Idiosyncratic Fashionistas HERE for the support of The SC and other over 50 bloggers on the Huffington Post's 'Fashion Over 50'  piece last week and for their mention of Bella's list of +40 bloggers on The Citizen Rosebud HERE.  The line-up of fabulosity is getting longer by the day, all worthy of recognition and applause!
The 60's tower of straw is linking up with Patti's Visible Monday HERE!