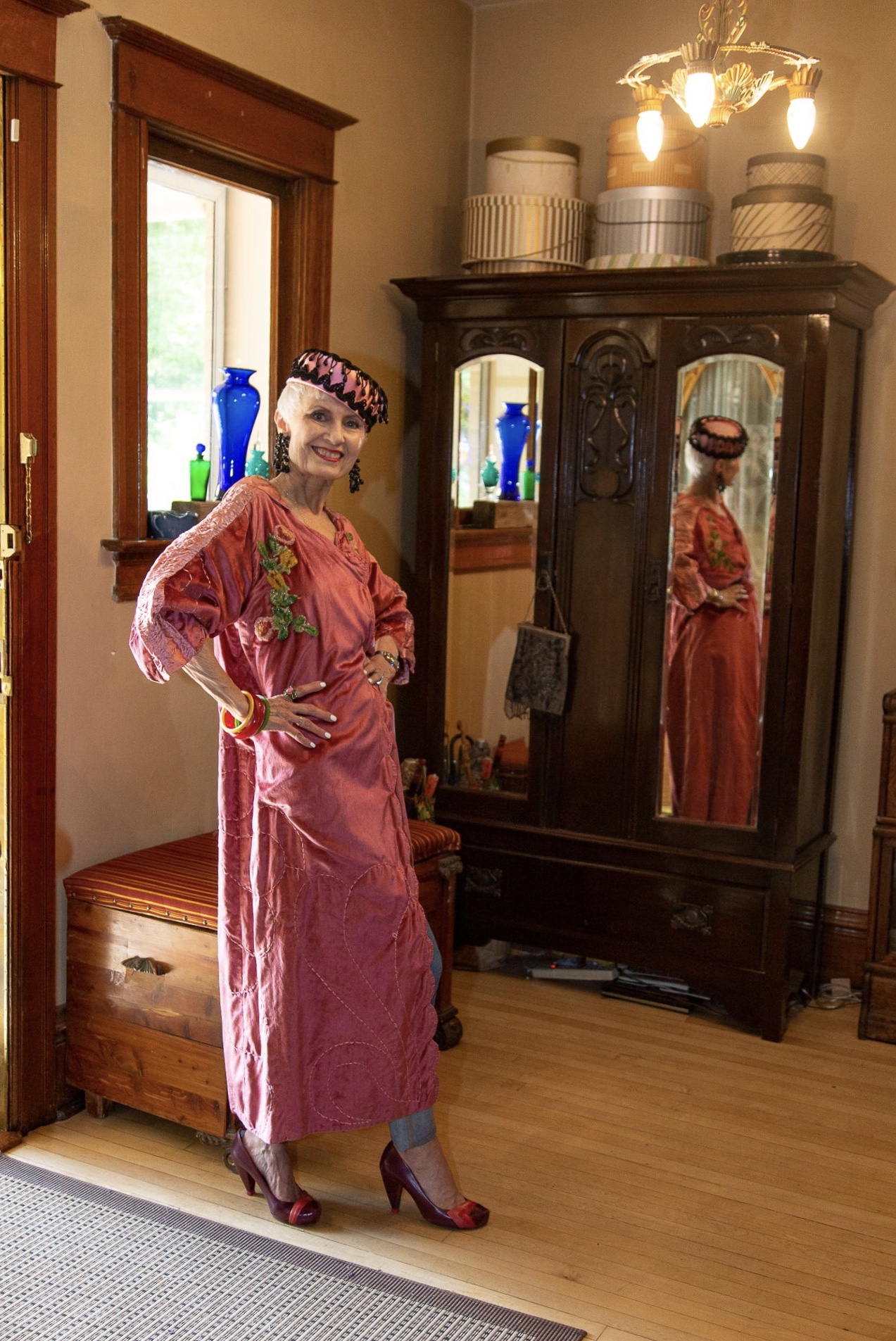 Welcome to my home, as I continue with a virtual tour of my sanctuary. Entering the front door on a daily basis gives me much pleasure, as I am surrounded by furniture and home accessories that I have collected over many years. Call this area a foyer, entrance hall, hall, hallway, entrance, entry, entranceway, entryway, vestibule, or reception area, it's how I gain access to the rooms that I hold dear.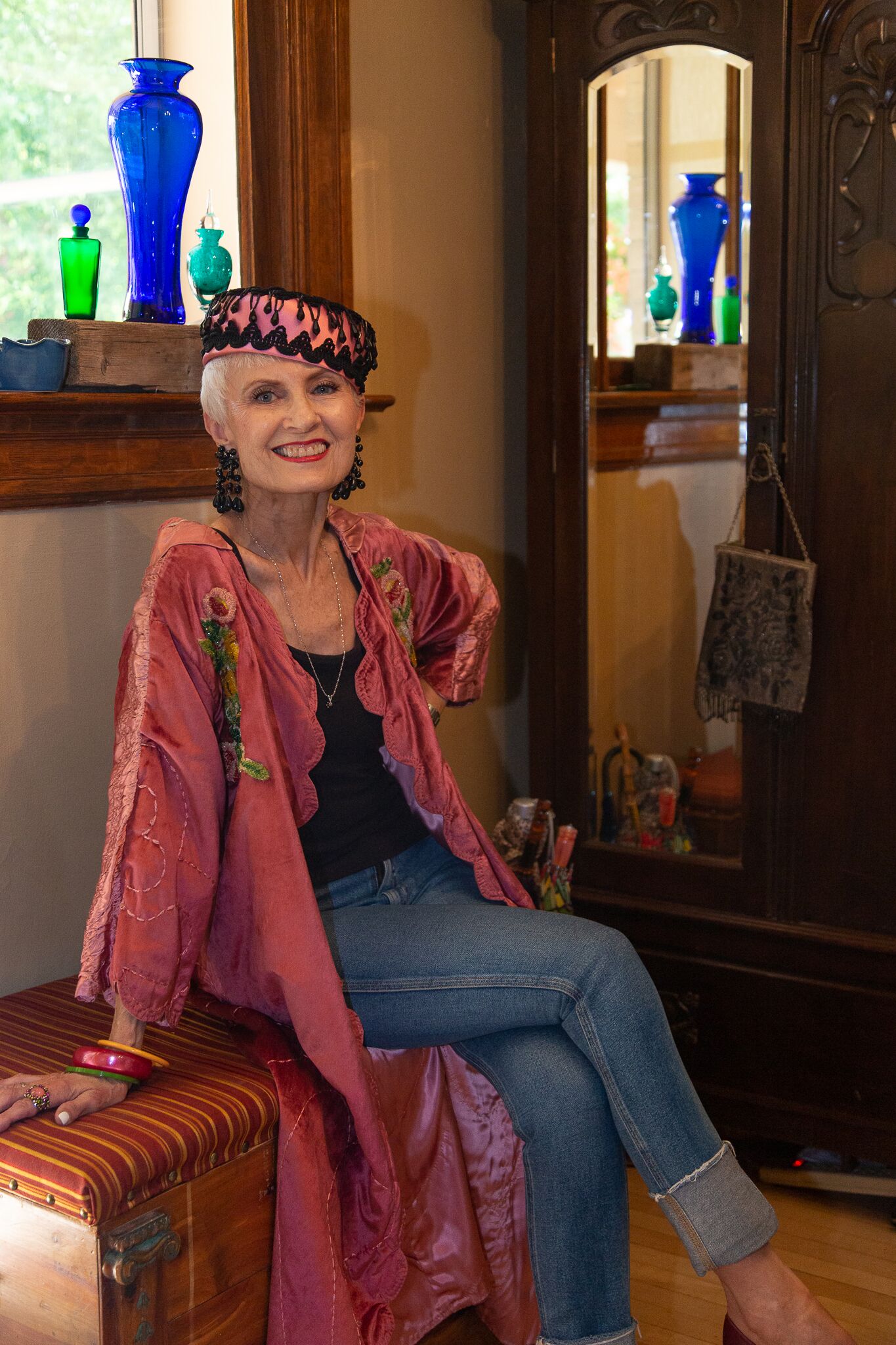 Most everything in my home, including my clothing and accessory collections, has been discovered at an estate sale, yard sale, thrift shop, or consignment store. The antique armoire in the photo above contains my bag collection and the cedar chest that I'm sitting on holds many a vintage tablecloth and other table adornments.
Long term followers of my blog may remember that this is the armoire that nearly killed me seven years ago in my efforts to move it into the foyer HERE. Lucky for me we're both standing!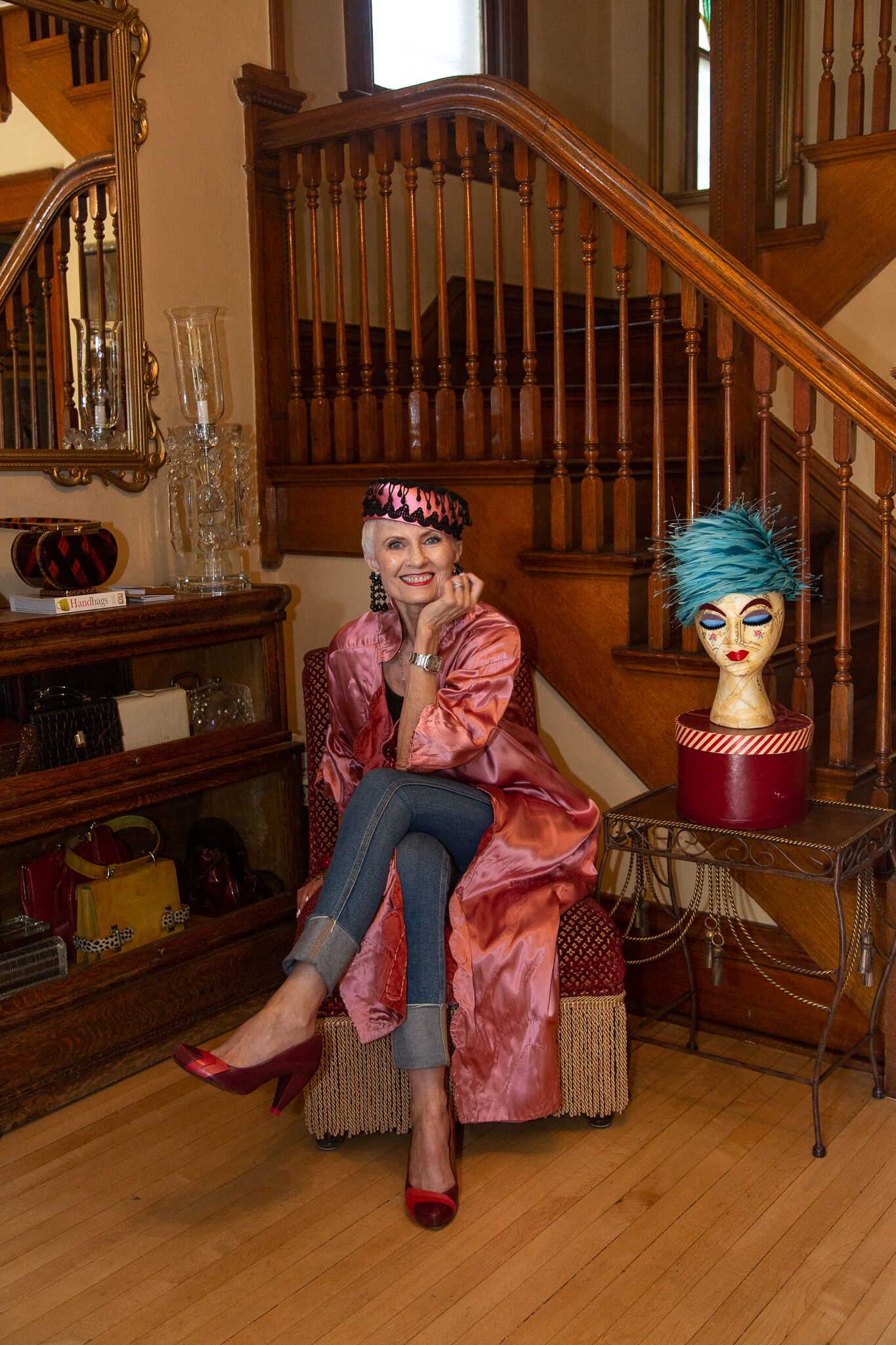 To the left of me in the photo above is a mirrored cabinet found in our alley in the 1970's. It used to hold books, but now it showcases some of my favorite bags. To my right is a small table which displays a hat box, a manikin head by my friend; artist, milliner, and blogger Carol Markel; and one of my best-loved feather hats. I'm sitting in front of the grand staircase that leads to the rooms upstairs.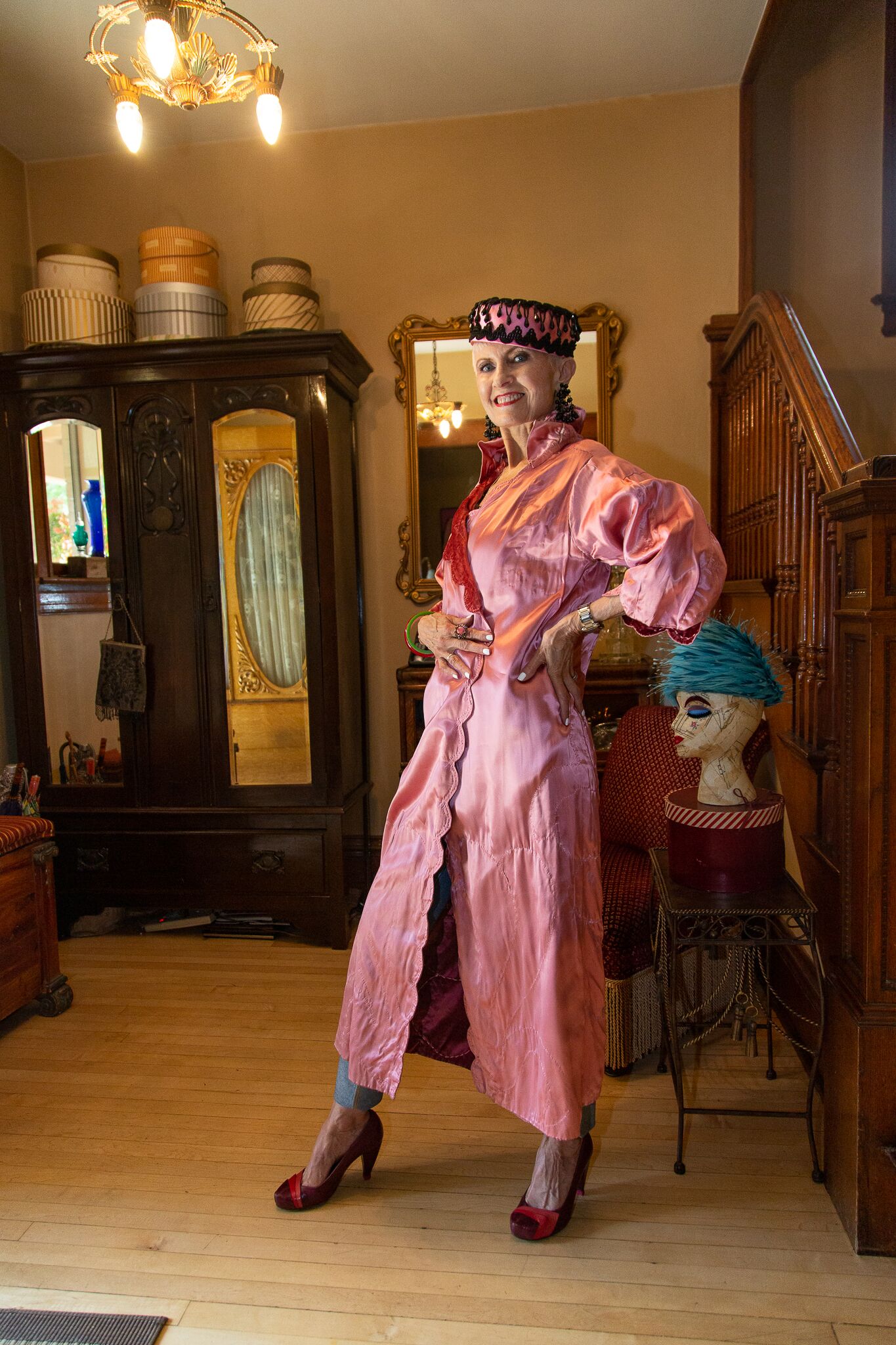 Of course I have hat boxes on top of the armoire.! It's the perfect way to store out of season headwear, and they add to the atmosphere of any room.  The antique fringed armless chair in the background and the vintage gold leaf framed mirror are both estate sale finds over the years. The original front door can be seen in one of the armoire mirrors. It's a piece of art that I admire every time that I turn the knob on its hand-carved wooden surface.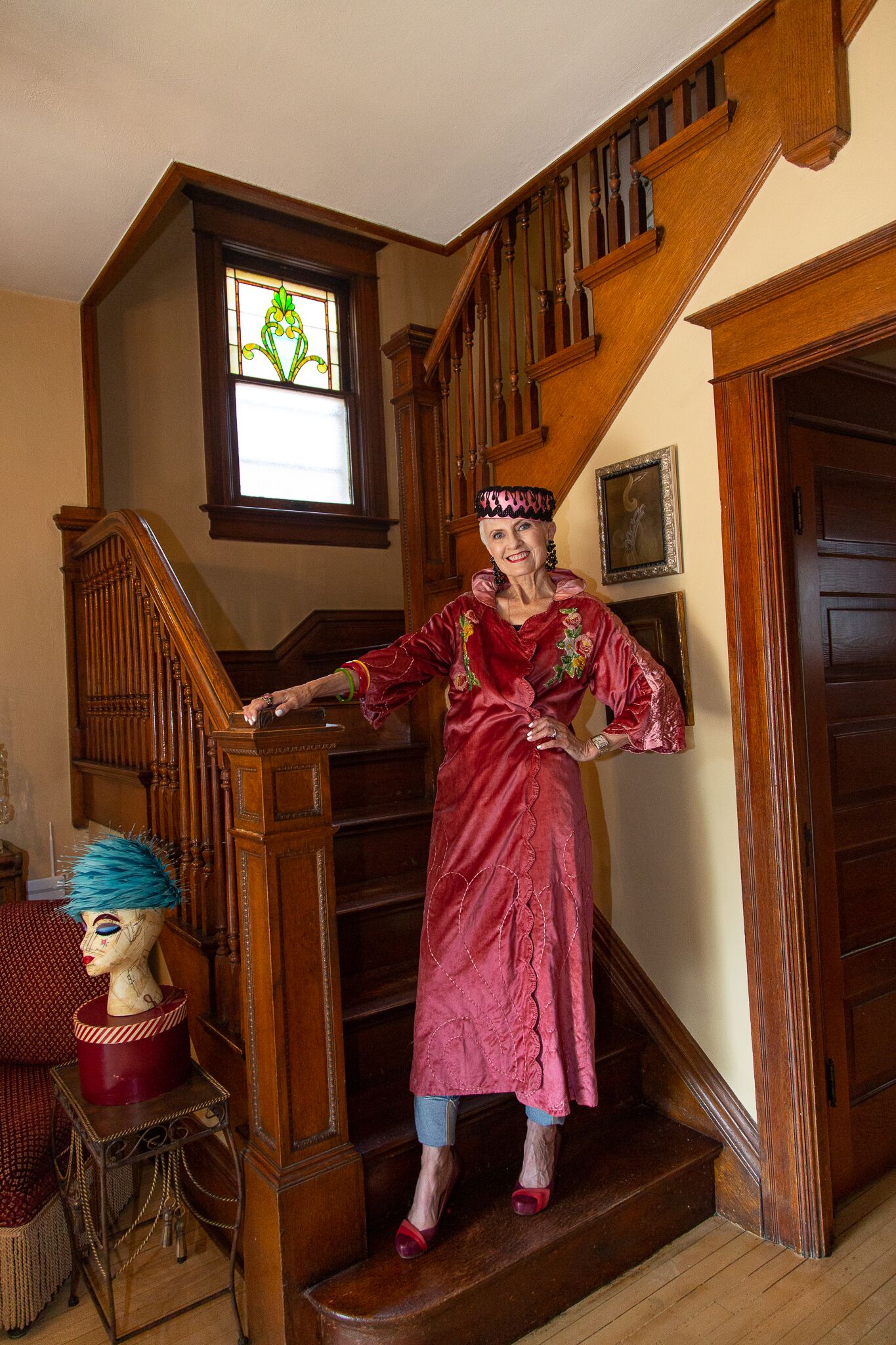 This area in the entryway, by and on the staircase, is where my blog began.  Nelson photographed me in this space on many occasions. All of the wood in my home is original, dating back to 1907.
As with my clothing collection, I feel as though I'm the caretaker of history and I take this role seriously.  This is why I fix up my home as much as I can when I can, and I revel in the results.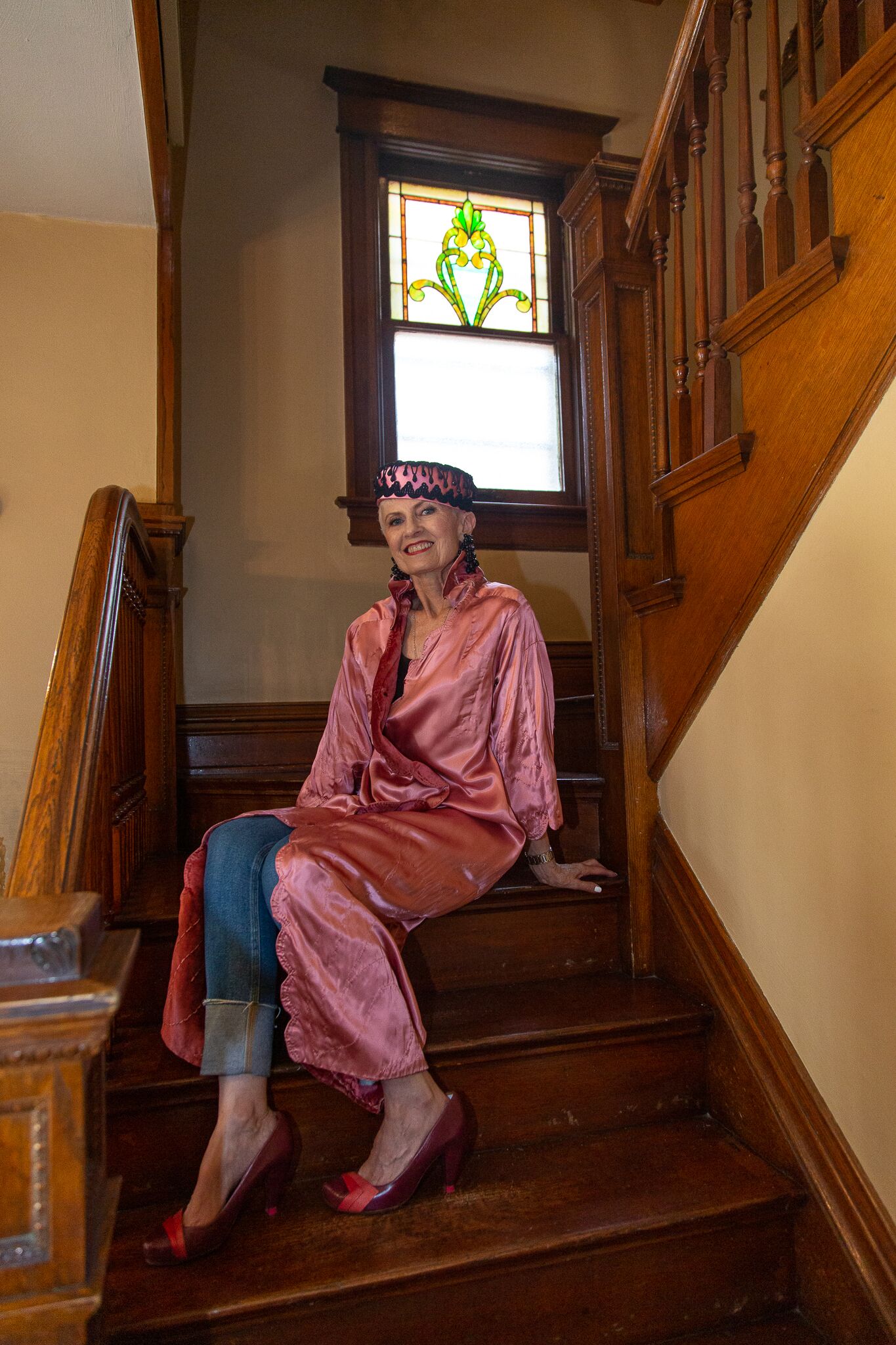 Photos by Nicole Marcelli
Today I'm wearing a vintage reversible velvet/silk satin beaded robe as duster – estate sale, vintage shoes – vintage shop, vintage beaded headpiece – gifted, and cuffed jeans – retail sale years ago. These jeans appear to be one of my favorite background pieces this summer, as evidenced by the frequency that they have appeared on my blog and Instagram!