Nothing is Black or White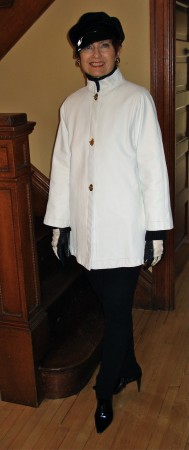 Photo by Nelson
Vintage 60's white leather jacket with gold closures, vintage gold earrings, and vintage black/white leather gloves-estate sales; patent leather/suede newsboy cap-Nordstrom Rack; patent leather ankle boots-yard sale; black ruched jeans-Gabriela Designs.
The Style Crone has been grappling with conflicting thoughts and emotions.  It seems as though I can firmly make a decision and 10 hours later I consider the polar opposite.  Perhaps opposites are comprised of similar elements and right now most issues are gray or plaid.  As I was pondering this internal confusion, my yoga teacher of the day began class by reading a quote by Rumi, and as so often happens, if I keep my eyes and ears open, comfort appears within view.
From  The Illuminated Rumi – The Guest House:
This being human is a guest house.
Every morning a new arrival.
A joy, a depression, a meanness,
some momentary awareness comes
as an unexpected visitor.
Welcome and entertain all!
Even if they're a crowd of sorrows,
who violently sweep your house
empty of its furniture,
still, treat each guest honorably.
He may be clearing you out
for some new delight.
The dark thought, the shame, the malice,
meet them at the door laughing,
and invite them in.
Be grateful for whomever comes,
because each has been sent
as a guide from beyond.