The Chicago Humanities Festival and The Book Signing in Denver with Ari Seth Cohen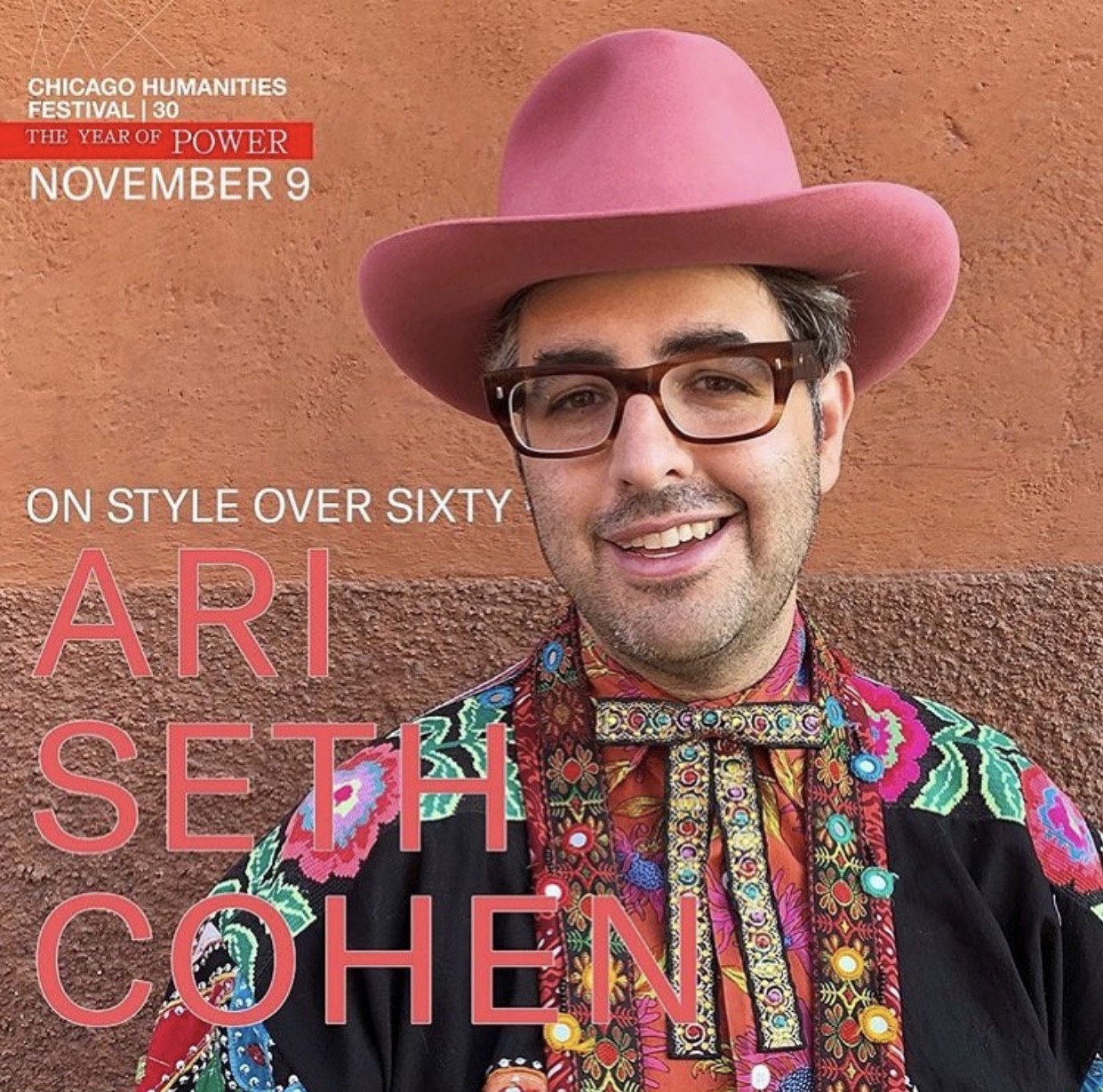 I was honored and thrilled to be asked by Ari Seth Cohen of Advanced Style to present with him at the Chicago Humanities Festival on November 9th, 2019. The theme of this year's festival was POWER, and our segment was titled, "On Style Over Sixty." The event was a peak experience for me, and I met and talked with many interesting and accomplished people.
We were interviewed on stage by Allison Cuddy, a former host of Chicago Public Radio's (WBEZ 91.5 FM) "Eight Forty-Eight" weekday news magazine show. She currently serves as the artistic director for the Chicago Humanities Festival. We also accepted questions from the audience, followed by Ari's Advanced Love book signing.
The following two paragraphs, taken from the Chicago Humanities Festival's website, give a brief description of the event and its mission:
As the Festival approaches its 30th anniversary, we have grown from a one-day celebration of the humanities into a year-round festival of arts and ideas. We present over 130 events annually, in venues across the Chicago area (from Evanston to Englewood, the Loop to the South Shore), including two festivals (Fall Festival, Spring Festival), and partnerships with the region's most prestigious cultural institutions and universities.
Festival programs bring people together to explore ideas that go beyond their personal experiences, enabling them to live more empathetic and connected lives. Our events feature thinkers at the heart of contemporary civic and cultural conversations, including authors, artists, journalists, policy makers, and others shaping our understanding of the moment, the past, and the future. Festival programs leave you with thoughtful insights and compelling questions, and often feature Nobel Laureates, Pulitzer Prize winners, MacArthur Fellows, and Oscar, Grammy, and Tony award winners.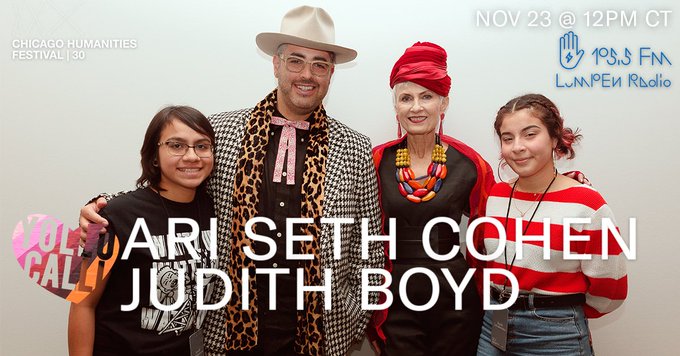 Before our presentation we were interviewed by two young women from Lumpen Radio, a project of Public Media InstituteWLPN. The station spotlights the hidden parts of the city, amplifying its voices and sounds. It's radio for the people who live and work in the city, and it was a perfect example of intergenerational energy and playful interaction.
Above is the YouTube video of our interview by Allison Cuddy at the Chicago Humanities Festival.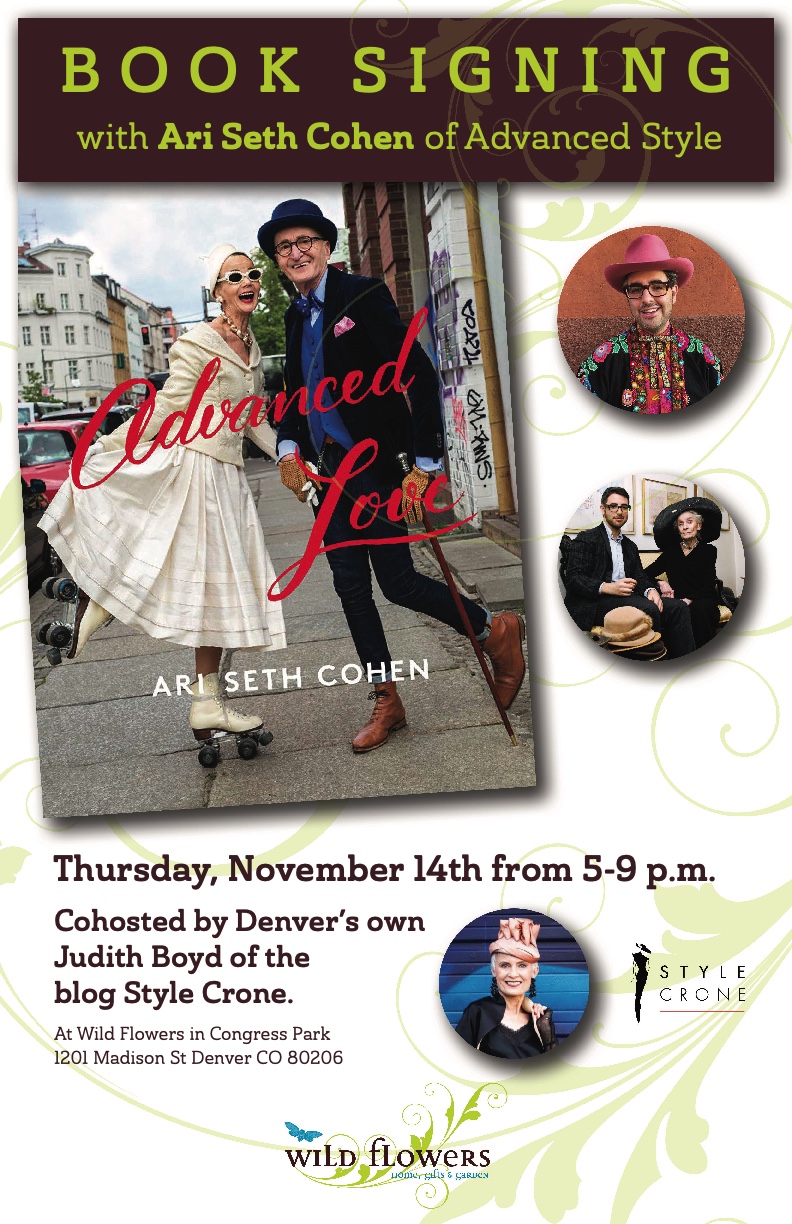 Following the Chicago festival, Ari Seth Cohen made his first trip to Denver for a book singing co-hosted by myself and Jonah Bradley, the proprietor of Wild Flowers, a gorgeous gift shop located in the Congress Park Area. Established in 1996, Wild Flowers specializes in home accessories, unique gifts, personal bath and body products, garden fountains and statuary, and house plants. It was the perfect venue for the event.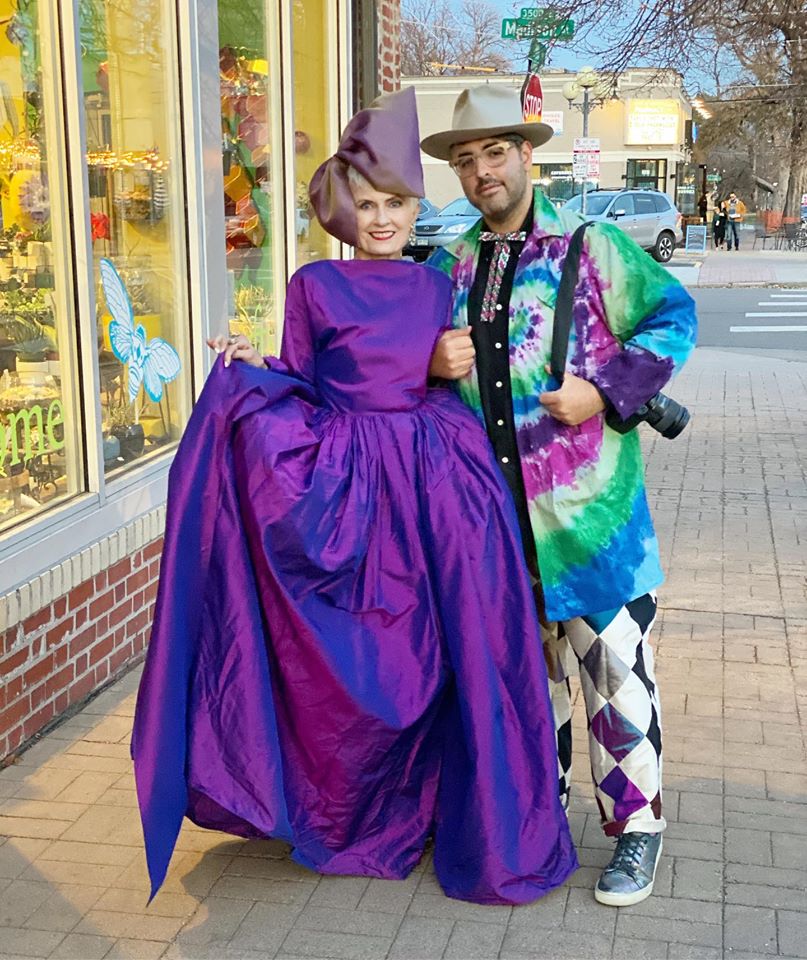 Ari and myself before the event at Wild Flowers, dressed in our most colorful attire.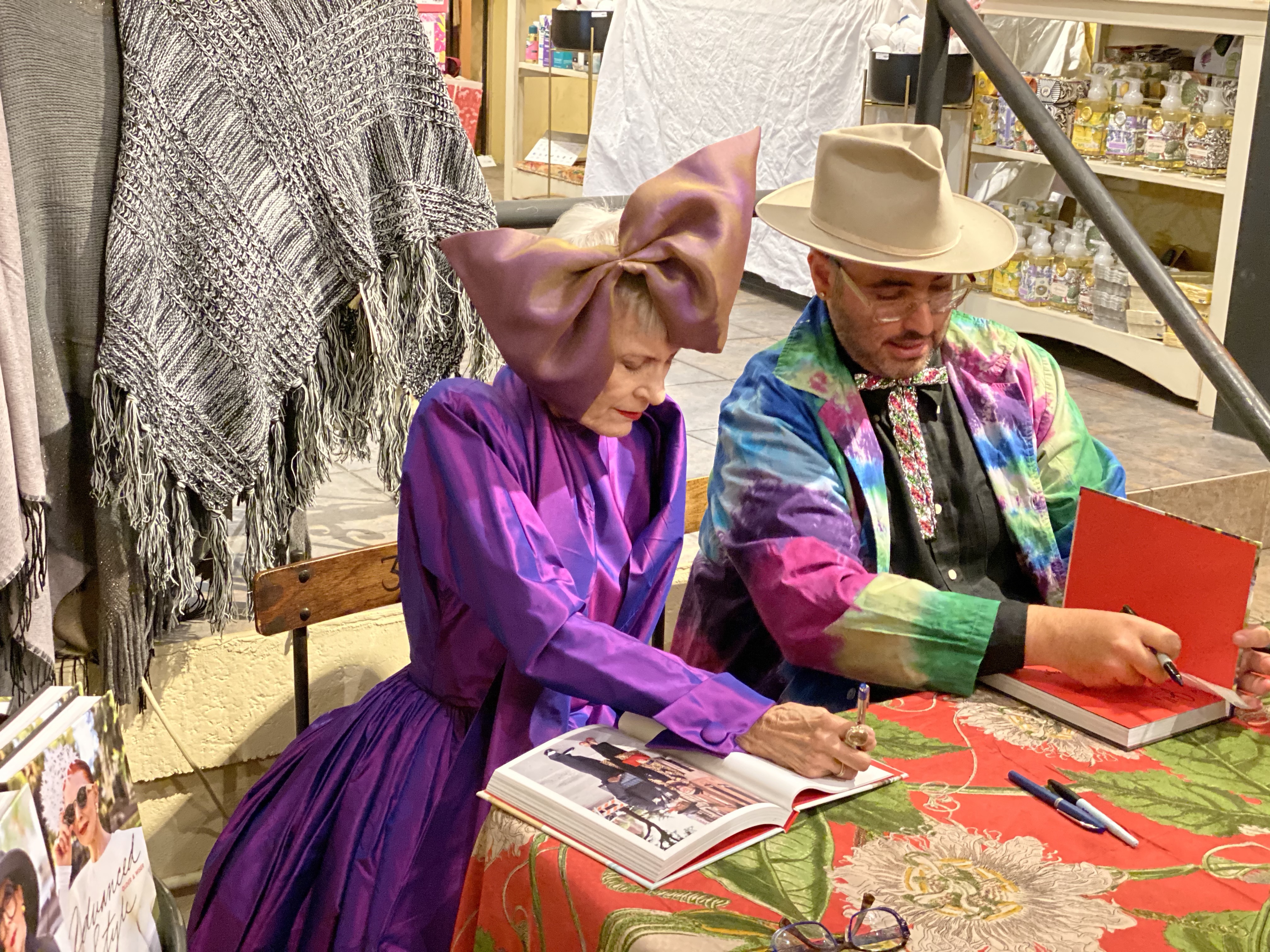 Thank you to all who attended the book signing and made it a successful and festive event. There were lines for hours, and everyone was thrilled to meet Ari and admire his significant work. Thank you Ari, for gracing Denver with your compelling energy and bringing Advanced Style to the city that I call home.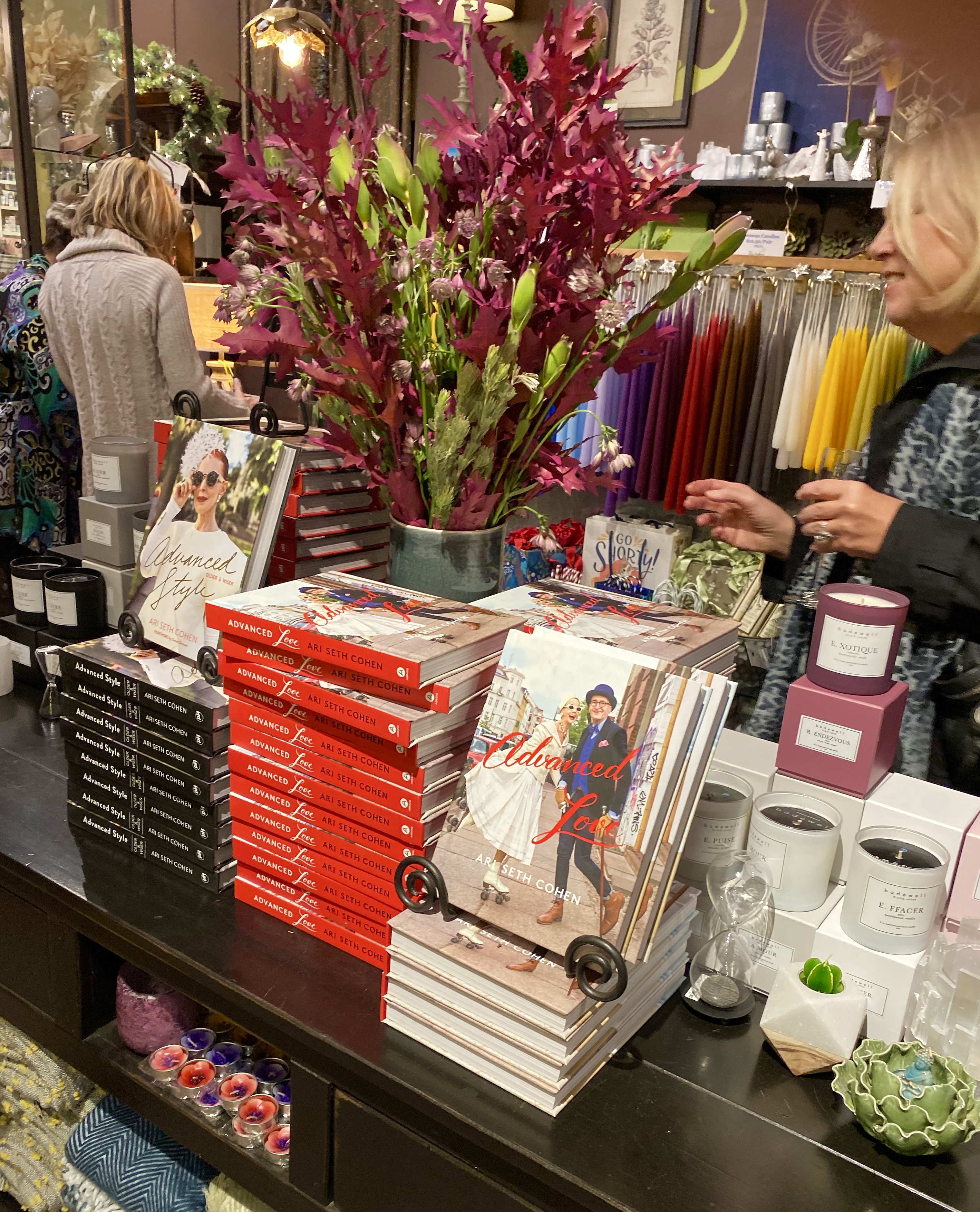 Photos above by Daniel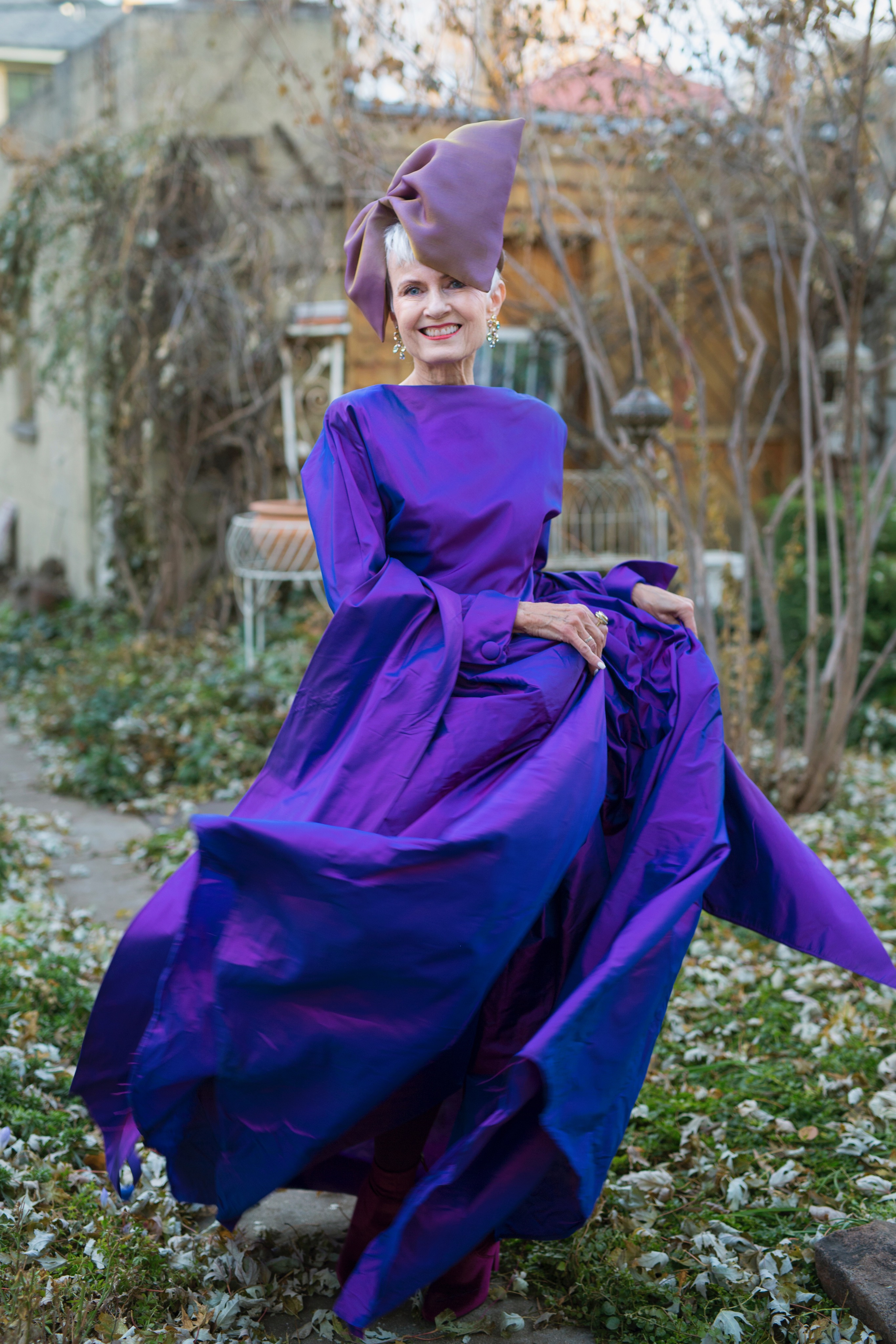 Photo by Ari Seth Cohen
For the Advanced Style Book Signing I chose to wear the purple silk gown, which I discovered at an estate sale some time ago. It had been waiting for the perfect outing and when paired with the Bow Headpiece by Brooks LTD, it found the event that it had been longing for.