My Thoughts Are With New Yorkers
As New York and the East Coast were pummeled by a huge and devastating storm and now its aftermath, my thoughts have been with the many wonderfully spirited and generous people that I spent time with just a few short weeks ago.  I'm hoping that all are safe and that the days ahead provide the help that is needed for everyone to thrive and recover from this overwhelming crisis. Somehow all of these connections feel more dear in the face of adversity.
The Luncheon Hosted by Carol Markel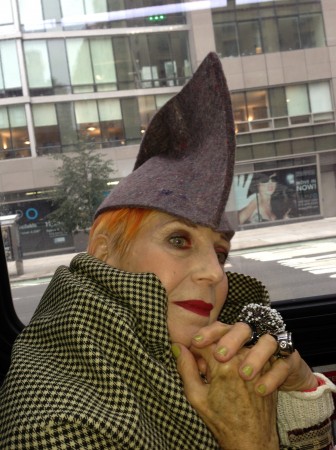 The SC caught the bus with Debra Rapoport, enveloped in her wrap on a chilly fall day and wearing a hat of her own creation, as we journeyed to Carol Markel and Richard Cramer's home on the Lower East Side.
One of Debra's cuffs made of recycled materials.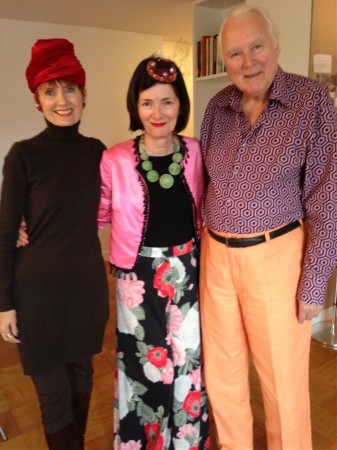 The SC had been wanting to meet artist and milliner Carol of Femme et Fleur HERE ever since discovering her fabulous blog.  I was very touched by the luncheon hosted by Carol in The SC's honor, which was filled with laughter, tales of hats and blogging.  Carol and Richard Cramer (above photo on the right) also an artist and very stylish dresser, have been together for 45 years.  They recently returned from a trip to Paris and Nice, which you can read about on Carol's blog.  Thank you to Carol and Richard for a warm gathering on a cold afternoon in October.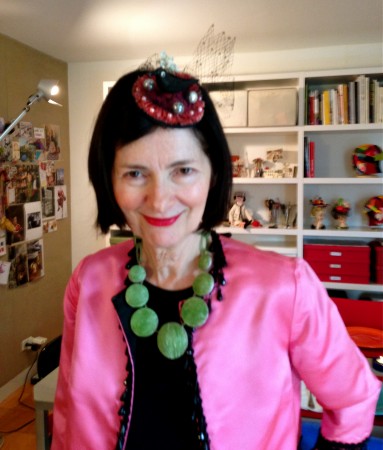 Carol wore a glorious headpiece of her own design.  If only I had captured a close up of this amazing piece of art.  I have been admiring Carol's helmet cloches since I first saw them on her blog, and I purchased one from her, which will soon have its Denver debut.  I've known for some time that there was a chapeau waiting for me in Carol's studio.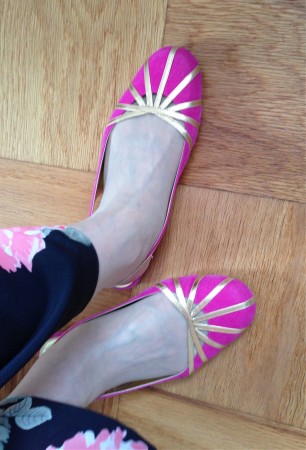 The SC was enthralled by Carol's pink and silver flats, her kind and gentle spirit and wicked sense of humor.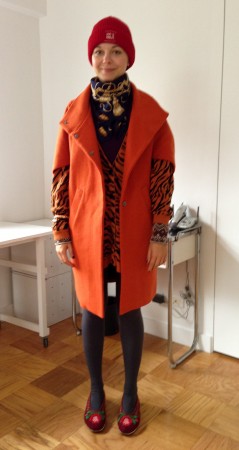 Photographer, filmmaker and director Lina Plioplyte made an appearance in the above show stopper ensemble.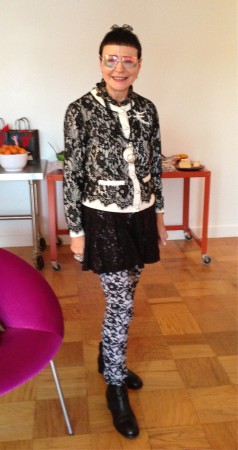 I was thrilled to meet Maryann Van Dongen, a regualar on Ari Seth Cohen's Advanced Style HERE, dressed creatively in lace.
The Hat Rotation Project Created By The Idiosyncratic Fashionistas HERE.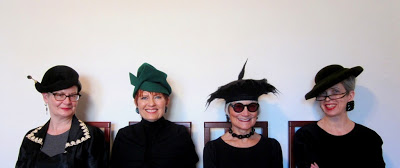 One of the photos from the hat rotation project.
Left to right, Shelley of the Forest City Fashionista HERE, The SC, Jean and Valerie of the Idiosyncratic Fashionistas HERE
Valerie and Jean of the IFs came up with another of their creative ideas!  As stated on their blog, "For several years, we have wanted to do a posting showing several people wearing the same hat, to show how differently that single hat 'performs' on different people."  As avid hat wearers, Shelley and The SC jumped at the opportunity to participate.  Who wouldn't love to wear eight hats within a few hours, just for the fun of it?  Photos were taken with a timer as we rotated hats from head to head, all in the name of chapeau science.
I realized, as I read the post by the IFs, that I preferred some hats over others, but there wasn't a chapeau in the photos that I wouldn't wear.  Perhaps this means that the hats that are chosen by women that I admire are hats that I would appreciate as well.
In this post, the IFs also provided useful tips for those who want to start wearing hats, but feel hesitant to do so.  But be forewarned! Before you know it you may fall in love with this powerful and mysterious accessory after discovering that you can change your mood in a split second when you add a chapeau to your style repertoire.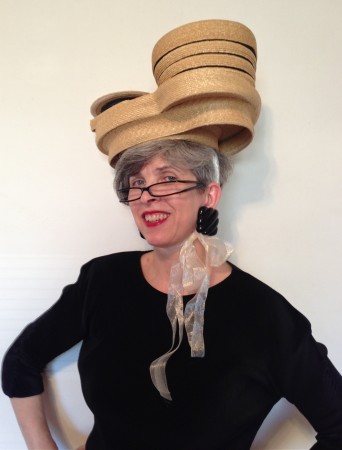 Our reward for the completion of the hat rotation project was Valerie in her famous Guggenheim hat. Have you ever seen a hat this spectacular?