Transforming Winter Coats Into Art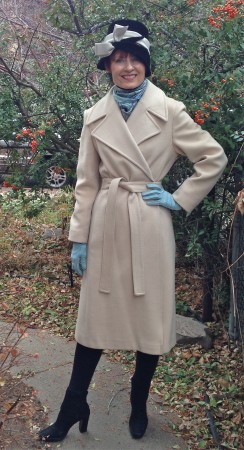 The gifted vintage off-white cashmere belted coat made the downsizing cut.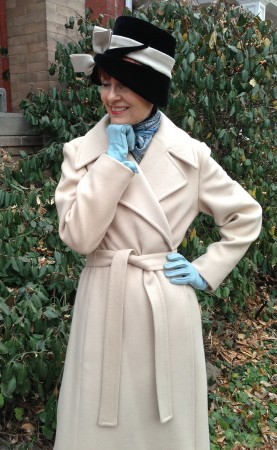 Vintage fur felt sculptured cloche with felt band and bow by Warcelle Agrellet/Paris purchased at Fabulous Fanny's, NY.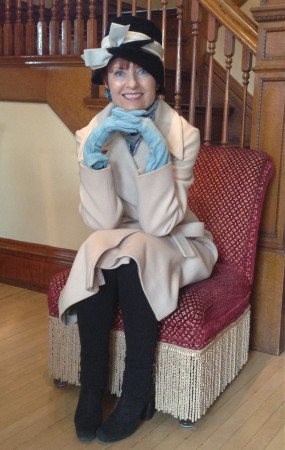 Vintage blue gloves and earrings and vintage silk patterned scarf – estate sales, my favorite and frequently worn black ruched jeans, and black suede heeled boots which have been in my closet for 20 years.  The upholstered armless chair with fringe was discovered at an estate sale over 20 years ago.
Photos by Rachel
On a recent Friday evening my friend Susan Wick HERE had an art show in her home, which is filled with her installations and glorious pieces.  She generously asked me if I wanted to sell some of my vintage at her show and I agreed, knowing that it would provide an opportunity to downsize my collection.
I decided to sell winter coats, which eliminated the need for a changing area.  So down to the basement I went to try on coats and choose what I no longer desired or didn't fit perfectly. Even though I abide by the 25 year rule of garment retention, I'm aware that I will be almost 95 years old or not here at all, according to that theory's time frame.  With that in mind, I came up with 17 coats and threw in a few jackets that caught my eye and met the 'out the door' criteria.  Camille decided she wanted to attend, so off we went with a rack, a full length mirror, the coats, and no expectations.
We had a wonderful time, and the flurry around the coats surprised us.  We sold eight pieces which had been well loved in the past, but had been sitting in a closet for years, waiting for new life.  I felt unburdened and motivated to downsize the remaining beauties and not return them to the rack in the coat area.  New strategies will emerge over time!
In the process of the frenzied flurry, Camille claimed two coats of her own!  Once a piece of my collection leaves, it's gone forever. She's been wearing the vintage mongolian cashmere navy  number almost daily and loving it, receiving many compliments. I shared with her that this is her legacy and more treasures await for the choosing.
Magically, I made the perfect amount of money during the coat sale to purchase a piece of Susan's art that I had been longing for, which now hangs in my home.  Every time I walk by I'm mindful that downsizing is nourishing the resolute and slowly emerging new life that is beginning to bloom in the area of my heart.  No sorrow too vast to ease.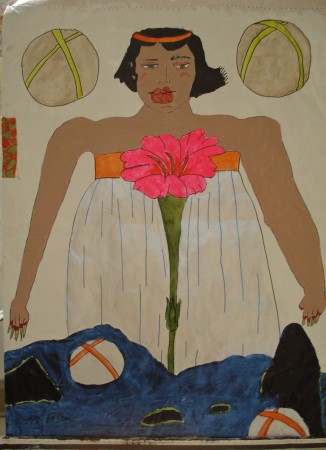 On another note, I'm taking my first flamenco dance class this week, inspired by the beautiful Veshoevius of The Taxonomy Of My Wardrobe HERE.  If not now, when?  Dancing makes me feel alive and energized, and this will be a way to structure something new that I hope to love into my life.  No wound too deep to heal.
The SC is dancing over to Patti's amazing Visible Monday HERE where a growing number of bloggers party together every week.