Hat Attack #46 – Toronto Milliners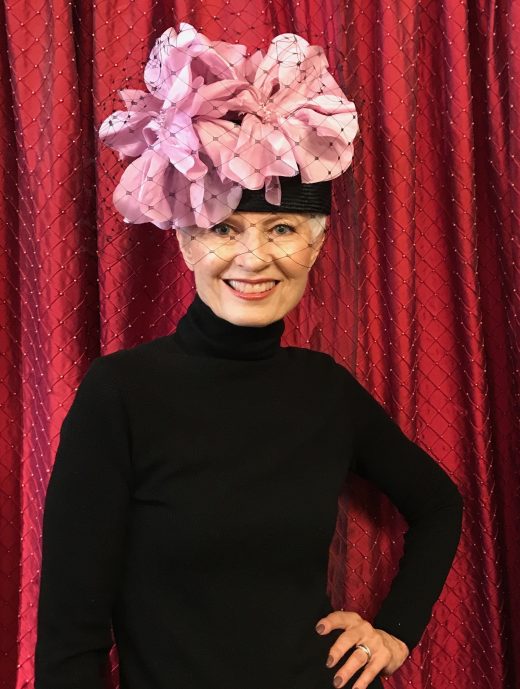 "Black straw widow pillbox with veil and large pink flower"….Karyn Gingras
I was in Toronto for the past five days and returned home last night.  During my visit I found four fabulous milliners/millinery salons/shops/workrooms.  I was very impressed by the talent and skill of the milliners that I discovered and am featuring them on May's Hat Attack.
The millinery world is filled with wonderful, bright and fascinating people.  I consider them all international artists and treasures.  Toronto's milliners are no exception.  I was welcomed with open arms and magic was in the air.  I was captivated by their exquisite work, unique and diverse style and individual self-expression, manifested in their magnificent creations.  I would love to describe my experiences of entering the spaces of the four featured milliners, but I would rather share their own words.
I am featuring the milliners in the order in which they were discovered.  Karyn of Lilliput Hats and Kelly of The Saucy Milliner were traveling, but I was warmly received by their knowledgeable assistants.  Thank you all from the bottom of my Style Crone heart.
As I was walking from Lilliput Hats to David Dunkley Millinery, I had the thought, like a bolt of lightning from the universe, that I see myself as a "Hat Journalist."  Every city that I visit, I search for milliners and hat makers, and view their world as though they are art galleries. The first person that I told of my new revelation was David Dunkley. He suggested that I create a hashtag, #hatjournalist.  What a brilliant idea!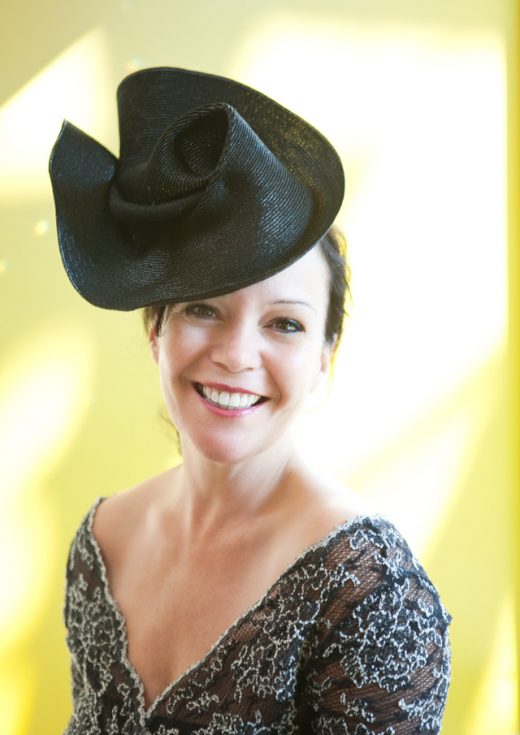 Karyn Gingras of Lilliput Hats  HERE
For over 20 years, Karyn Gingras has been creating exquisite, hand-blocked hats for discerning women and tastemakers. As the driving force behind Lilliput Hats, an atelier and boutique in Toronto, Karyn's talent and tenacity have made her Canada's most popular milliner.
Using time-honoured techniques and the finest materials, Karyn, and her skilled team of associates, fashion a varied line of exquisite, handmade hats, as well as custom-designed creations for weddings, holidays, fashion events, television commercials and films.
Lilliput Hats are collected and coveted by stylish women everywhere including Rachel McAdams, Celine Dion, Whoopi Goldberg, Sandra Oh and the former Governor General of Canada, Adrienne Clarkson.
Inspired by the classic, surrealist style of Elsa Schiaparelli, Karyn's hats are modern, playful and functional.
Now recognized as an expert in her field, Karyn's path to millinery was actually a happy accident.
When she went to sign up for a night school tap dancing class, the program was full. However, the millinery course had lots of space.
Karyn has still never learned to tap dance. But she recently took up the accordion….From the Lilliput Hats website.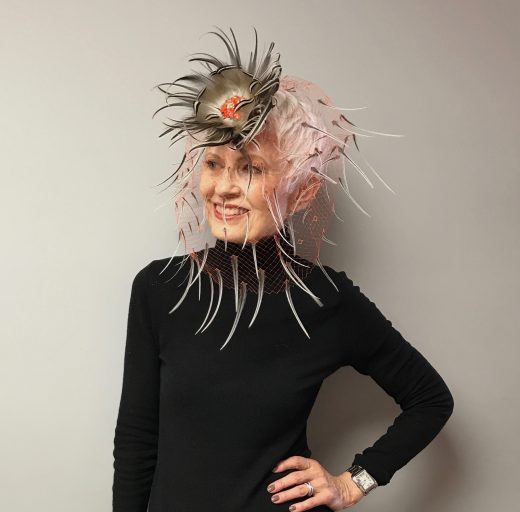 "The fascinator above was created from vintage silk veiling with individual feathers attached to it.  The feather flower is handmade and the centre has Swarovski crystals and two crystal butterflies.  This fascinator is from my first couture show and is incredibly important to me.  The feathers have a wonderful bounce to them (on the veil) when you walk"……David Dunkley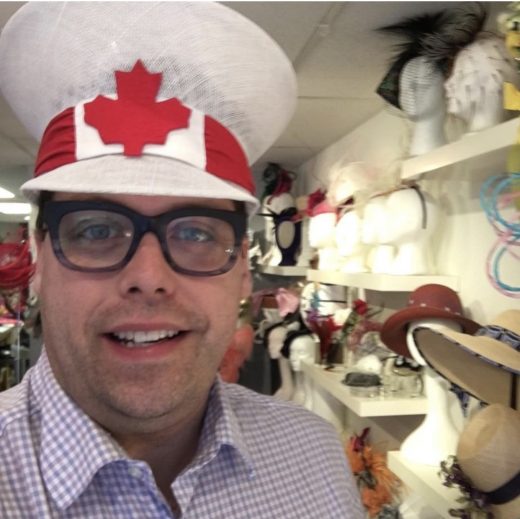 David Dunkley of David Dunkley Fine Millinery HERE
A master in his own right, David has studied with the former royal milliner to Her Majesty Queen Elizabeth the Queen Mother. In keeping with this royal millinery lineage, Dunkley's creations have been sported by members of Her Majesty Queen Elizabeth II's royal entourage and presented to Her Royal Highness The Duchess of Cornwall (Camilla).
David, an international award-winning milliner, is elevating headwear to new artistic heights through his commitment to traditional millinery techniques and with his flair for distinctive design. His bespoke millinery studio, is a sanctum of style where you receive unparalleled personal attention.
Whether daring or demure, each of David's hats is handcrafted, using time-honoured techniques of blocking, forming and embellishment. David's inimitable vision offers patrons a new take on classic styles in every design, from breathtaking bridal millinery to Ascot-worthy creations…….From the David Dunkley Millinery website.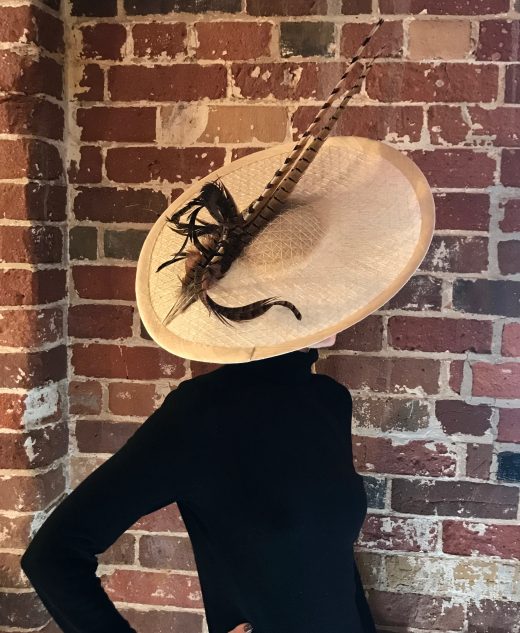 "The hat above was blocked using pinok pos layered with crosshatch sinamay.  The bias was hand sewn with a fine sinamay.  The base that the hat sits on was also blocked and sewn from scratch.  The feathers are a combination of Lady Amhearst and Ringneck pheasant, which have been curled and sewn on, using traditional techniques"….Kelly Dunlap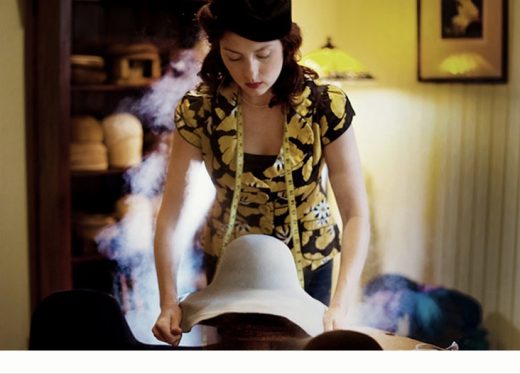 Kelly Dunlap of The Saucy Milliner  HERE
As far back as I can remember I have always worn and loved hats. That love began when I was very young, playing dress-up in my Grandpa Dunlap's old jackets and dusty, well worn fedoras – usually whilst adventuring deep in the wilds of the spare room's closet, hoping for a glimpse of Mr. Tumnus. Later, as a teen, I was thrilled to add a fedora, in the style of my hero, Indiana Jones, to my ever-growing collection. This hat in particular came in handy for my 7 year adventure in Europe and England where both myself and my passion for hats matured. My love for hats and my collection of vintage pieces flourished during my time spent living in such a hat-embracing culture.
But those early adventures only lead me to my true calling, the art of millinery.
Some years ago, I began the lifelong journey of becoming an accomplished milliner. Having trained under several master milliners, both in North America and the UK, I now take great pleasure in creating iconic, well-crafted pieces for lovers of fine quality hats. What's more, I use my passion for classic films, found treasures and vintage curios to give each of my creations a one-of-a-kind twist.
Which brings us to the name. As a young girl in Leitches Creek, Nova Scotia, my curious nature and vivid imagination would get me into plenty of trouble around my Grandfather's general store. When he'd find me, inevitably wearing one of his hats, he'd always ask, "Are you being a saucy pup, now?" Indeed I was. And even now, these notions of whimsy, adventure and romance inspire every piece I create. Which is why I'm known as The Saucy Milliner……From The Saucy Milliner Website.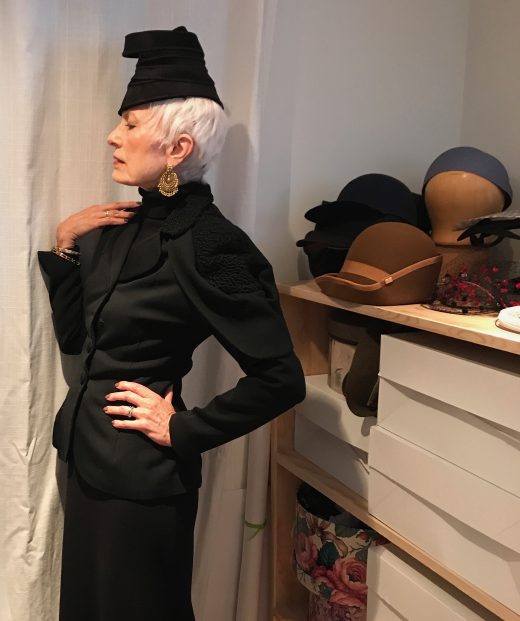 "The spiral black velvet hat was created as a tribute to Madame Paulette, and resembles a hat she created in 1949.  It was part of a mini collection that was featured at East Village Hats in New York City.  It is made from black velvet and trimmed with grosgrain ribbon"…..Tierre Taylor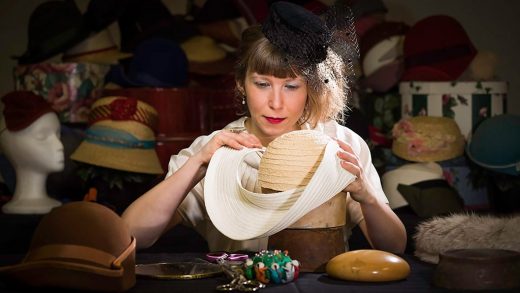 Tierre Taylor of Tierre Taylor Hats HERE  Photo by Alan Smith
Tierre Taylor is a graduate of the Millinery Arts Program at George Brown College in Toronto, Canada and later studied privately with renowned milliner Anya Caliendo. Known for her workmanship and use of high quality fabrics and materials, Tierre describes her work as serving those who relish luxury and elegance.
She produced collections for clients on the west coast for five years under her first label Tierre Joline, while regularly contributing to fashion magazine pages and creating works for local theatre companies.
Returning to Toronto in 2014, Tierre Taylor creates one-of-a-kind hats, fascinators and hand-stitched couture millinery pieces for daywear, evening wear, weddings and other special occasions.
In February 2015, she was approached by Humans of New York (HONY) photographer, Brandon Stanton at Penn Station, while wearing one of her hats. The exposure has allowed her to pursue her love of millinery full-time and with zeal and passion to create more.
Known for her modern, elegant style, Tierre's work offers a flare for poise, sophistication and confidence. "Each person is a unique and special individual. Helping people express that individuality is a joy for me. I am so grateful to all those who love wearing my hats!"…..From the Tierre Taylor website.
Linking up with Catherine's #iwillwearwhatilike HERE at Not Dressed As Lamb and Patti's Visible Monday HERE at Not Dead Yet Style.
Now it's your turn to throw a little headwear my way. Give The SC a MAY HAT ATTACK and kindly link to Style Crone somewhere in your post. The link-up will be open through May 31st.
Anyone can participate in the celebration of headwear!  Click on the blue link-up button and there are a number of ways to share your photo from your blog, Instagram or your computer photo files.  All forms of headwear are appreciated:  hat, headwrap, headscarf, headpiece, fascinator, hair flower, headband or other adornment for your head that you enjoy.  Multiple photos are encouraged!
 [inlinkz_linkup id=713024 mode=1]