The CBS 4 Denver Interview
Several months ago I received an email from Rick Salinger, Peabody award winning reporter who specializes in hard news and investigative reporting for CBS4DENVER.. He informed me that he wanted to do a piece for the news about a Denver social media influencer.  
I responded immediately to his request for a phone call, and he told me that his wife Isabel follows me on Instagram. He wanted to meet me at my home if I was comfortable with that, and feature Style Crone and my hat room.
I had not been filmed in my home before, and I needed a few weeks to prepare, as I was finishing my bathroom renovations and the twice yearly hat room transition of fall/winter to spring/summer.  As I mentioned in my last post, though my living space is private, I'm beginning to feel comfortable unveiling it as though it were an outfit. This would be a true test of this unfolding concept.
The next few weeks became a flurry of activity in preparation for the interview.  There were many things that I had been wanting to do for years that I was now highly motivated to complete. I wanted my home and garden to shine and represent my self expression as though it were an externalization of an outfit. I have several dear friends who helped me with this process, which had been moving forward for months. Now the finishing touches became important to finalize. 
The day of the interview was fun and uplifting.  Rick came to my home with a CBS photographer/videographer, and they were both warm and engaging.  I felt comfortable during the interview and responded to questions spontaneously without hesitation. Rick has the ability to create instant rapport, which reflected his many years of experience as a journalist. Telling my story and speaking from the hat room was a good-humored and effortless conversation.  
After the interview I felt exhilarated and thrilled with the changes to my home and garden that took place because of my decision to stretch into a new experience. I was reminded of a phrase that has been repeated by my yoga teachers, which is, "find comfort in your discomfort." The entire experience was a high point for me, and another growth opportunity for Style Crone, which has given me so many new adventures to savor!
Above is the video which was aired on CBS News Denver several weeks ago.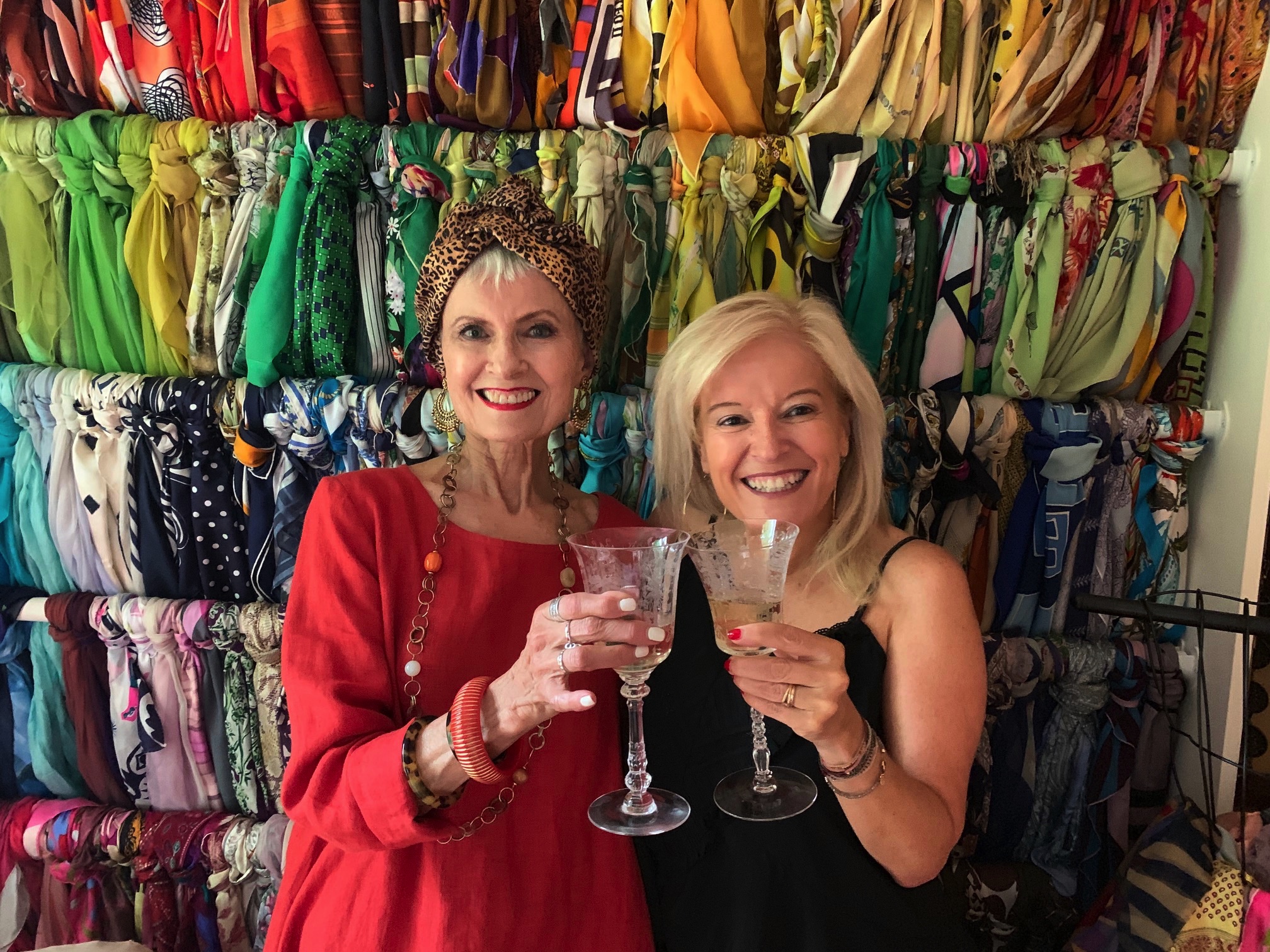 At the time of the interview, Rick's wife Isabel was out of town and unable to accompany him to my home. Because Isabel was responsible for initiating her husband's interest in interviewing me, I wanted to meet her. Recently, on a Sunday afternoon, they both came to my home and we celebrated with Spanish champagne in the back garden.
During a tour of my home, we agreed to a photo opportunity in front of the scarf installation.  Charming, beautiful, and talented, Isabel was a delight. I have been humbled by all that has transpired since the beginning of a journey that evolved from loss.