The Climate Emergency Protest, Arrest, And Detention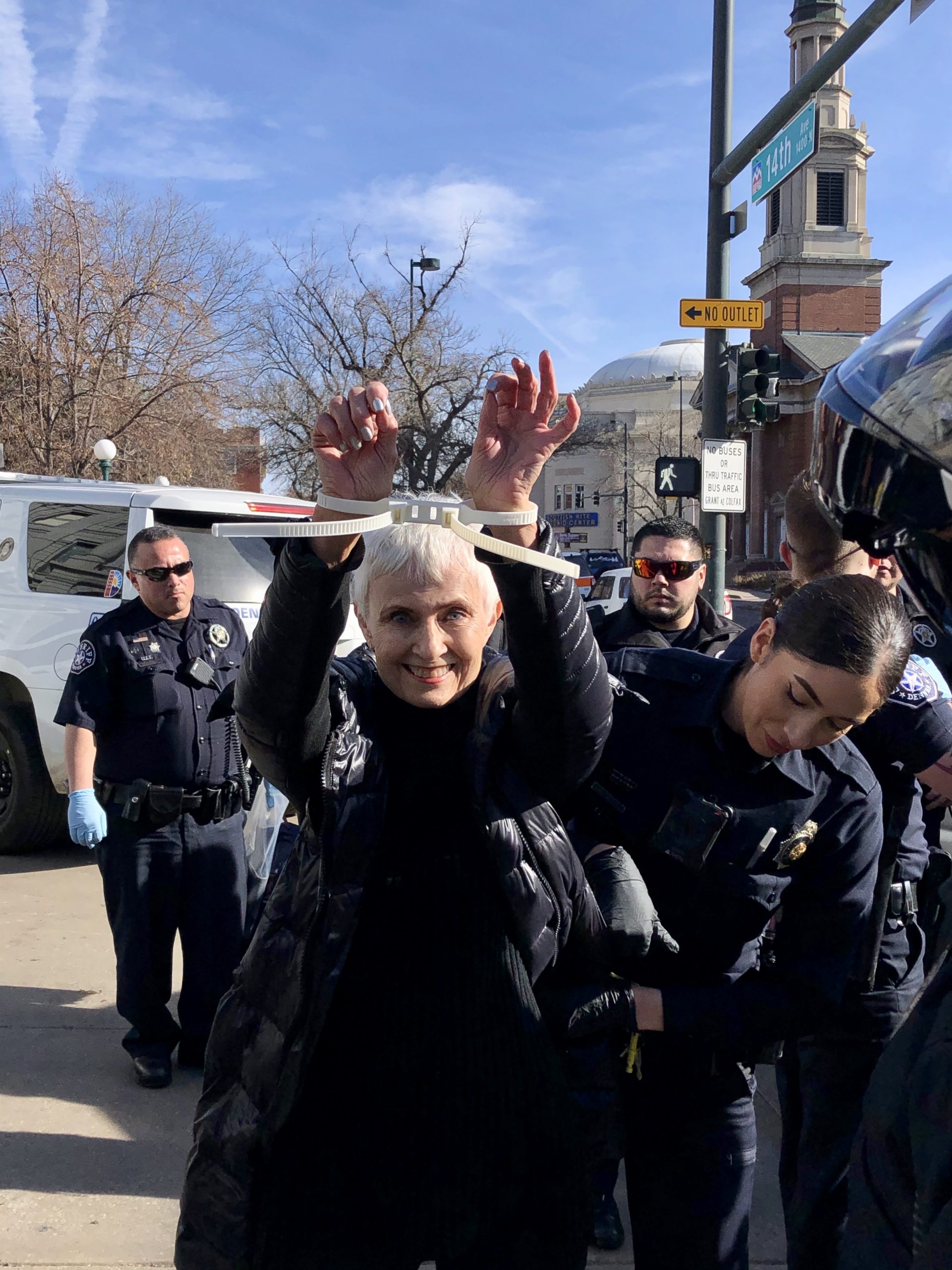 Beginning on the morning of January 9th, I experienced an astounding 24 hour life-altering event. I had been hoping for a more peaceful and harmonious 2020. Instead, the year began with tragedy. The bush fires in Australia were disturbing, devastating, and overwhelmingly sad. Through Instagram I know people in Australia and their suffering and the trauma to animals touched me to my Style Crone core. I felt immobilized and helpless, and in a moment of desperation I began searching online for something that I could do to relieve my irrepressible anxiety and despair.
Over the past months I had read about  Extinction Rebellion, a global environmental movement with the stated mission to use nonviolent civil disobedience to compel government action to avoid tipping points in the climate system, biodiversity loss, and the risk of social and ecological collapse. I began researching this organization which launched in London in May, 2018. I watched a compelling video on their website, which motivated me to take the next step. From there, much to my surprise, I discovered a chapter in Denver. I immediately discovered their Facebook page and learned that they were participating in an event at the Colorado State Capitol on January 9th in response to Governor Jared Polis' State of the State Address. After registering online, I received an email from the organization, inviting me to the event, which was to begin with a gathering outside the capitol at 9:30am. I was in without a moment's hesitation.
Arriving outside of the State Capitol before 9:30am, I observed a group of people gathering with climate emergency signs and banners. For the next half hour I listened in awe as speaker after speaker, mostly young people and Black, Indigenous, and People of Color, educated me as to the reality of what was happening in Colorado in terms of climate change, environmental racism, and social justice.  I became aware of the Bella Romero Academy and The Fight Against Fracking and the dangerous consequences of fossil fuel extraction.
Most of the information was new and humbling to me and every speaker was inspirational and passionate. Several presenters were high school students with an awareness about the climate crisis that impressed and motivated me. How could I not be influenced by young people who fear for their future and the strong possibility that they will not inherit a livable planet. Many of the young people were associated with the Sunrise Movement, a group dedicated to making climate change an urgent priority across America, ending the corrupting influence of fossil fuel executives on our politics, and electing leaders who stand up for the health and wellbeing of all people.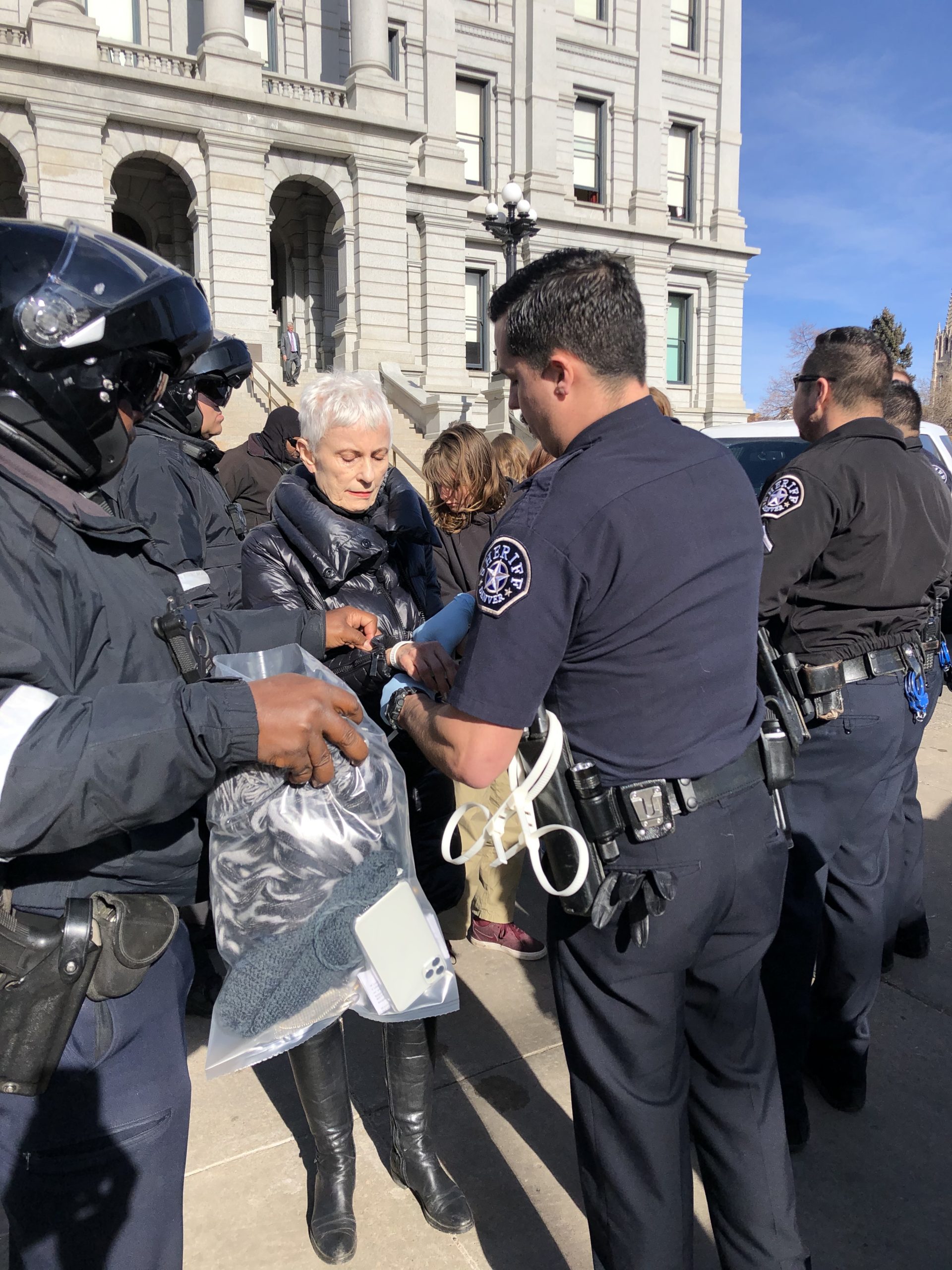 From outside the capitol, most of the group that had gathered walked inside the capitol building together. We had been informed that the demands of our action were: 1) Shut down the fracking operations at Bella Romero Academy. 2) Develop a plan to end fracking and all fossil fuel extraction in Colorado by 2025. 3) Declare a climate emergency and facilitate a just transition to a renewable energy economy.
Though I agree with many of Governor Polis' policies, he has stated that he does not believe that fracking should be banned. Colorado has over 50,000 fracking wells and there have been over 2000 fracking wells approved since Governor Polis took office in January of 2019. My values aligned with the demands of the day and I was proud to be a part of the group that I stood with.
As Governor Polis entered the capitol chamber, according to information that I heard later, a large banner reading "NO WELL AT BELLA ROMERO, NO MORE SACRIFICE ZONES" was draped over the railing while a protester was heard shouting, "Ban fracking now!" The people involved in this action were immediately arrested. I was with a group of mostly Sunrise Movement people, and we began singing and chanting a protest song outside of the chamber. Immediately we were confronted by state patrol officers, directed outside, and our identification information was requested. In this process, as I was descending the steps of the capitol, I was physically shoved by a visibly furious officer who was also verbally angry and demeaning. As I have osteoporosis, luckily the physical force did not result in a fall down the stairs. This form of power and control was acutely observed and not forgotten.
One by one we were arrested outside of the capitol, with charges of trespassing, unlawful assembly and obstructing a police officer. I was instructed to deposit my cell phone, jewelry, scarf, and hat into a plastic bag. I had difficulty taking off my rings, which hold emotional significance. My crone fingers are somewhat swollen at the knuckles due to arthritis.  I was told that my rings would be "cut off" if I couldn't get them off. Miraculously I was able to remove them after a panicked struggle.
I was then handcuffed and taken to the Denver Detention Center, along with other protestors. There were a total of 38 arrests, including five minors who were released before transport.
I did not feel afraid, which I attribute to white privilege. However, the lack of information about what was to transpire evoked anxiety and uncertainty. Though I had not expected to be arrested, I was proud to align my body (physically, emotionally, spiritually) with my beliefs. Climate scientists tell us there's no time left on the clock. This new experience was a small price to pay for the urgency of the climate crisis that we are living. I was determined to overcome my anxiety with the intention to remain observant and curious about what was to transpire. My years of practicing meditation and yoga assisted me in this mindful approach.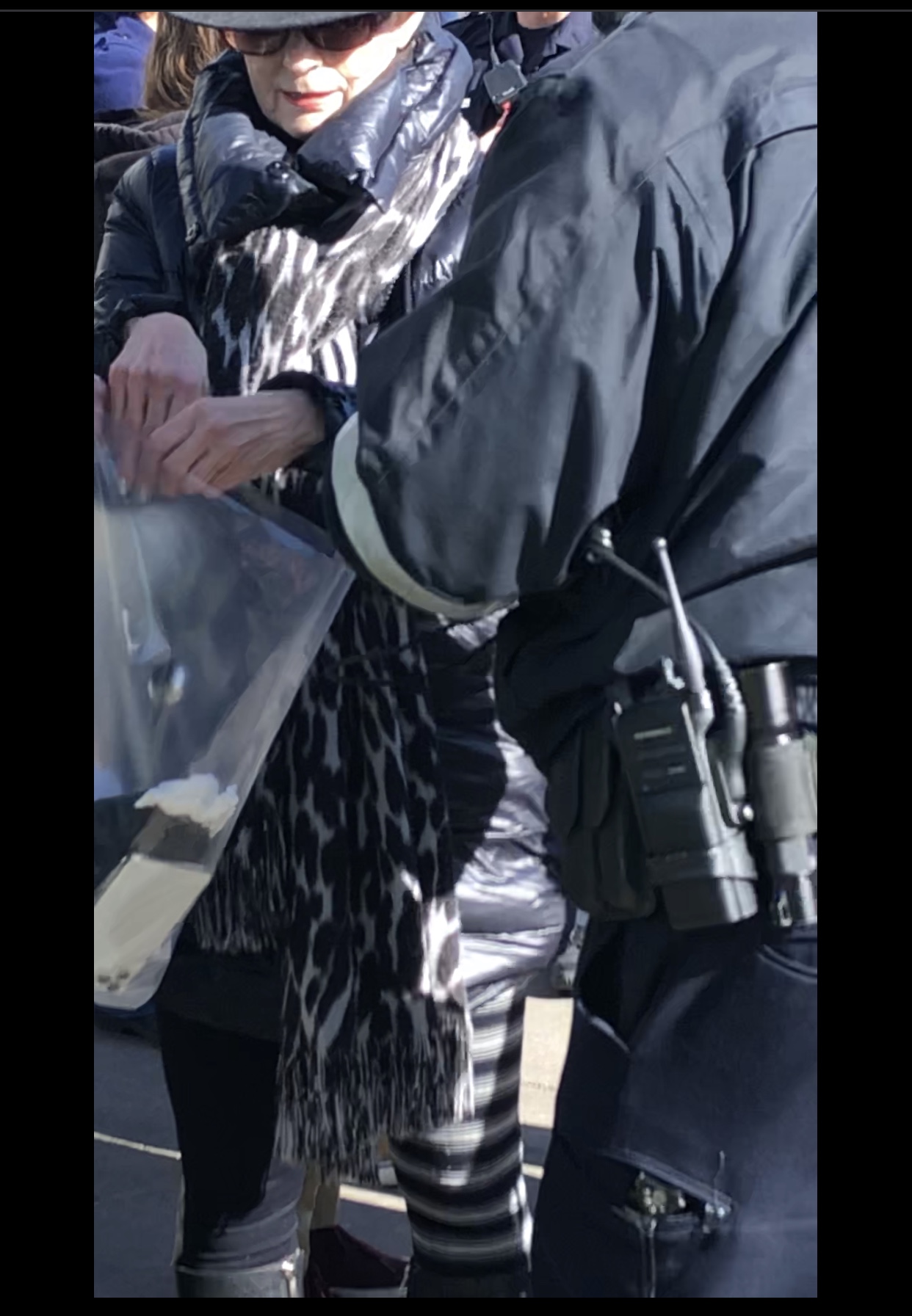 After arriving at the detention center, our mug shots was taken, followed by hours of interviews, finger printing, and long periods of waiting for the next step. There was a feeling of isolation, with little information about the outside world and what would happen next. I took not that until we arrived, the population held at the center was exclusively black and brown. The environment was different than any other that I have experienced. The staff was distant and appeared suspicious. Limit setting on any small behavior that was not within strict guidelines was immediately enforced. Following orders instantly was the noted game of survival.
After about six and one half hours, two by two, we were ordered to change into jail attire. My internment partner was a wonderful young woman who was a member of the Sunrise Movement. For that I felt grateful. Actually, our outfits were interestingly appealing. If you like yellow and white stripes, orange rubber sandals, and white socks. We were also given two sheets, underwear, a rubber cup, and a plastic spoon. We were strictly informed that we must return every item upon discharge, and the clothing that we had arrived with was packed in a large plastic bag. There were several points along the way when we experienced pat-downs by a female officer.
Spending the night in jail was an event that I will never forget. The cell was "furnished" with a toilet, a sink, and bunk beds. I spent hours talking with my cell mate, which was inspiring, and enlightening. Sharing a cell with someone of similar values and from a younger generation reinforced my belief that intergenerational energy is one of the most potent solutions for ageism. I wasn't able to sleep, but without the distraction of my phone, I had time to think and begin processing my experience. The processing continues to this day.
Along with my cellmate, I was released at about 6am, which was by now Friday. Thankfully Mr J bailed me out, and I gladly turned in my prison ensemble and left the detention center with a court date set for late February. I was filled with a multitude of thoughts and feelings, as the events of the past 24 hours swirled through my brain and consciousness. I thought of the people who I saw in the detention center and jail, and wondered about their fate. Who wasn't able to afford bail? What were the stories of those who remained after I left? Would they be safe? How would detention affect their lives? Having worked in emergency mental health, I knew that jail was often an alternative to substance abuse or mental health treatment. I have to this day more questions than answers.
Photos and video by Deborah Hart
I was forever changed by my arrest and detention. Thankfully the charges were dropped last week. However, I know that I will be involved with the climate emergency movement, but at this point I'm not sure how that will look. When I gaze into the beautiful eyes of my grandchildren who are ages one and four, I know that I must act and do everything that I can to affect change. The human heart beats 100,000 times a day. We are at once powerful and incredibly vulnerable. And we are in the 11th hour.
This is the second time since I launched my blog in July of 2010 that it's been quiet for so many weeks. The first time was after Nelson's death on April 20th, 2011. I was devastated and grieving his loss. Somehow I managed to continue publishing Style Crone, and found it to be healing and meaningful. It provided a platform for me to express myself through the written work and the creative art of style.
This break from blogging also involves significant grief and loss. Referring back to the first two posts after Nelson's death, I wrote about the feelings of devastation, disorientation, heaviness of heart, and the daily adjustment to unfamiliar territory.  This loss is much different, but I recognize similar feelings. My denial around climate change and the magnitude of  the desolation to come if we don't act has filled me with deep regret, shock, and dread. Grieving the loss of a livable planet for my fellow humans and my grandchildren leaves me without the anchor of my former life's structure. I see that my life as I know it  must change, and that it is imperative for me to acknowledge my empowerment and become actively engaged in the climate change movement. I have been transformed and there is no turning back.
As I complete this post, I realize and understand that I am at a place in my life where participating in civil disobedience can now evolve as my passion. I will be 77 years old next month. I am fortunate to be healthy and without physical limitations. I don't have an employer or children to take care of and I am responsible only for myself. What do I have to lose? This is not a time for judgement of others or their decisions. Style Crone has always been about the process of my life and my journey through the creative lens of style. And so it continues to be so.