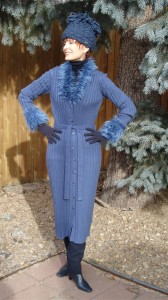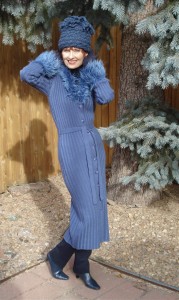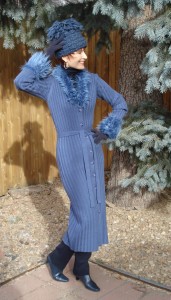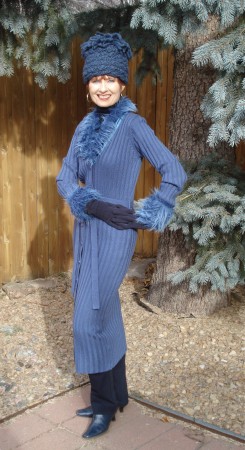 Photos by Daniel N
This 'rasta blue headwear' was a holiday gift from Nelson (he knows a hat would make me happy?) which just happened to flow with a sweater that had been in 'one' of  The SC's closets for years.  With the neutral navy as a foundation, this outfit was waiting in the wings for Date Night this past Friday. Maybe it will make its public appearance this week!
As this ensemble lies in waiting, The SC reflects on the intensity of the past week.  I remember the unease and apprehension we felt as we prepared for chemo on Wednesday, not knowing if Nelson would receive an infusion, or not. Just before leaving the house, I discovered that AARP had added Style Crone to their updated Elder Blogger List.  I was surprised, pleased and honored by this news!   As we walked out the door, anxiety and excitement floated side by side in my reality.  How do these opposing emotions reside in unison?  How do I reconcile these two feeling states?  But then I had the thought that it was better to have the contrast than to dwell in continual fear.  That I would have more energy to be present with Nelson as the day unfolded.  And as I look back, the rush of good feelings provided calm and balance to what I had perceived as possible impending trauma.
The very next day I had a similar experience.  Nelson was affected deeply by his chemo infusion and was suffering side effects that drained every ounce of his energy.  In an effort to distract myself as he slept throughout the day,  I accessed Ari Seth Cohen's blog Advanced Style.  And on my computer screen was a post titled, 'Secrets From Ladies in Their 60's', with The Style Crone as one of the 'ladies.' Again, my response was an infusion of positive feelings.
What do I make of the mixture of these emotions of fear, joy, guilt, pleasure, sadness, exhilaration, despair, delight?  How do I accept, integrate and understand the extremes of my experience? Shortly after Nelson's diagnosis in 2005, I read the book Molecules of Emotion by Candace Pert, Ph.D.  It was a profound read!  Dr. Pert states that, 'Emotions exist as energy and matter, in the vibrating receptors on every cell in the body.'  All I can say is that my cells must be very busy with this flood of disparate feelings and the only solution for me today to resolve this juxtaposition is to take that energy to the Hat Room and focus on the meditation of creativity.