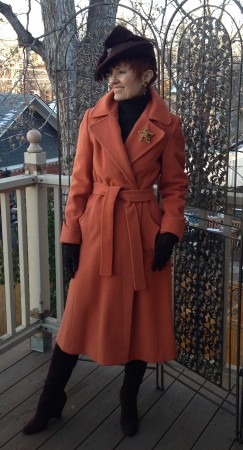 Photos by Rachel.
On the veranda in vintage orange belted coat – gifted, vintage brown hat that's received a lot of play lately – Manhattan vintage show, vintage brown suede gloves and brown turtleneck tunic – estate sales, vintage tall suede wedge Pucci boots – consignment store, brown leggings – retail.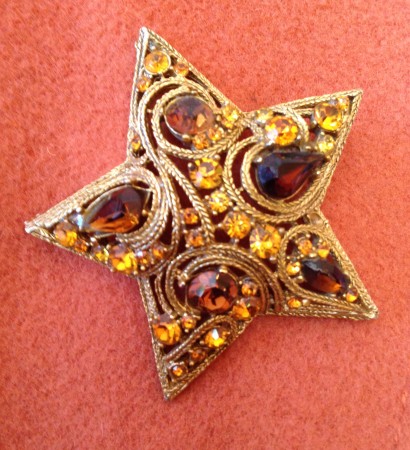 This vintage brooch was gifted by a friend who discovered it at an estate sale.  It has a special place amidst my collection.  On November 21st I'm linking up with 'Une femme d'un certain age' in response to Pse's call out to share our favorite beauties HERE, as we celebrate the day before Thanksgiving with a brooch party!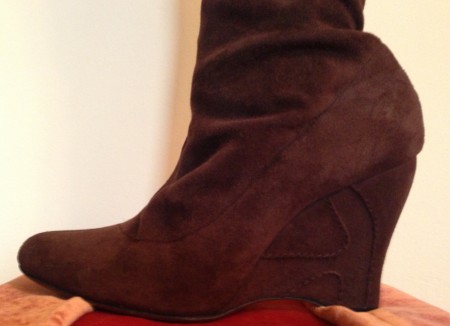 Boot close-up.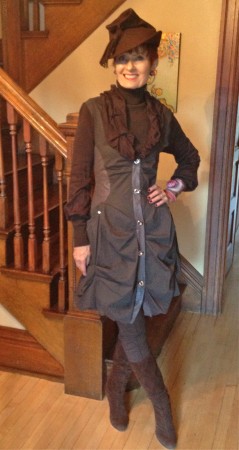 Under the coat and layered over the turtleneck tunic I wore the Zone Bleue knitwear and cotton cardigan dress that I purchased at the Manhattan Vintage Show, which was discovered two seconds after the brown hat above was placed on The SC's head, as though they were destined to be together.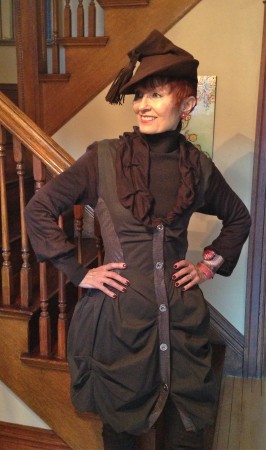 The thick tassel on the hat creates the movement that I love in accessories.
Back view of the structured hat and details of the cardigan dress.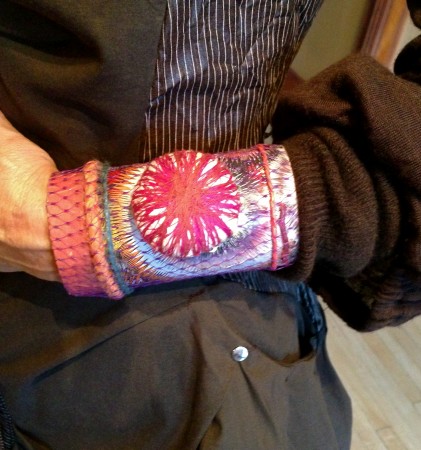 Cuff created by Debra Rapoport.
The approaching holidays hold the reality of my second year of loss.  My grief is no longer raw and gut wrenching.  Grief bursts no longer linger around every corner, triggered by numerous visuals in my surroundings, in my home, driving around the city, going to certain restaurants, gazing at our daughter's countenance. It is an intermittent sadness that is felt in the area of my heart.  I can remove Nelson's hats from their boxes and not sob at the sight of his possessions.  I feel a different sensation now.  An appreciation of what we had and an increasing acceptance of my loss.  But sadness does not just disappear after one and one half years following profound loss. It springs forth at the most unusual of times.
I'm in a new phase now, and feel as though I'm hovering over my life, searching for my place. Where do I fit?  What does it mean to fit?  At times unsure of where I'm going, but moving forward despite hesitation.  Going out to dinner or to an event by myself is empowering and energizing. I can have fun and get caught up in new experiences.  I no longer flinch as I return home and feel the peace within my space that I now create of my own intention, without my partner's contributions.
I wish that I could say that I have everything tied up in a bow and that I could put it on a hat for all to see.  But that would be untrue and only fantasy.  But at least I have the ribbon in hand and it's easy to find a hat in my home waiting for a trim.
The other day Camille said that she fears she's forgetting her father.  I assured her that would never happen, just that now every moment is not filled with pain and disorientation.  Maybe we can see him even more clearly and lovingly from this distance that death has created.  But for today, as Thanksgiving approaches, I feel an unexpected heaviness and a slowing of motion.  Why did I think that our favorite holiday would so easily pass without powerful impact and memories of Thanksgivings past?
I'm linking up with the gorgeous crew at Patti's Visible Monday HERE.