Falling For Color And The Autumn Leaves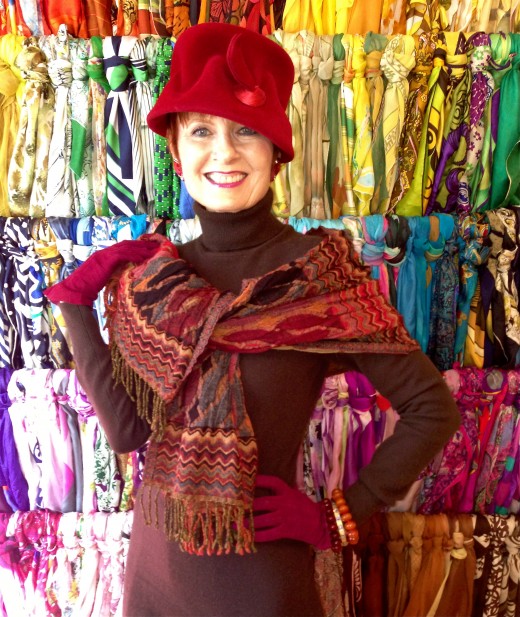 Fall's colors inspire me and this season rivals spring for my favorite.  With an understated brown background, I adorned myself in autumn and embraced the scarf installation for its daily gifts of color and texture.  I'm grateful that I'm alive to appreciate the realization of a vision that became a reality in March of 2013 and I enjoy the wall of scarves for its daily greetings and function.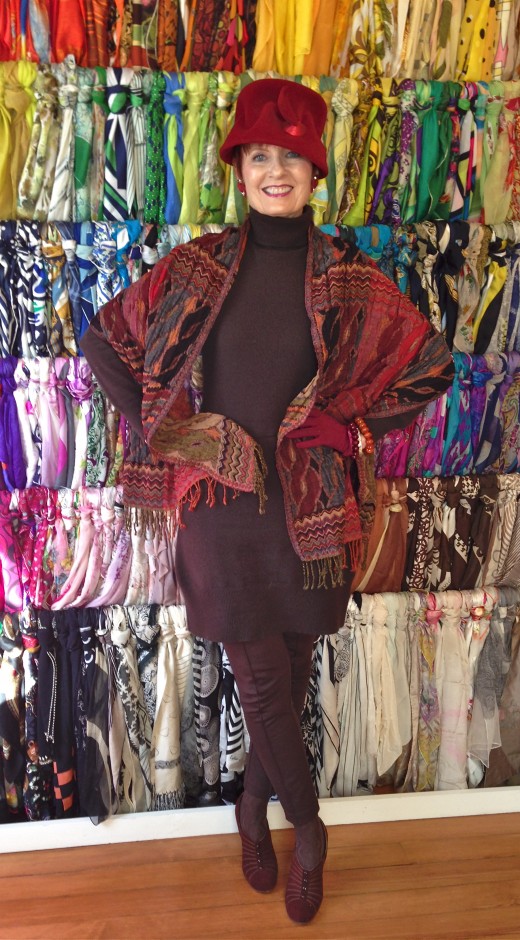 It doesn't matter to me if I don't wear every scarf that holds its place in the installation.  Although I find them more accessible when they are displayed, the most important factor is that I enjoy them as a piece of art.  The arrangement, as a collective, brings me pleasure. And that's enough for me.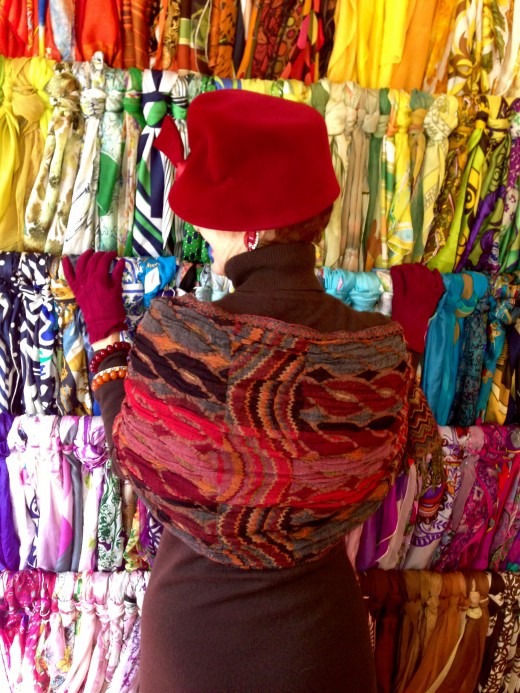 The structure and details of the estate sale vintage fur felt hat also bring me enormous pleasure.  For The SC, hats are life extenders, just as this hat extends itself from its crown with a decorative triangular shaped piece of felt.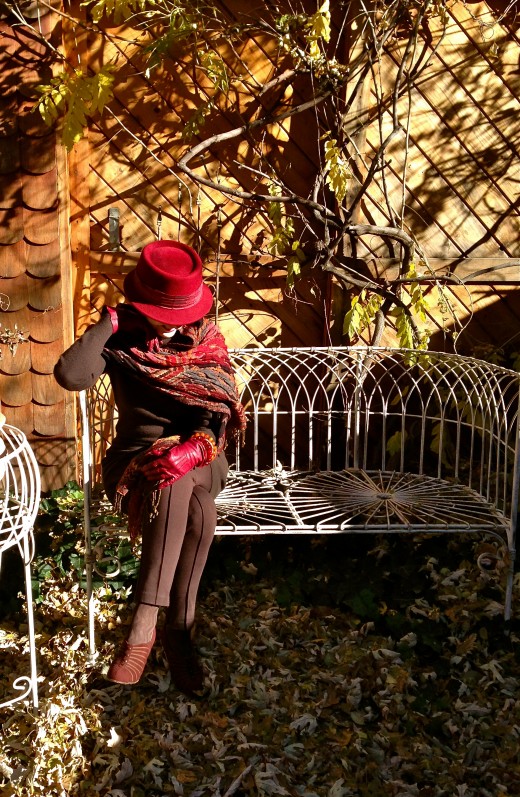 From the scarf installation to the back garden, which called for a change of headwear, the sea of leaves basking in the sun and resting as silent as dust in the shade, display their own color and texture.  Nature's beauty is an ever-changing outdoor installation.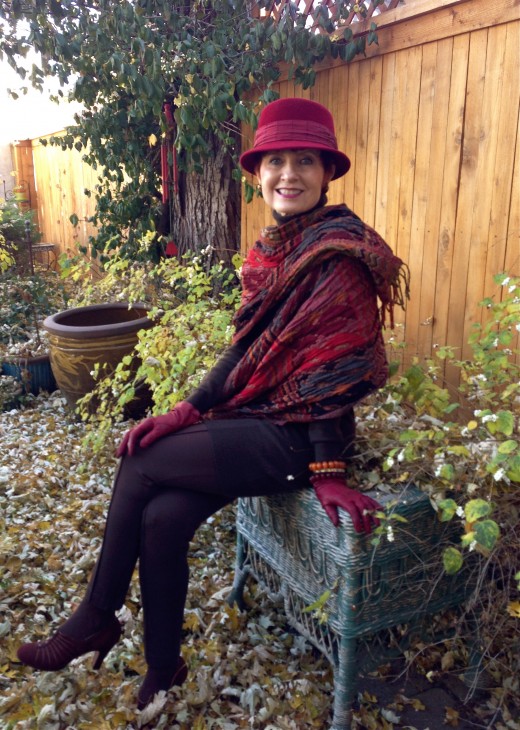 A melancholy mood surfaces. Fall is the window to winter, and as the days become shorter and the holidays approach, I feel somewhat off-center, but more confident and resilient this year.  A softening has occurred and I welcome its arrival.
"The Falling Leaves," by the legendary Nat King Cole, has been streaming through my mind, which led me to the video featuring a duet with his daughter Natalie.
"Where words fail, music speaks."    ~Hans Christian Andersen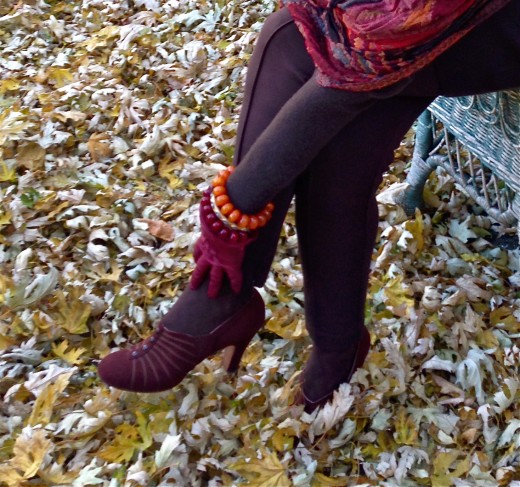 Photos by the lovely Diana
Brown merino wool tunic sweater, vintage burgundy hat, vintage earrings, vintage heels, vintage burgundy gloves – estate sales, Makins burgundy fedora – retail sale years ago, beaded bracelets – NYC Tibet store, gold bracelet – gifted, multicolored scarf – holiday market NYC, and brown leggings – retail.
Visible Monday HERE is up and running at Patti's Not Dead Yet Style.  I'm eager to drop by and see the seasonal splendor that I'm certain will be on display!
HAT ATTACK #5 will be featured on Sunday, December 1st!

Whoever wants to can join in!  Just compose a post that includes any hat, headwrap, headpiece, fascinator, hair flower, headband or other adornment for your head that you love on Sunday, December 1st.  Participation will be open for one week, or until Saturday, December 7th.  Follow the directions HERE provided on Style Crone to post your photo and hope to see you there!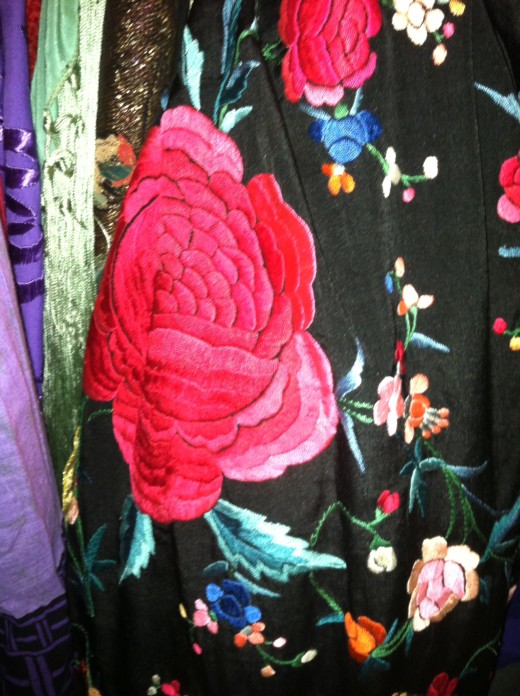 My gorgeous and dear friend Carolyn is downsizing and letting go of a lifetime collection of vintage textiles (saris, piano shawls, etc.), vintage Mexican and Peruvian silver, costume jewelry and unique objects.  The show is at her home in Denver this coming Thursday, November 21st from 10am to 7pm.  Carolyn is the former proprietor of Tapestry, a magical and very popular shop in the Cherry Creek shopping district. If you live in the Denver area, contact cfineran@gmail.com for more information. This is a show not to be missed!
Check out Carolyn's Etsy site HERE to view her Gypsies Collection, which features vintage jewelry, textiles and other treasures. The Gypsies bring beauty to life with great style!