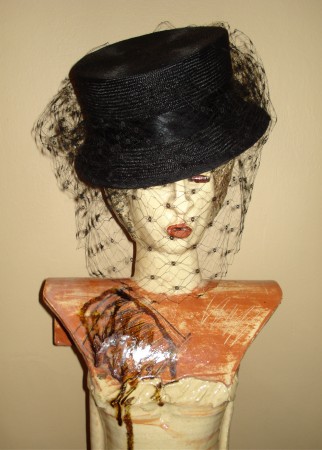 Photo by The Style Crone
The memorial service hat has been sitting on the ceramic sculpture in the living room since the beginning of June.  It felt comforting to walk by its veiled splendor multiple times per day.  The hat was made by milliner Erin Saboe of Go Go Chapeaux HERE.  I treasure the memories of my time with Erin during the hat making process as I prepared for the service.  Her empathetic and gentle manner during that difficult time will always be in my heart.  I plan on featuring Erin as a part of my milliner/hat shop review, which I hope to begin in the near future.
Today I have decided that it's time for this special hat to be placed in an exquisite tissue filled vintage box.  An organic shift has occurred and it seems as though it began as part of my decision to organize the chaos in my home.  Or maybe the shift occurred before that commitment.  I feel myself moving forward as I read, cherish and honor the cards that Nelson gave me over the years and lovingly placing them in a carefully chosen decorative box, rereading sympathy cards with a new 'eye' and making the decision to change the hat on the sculpture.  The process of grief is a transforming journey with its own timeline, daily revelations and evolving perceptions.