The Fashion Designer Sabine Wagner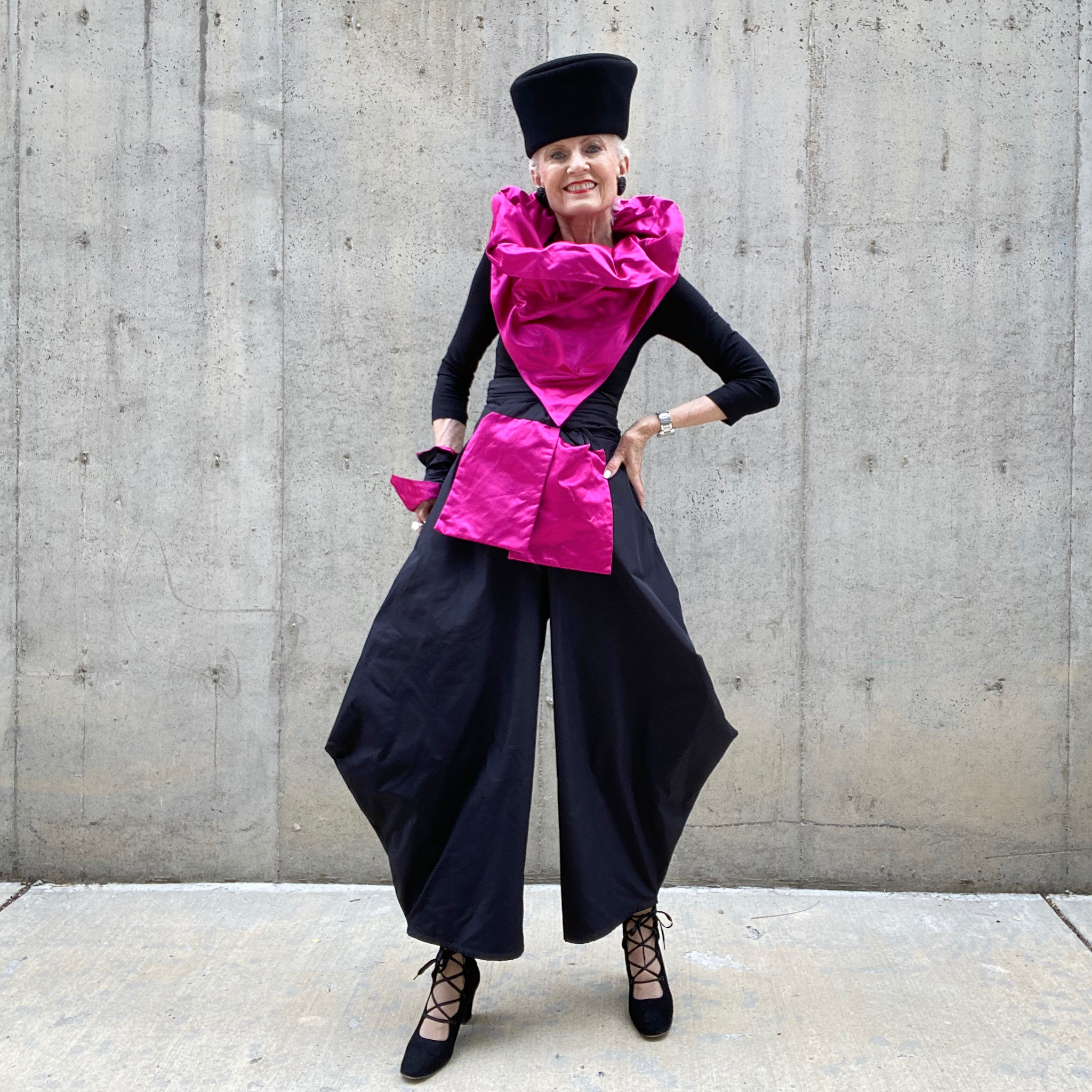 With this post I'm thrilled to feature the breathtaking designs by Sabine Wagner, who I met in NYC at the Curate Show this past February. I fell in love with her luxurious, handmade creations, and I am honored to present their beauty and versatility.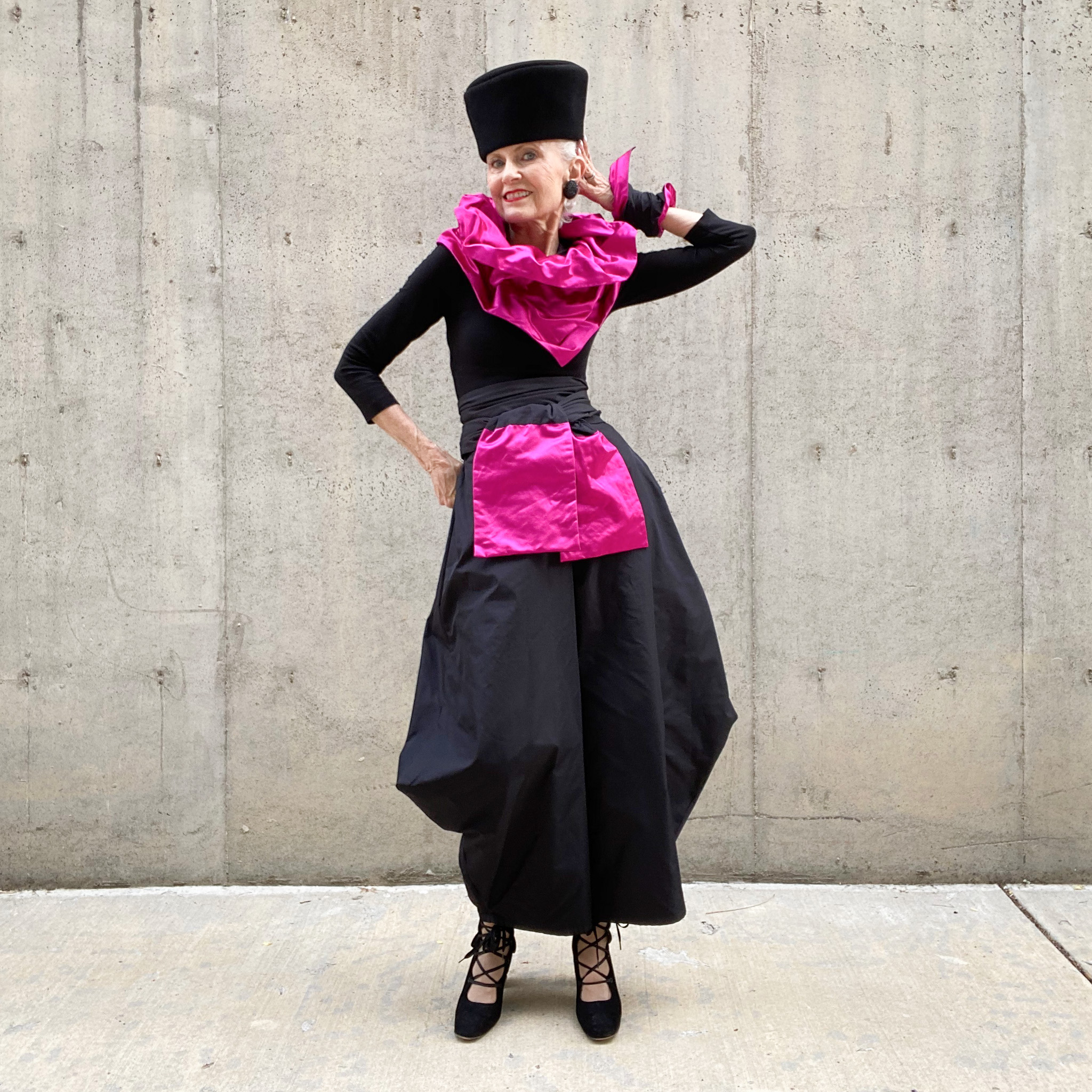 Based in Bremen, Germany, Sabine's designs are exclusive, timeless, and elegant. They can be worn in a variety of ways. In the photos in this post I'm wearing her Duchesse silk fuchsia collar, black and fuchsia sash, and black and fuchsia cuff. The collar can be worn with the large or small point in the front, the points turned to the side, and with the points turned upward. The sash can be worn in any way that your creativity desires. All three pieces set off Sabine's architecturally shaped pointed pants to perfection.
With Sabine's designs I am wearing a vintage Frank Olive hat,  an understated black top, vintage shoes, and vintage earrings. And of course my COVID hair. Who knows when I will get it cut due to my isolation status. I'm finding it an adventure, and with hats it can be easily slicked back, reminding me of how I wore my hair in the 1980s.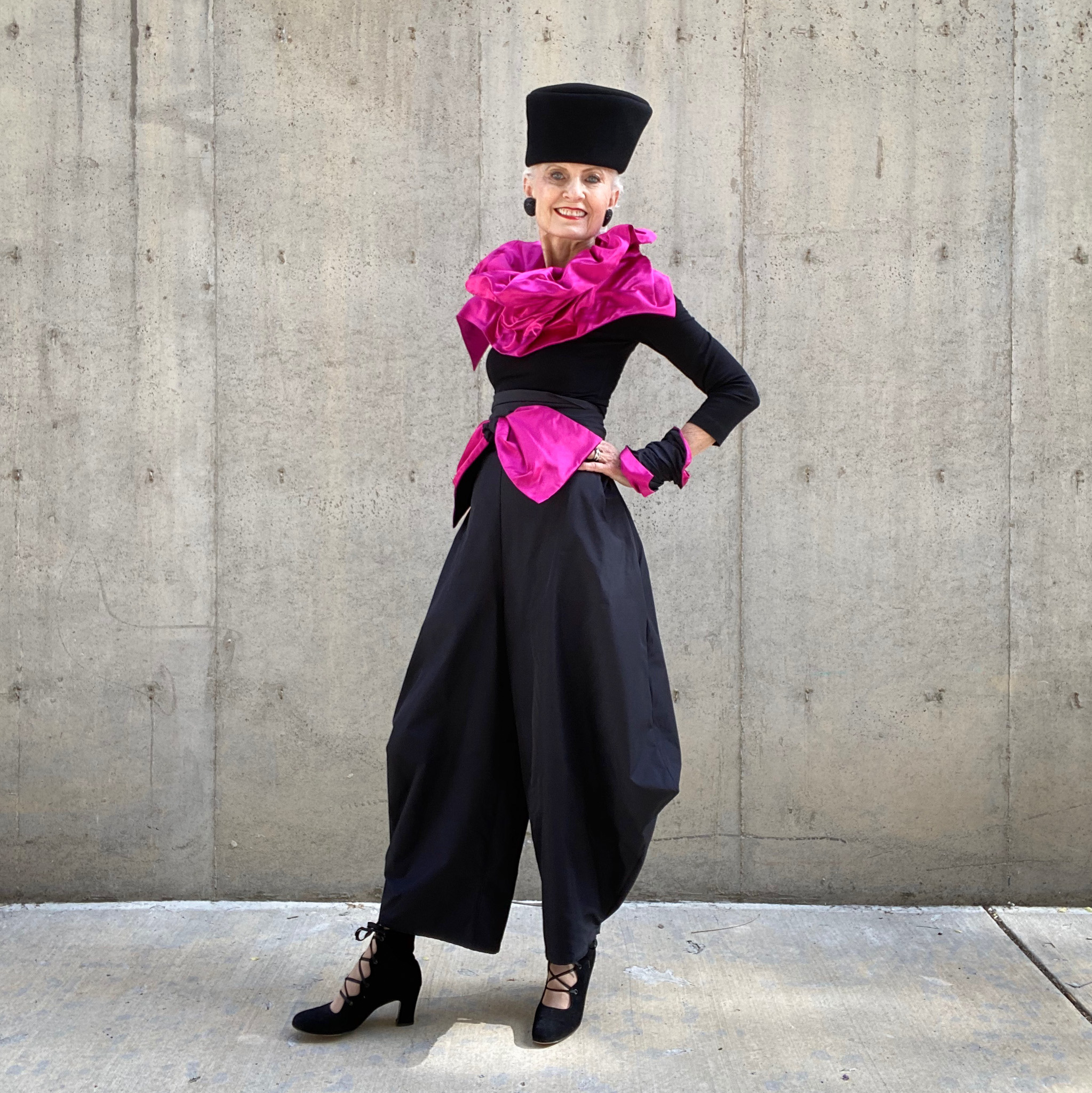 In 2008, the monotony of the fashion mainstream led me to explore my own paths outside the textile industry. In my studio in Worpswede I have since then been designing lively unique clothes and unusual basics with numerous wearing options.
All clothes and accessories are exclusively made by myself and my small team on site. Great care and attention to detail goes into every creation. I work with clear contours and colour contrasts…Sabine Wagner from her website.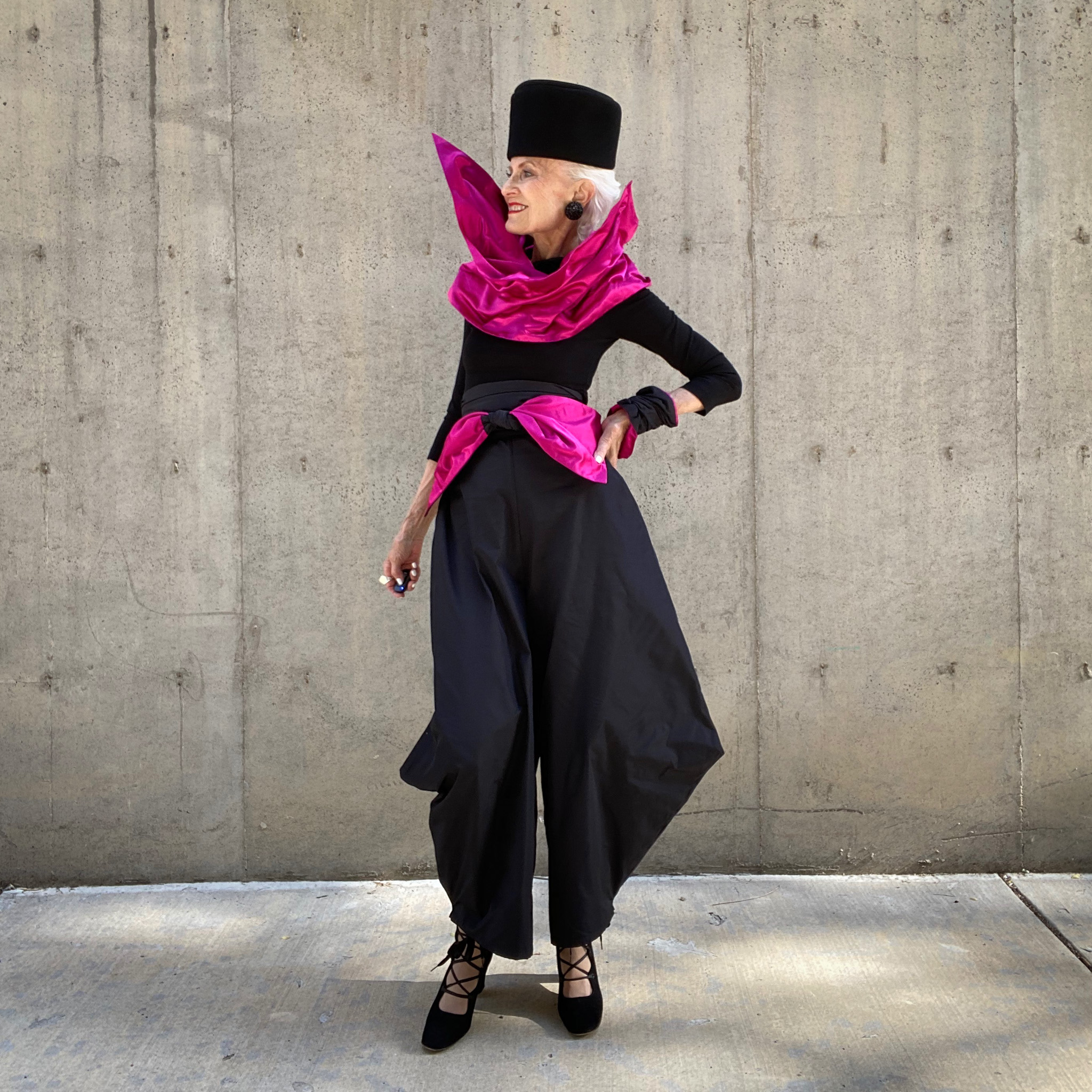 My designs can be combined with each other as well as with pieces from your wardrobe again and again. There are no limits to your imagination. So both the simple evening dress and the everyday wardrobe appear in a completely new elegant light….Sabine Wagner from her website.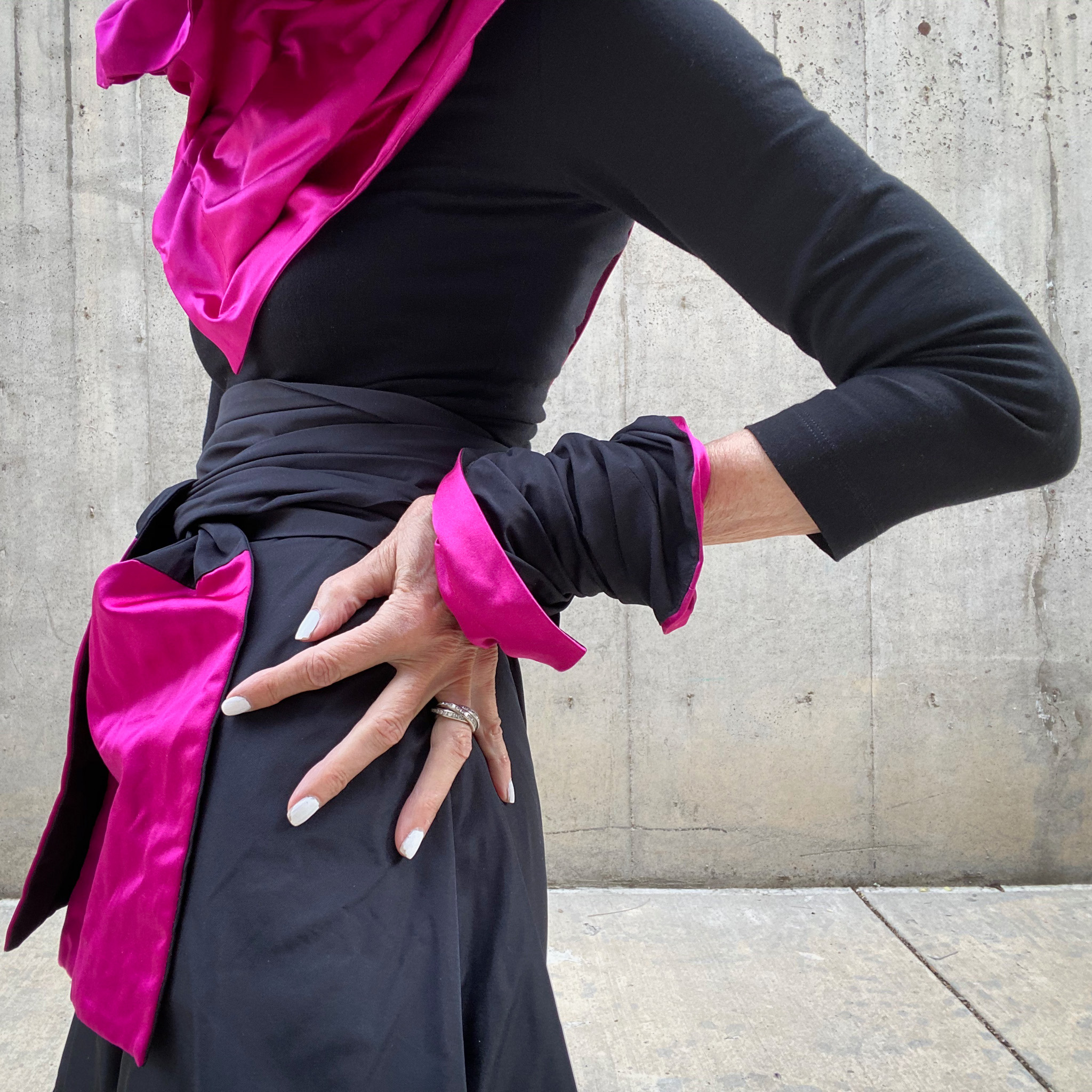 Photos by Style Crone, Editing by Daniel
I'm eager to wear these stunning Sabine Wagner pieces out as soon as the quarantine is lifted. I have many combinations in mind for an evening out to dinner, the theatre, or any occasion that calls for a statement. Until then, I love getting dressed up for a Zoom party, and this outfit, I'm sure, will be making an appearance soon.
Photo of the beautiful Sabine Wagner at the Curate Show in NYC, February, 2020.