Repeats In The Guest Room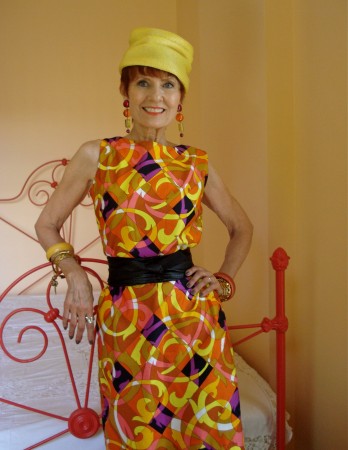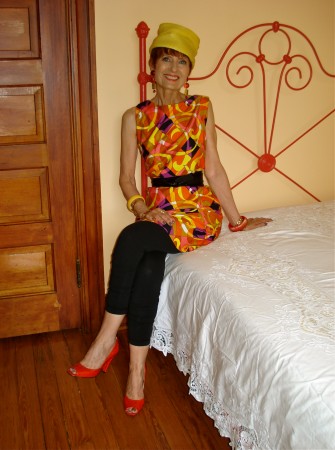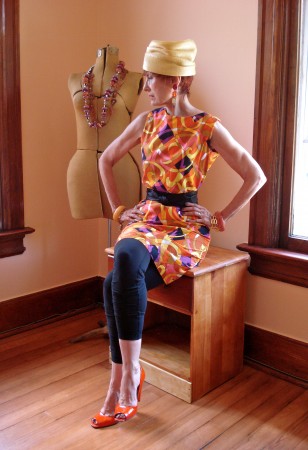 Photos by Diana
Vintage multi-colored cotton dress as tunic HERE, vintage earrings and bangles – estate sales, vintage yellow straw toque HERE – Buffalo Exchange, black yoga pants/leggings, orange peep toe heels – summer retail sale several years ago, black obi.
The current guest room was Camille's domain when she was growing up.  The chosen color for this room is a soft melon  which changes in intensity and tone depending on the lighting and the time of day.  The SC temporarily threw a white antique tablecloth on the antique iron bed and embellished the space with a mannequin.
I continue to shop my closet as I sort and organize.  I realize that I would like a variety of background pieces of varied colors to expand my compositions, as I now rely on yoga wear and other items that I've owned for years.  But that would involve taking my focus off of my home, even if for an afternoon.  So for now I'm challenging myself with what I have in my closets.  But again, that could change on a dime!
This outfit was worn for the birthday party of a dear friend, and I chose pieces that had been featured on SC in previous posts in different combinations.  Like life!  Putting together what I've learned in the past to create or respond to experiences in a new way.  If only transforming thought patterns were as easy as changing accessories!
Linking up with Patti at Visible Monday HERE!