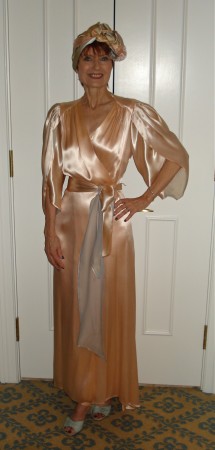 Photo by Nelson
Vintage light peachy pink silk satin dressing gown with powder blue trim and vintage light pink/powder blue silk satin head wrap-estate sales, powder blue heeled sandals-flea market.
Nelson and The Style Crone ordered 'breakfast in' on Saturday morning, which was a new experience for us.  We have always been practical when traveling and like the adventure of discovering new restaurants.  However, our room at the Broadmoor was so beautiful that we wanted to enjoy its splendor and it gave The SC the perfect opportunity to wear yet another gown.  Eating breakfast with Nelson in silk satin seemed the ideal thing to do on a Saturday beneath a mountain with the sun shining wildly into the sitting room with the sky blue walls and the floral upholstered chairs inviting us to lounge late into the morning with jazz playing in the background to soothe us softly as though we didn't have a care in the world.  And at that moment we did not!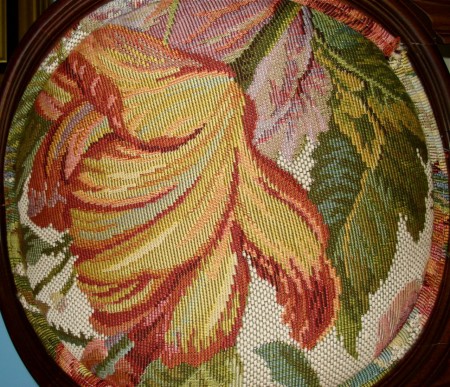 Photo by The Style Crone
The floral upholstered chair.