Mono-CRONE-matic In Olive Green Lace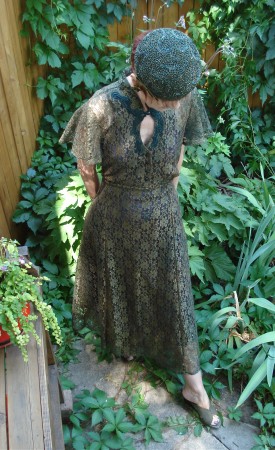 Vintage green beaded hat with satin trim – gifted and worn previously on SC HERE, vintage olive green lace dress over vintage navy blue silk satin slip and jewelry – estate sales, YSL olive green fabric chunky heeled slides – Buffalo Exchange.
The SC was headed south on Broadway when she drove by the new Buffalo Exchange, which had recently moved.  I came to a screeching halt and ran in for a quick scan.  I came upon these olive green YSL's, and for some reason I remembered the olive green lace dress, which had been waiting for an outing for years.  My unintentional self imposed shopping ban came to an end.  Come to find out, they were a perfect match, so I went monochromatic.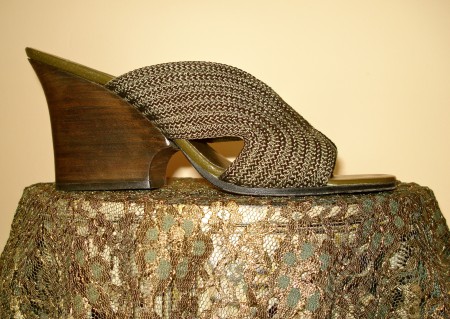 The delicious shoes on lace covered pedestal.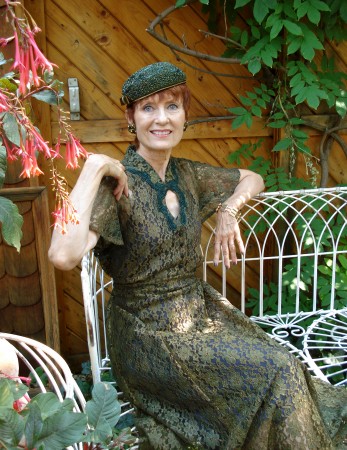 "I consider lace to be one of the prettiest imitations ever made of the fantasy of nature; lace always invokes to me those incomparable designs which the branches and leaves of trees embroider across the sky, and I do not think that any invention of the human spirit could have a more graceful or precise origin."      Coco Chanel, April 29, 1939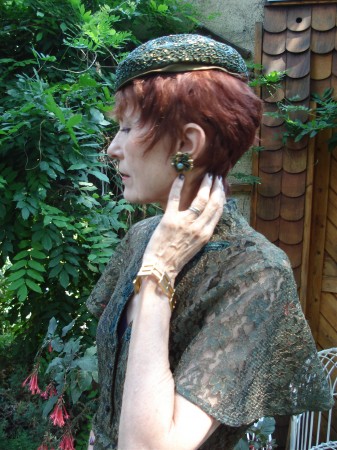 Photos by Diana
Back in the garden contemplating an interview I heard on NPR today.  According to an Olympic coach, high performing athletes consider setbacks as opportunities.  An athlete I am not, but the concept is intriguing.  Which went along with the motto, 'Spread your wingspan,' which was expressed by my yoga teacher within 30 minutes of the radio interview. Syn-CRONE-icity at its best!
Linking up with beautiful Patti's Visible Monday HERE.