The SC  has been swept away by the projects that are in process which will complete, at least for now, her home renovations.  This festive broom was found during a visit to Tuesday Morning, a shopping experience that can feel like an estate sale with its unpredictable selection of items that are at times extremely inexpensive but of high quality (if I get lucky).  A polka dot broom?  Not only is it inspiration for an outfit, but my broom of many years came to its demise two weeks ago (a much smaller version of my furnace and car).  It was made in Spain and had a price tag of $6.99.  Usually a hat is the accessory that is the starting point for outfit building, but today it's a broom, with tongue in cheek, that sparked my imagination and swept away the cobwebs of my mind.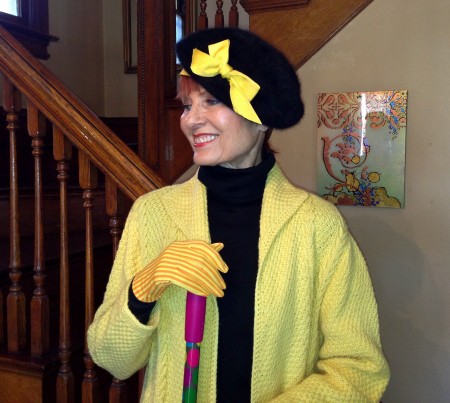 Photos by Diana
I have also been swept away with party planning, as I've decided to throw myself a gathering for my 70th birthday.  Why not set a self imposed deadline for the completion of home projects?  As a recovering emergency mental health provider, I work best under pressure and I'm over the chaos and disorganization in my home that imposes barriers to peace and limitless self discovery. I'm doing it up to the nines as though composing a holiday outfit, with dancing and entertainment, a reopening of my vintage studio, and anything else that comes to mind that screams celebration.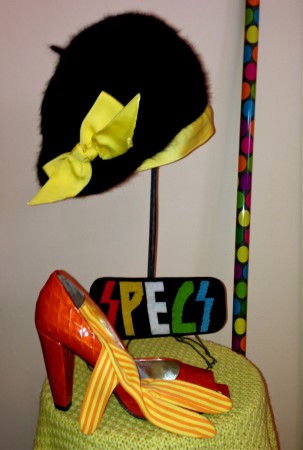 Polka dot broom – Tuesday Morning, vintage striped orange/yellow gloves, oversized (which allows for vigorous sweeping after kicking off the pumps) long yellow sweater and Frank Olive black angora-esque beret with yellow bow and trim – estate sales, orange peep toe pumps – retail summer sale years ago all on black background.
This soft case for glasses begged for inclusion and is from Bella Q HERE of The Citizen Rosebud's Etsy shop HERE. Check out her fresh picked vintage and her mastery of pattern mixing!
The SC is sweeping over to the gathering at Patti's Visible Monday HERE!