Newsflash!  Daniel has recently become the freelance photographer for Mod Livin' HERE , "the Rocky Mountain region's premier outlet for contemporary and modern furniture designs and mid-century furniture and accessories." This gig evolved from his photography for Style Crone, and he's enjoying the change of pace, finding furniture as interesting as hats.  And outfits.  And poses.   Although furniture is less interactive and doesn't participate in playful bantering.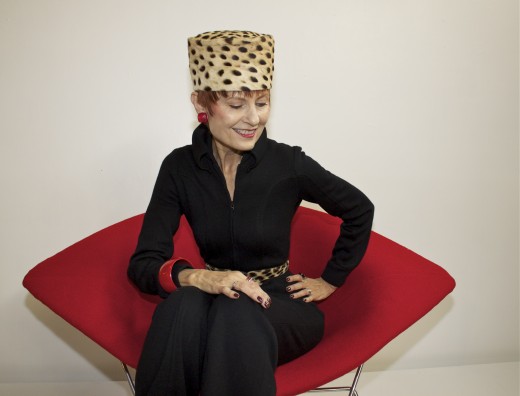 In celebration of his new endeavor and the recognition of his talent, we traveled to Mod Livin' for photographs.  The red chair, or The Diamond Chair by Harry Bertoia HERE, caught our attention, and I settled into its contemporary and luxurious comfort.
"If you look at these chairs, they are mainly made of air, like sculpture. Space passes right through them."
-Harry Bertoia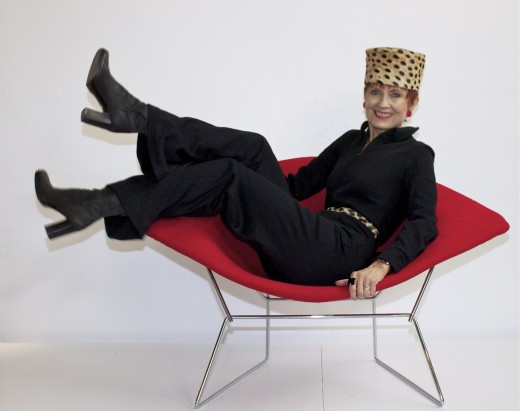 The red chair deserved red lipstick as an accessory to reflect its vibrant energy.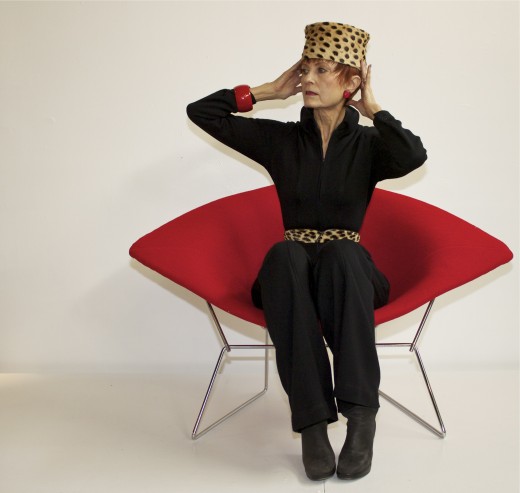 Mixing leopard and cheetah prints captured the mood of this mid-century modern afternoon.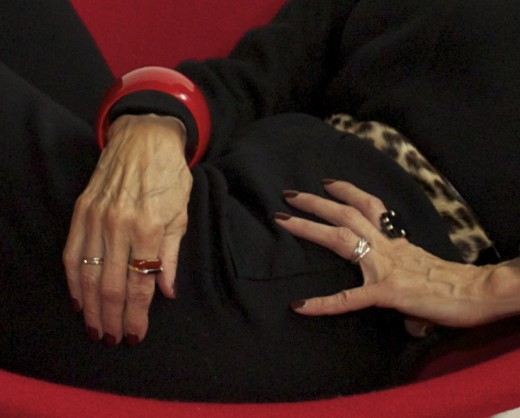 Crone hands and wrist embellished with estate sale finds, resting next to the vintage leopard print belt.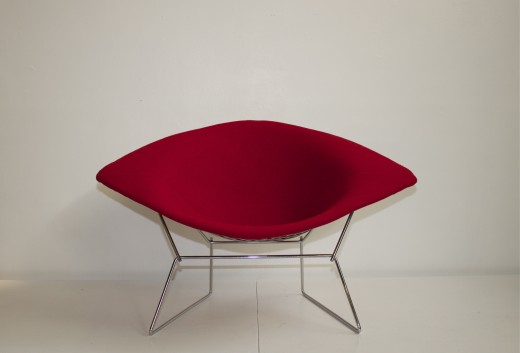 Photos By Daniel
Daniel's photo of the red chair can be viewed on 1stdibs HERE and is for sale.  Style Crone was not compensated for this post.  My reward was the excitement of Daniel's new and well deserved success and expansion!
Black 70's jumpsuit, leopard print belt, and jewelry – estate sales, vintage cheetah print tall pillbox hat – consignment store, black boots – retail sale over a decade ago.
I'm taking the red chair over to Patti's Visible Monday HERE at Not Dead Yet Style. Today Patti's wearing a stunning coat of many colors!  I'm also linking up with Cherie's Shoe And Tell HERE at Style Nudge!  I'm also taking my cheetah print and boots over to Sheila's Shoe Shine HERE at Ephemera and Anne's 52 pick-me-up: Dots HERE at Spy Girl.