Photo by Camille
Sarah Cant Pink structured fur felt hat with velvet trim-The Hat Shop, black Yves Saint Laurent sleeveless turtleneck-consignment store, vintage pin/earrings-estate sale, black Carolina Amato fingerless gloves-The SC's hat shop inventory in the '80's, black ruched jeans-Gabriela Designs Denver, black heels-consignment store.
The Style Crone had been storing this hat in it's hat box in the hat room for several years.  It was waiting for the perfect occasion and Camille's birthday party was the ideal celebration for this chapeau's debut.  As usual, I planned the entire outfit around the ornament on my head and the entire ensemble came to mind during yoga, which frequently happens. It's as if visions in my brain manifest in certain poses and I have inventory memories.  Who knew that yoga would facilitate the building of outfits?
This hat is a true sculpture and it looks different from every angle.  I prefer hats that are unusual, have interesting shapes, and are made with quality materials.  This hat was designed by Sarah Cant who states, "Shape is generally more important than colour and I love feeling and moulding the forms. I try to aim for elegant, organic forms as I feel that the more organic the shape the more natural it looks on the head – I like to give the impression that the hats have just landed on the head, just happened." Mission accomplished.  And I am delighted that this hat landed on The SC's head for this important observance.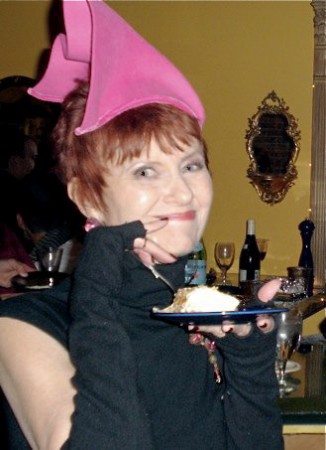 Photo by Nikki
Yummmmmmmmmmmmm!!! The birthday delicacy created by a dear friend was carrot cake with almonds, walnuts, currants, figs, and coconut.