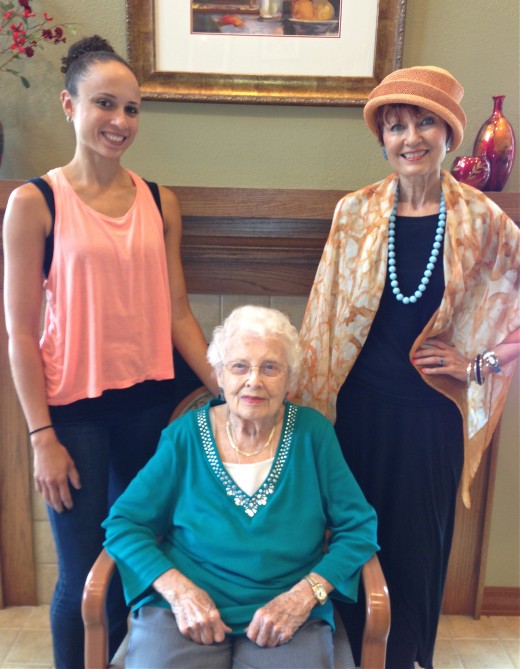 The SC took time off from exploring Denver to visit her 93-year-old mother in Minnesota, accompanied by Camille.  My mother Norma continues to live in the assisted living facility that has been her home for five years.  She remains energetic, in good spirits and as 'sharp as a tack.'  Camille and I cleaned the rings in her extensive collection, which she wears when playing bridge with other residents and at the senior center down the street from the facility.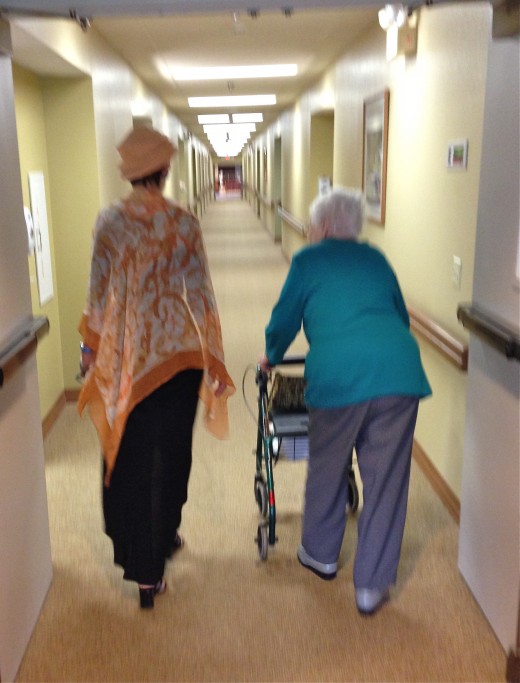 Camille took the above photo of the two of us walking the halls of the facility. Due to macular degeneration my mother's eyesight is limited, but that hasn't affected her ability to enjoy relationships with family, staff and other residents.  Although she walks with a walker, she is pain-free and independent in her room, which is filled with her own furniture and beloved objects that reflect a life well lived.  She tells us that she appreciates the safety that is provided in her surroundings, with higher levels of care available at the same location if she needs more help with activities of daily living.  It's comforting to know that Mom is thriving in her 90's and as Bella from The Citizen Rosebud HERE would say, 'she's blooming where she's planted.'
I'm connecting with Patti's Visible Monday HERE at Not Dead Yet Style from the land of 10,000 lakes, but I will be home in time to launch Hat Attack HERE on Thursday, August 1st.  Hope to see you there in your headwear of choice.
By the way, I found a bumper sticker in Minneapolis:  CRONE (Creative Researcher of New Experiences).  I can relate to that!