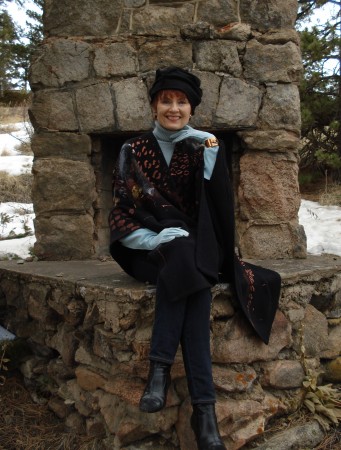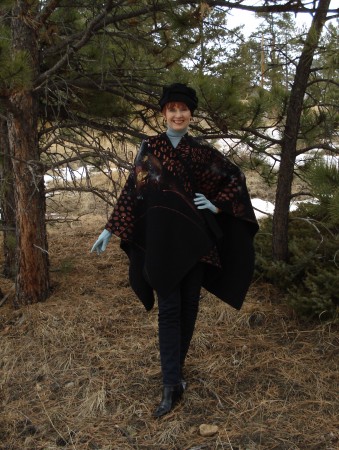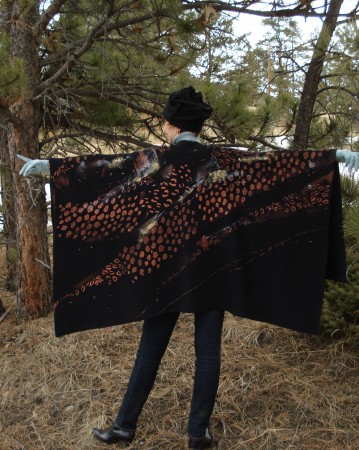 Photos by Paula
Gifted Sarah hand painted cotton knit cape, black wool Mieko hat, estate sale vintage powder blue gloves and vintage copper jewelry, consignment store powder blue turtleneck, jeans, and boots.
A forty minute drive from home carries The SC to the foothills of the Rocky Mountains to a charming bistro for brunch with friends. This cape, with its constellation of copper, powder blue, gold and off white hand painted on a black background inspired the ensemble for the day's adventure.  The pairing of copper with powder blue was a combination that hadn't crossed my mind in the past.  A dear friend was downsizing before a move and when she presented me with this piece of art, how could I possibly decline?  Even though I'm attempting to edit my collections, when something magical appears, resistance is unacceptable in the realm of possible behavioral choices.  Not impulsive, but mandatory! My diverse cape inventory is forever growing, with luscious folds eager to embrace and provide comfort with an equal measure of drama.  I love theatrics in my outfits, but I prefer to create peace in my life.
Speaking of outfits, check out Patti's Visible Monday!