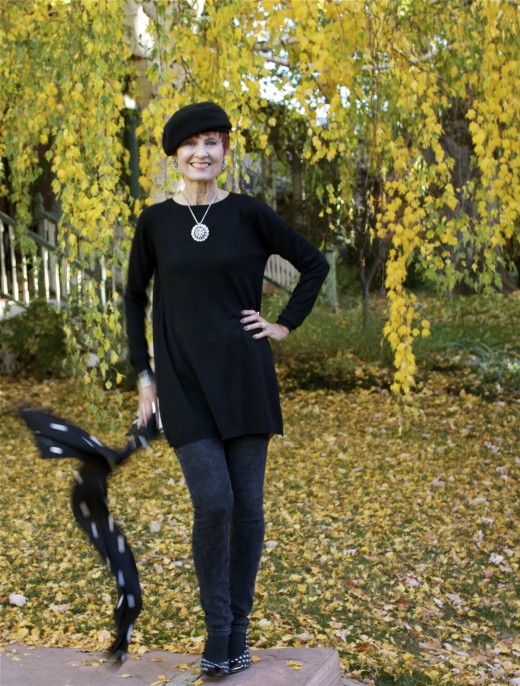 I've learned that no matter how wonderful the time away from home has been, I greet my sanctuary with a new appreciation for the life that I've created in Denver; my friends and family, both face to face and virtual; the everyday beauty that surrounds me; my yoga practice, my music and my routines; and my expanding feelings of peace with "what is."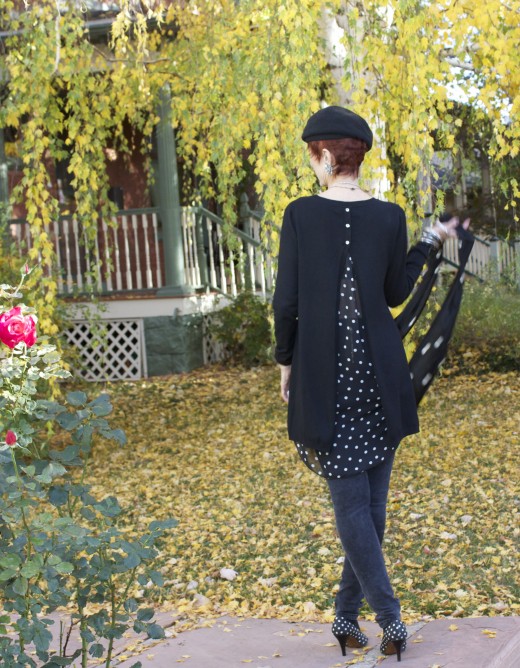 I feel grounded, and from here my next adventure into the unknown will unfold.  I have a new understanding that the journey here in place has its own excitement.  Its own thrill.  Its own creative energy.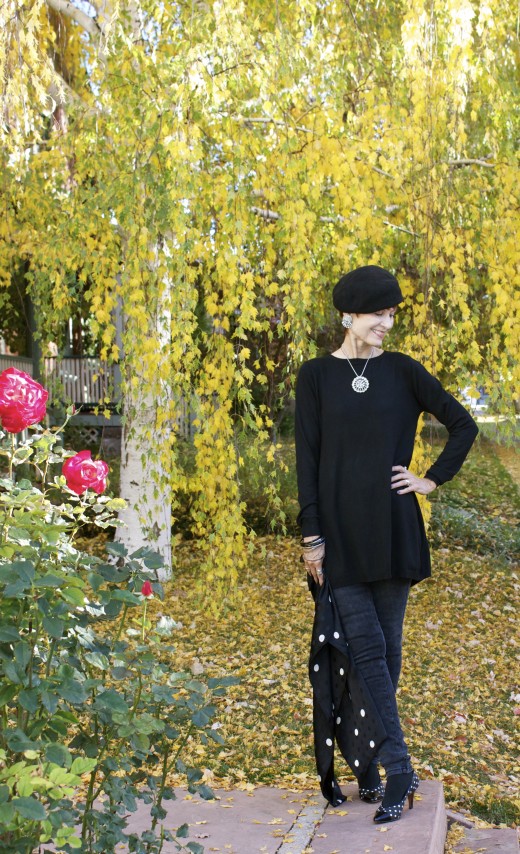 It is with amazement that I view the change of seasons; the weeping willow tree a block from my home is an expression of the extraordinary fall colors that welcome me daily.  I have returned home to nature's transitional display of glorious splendor.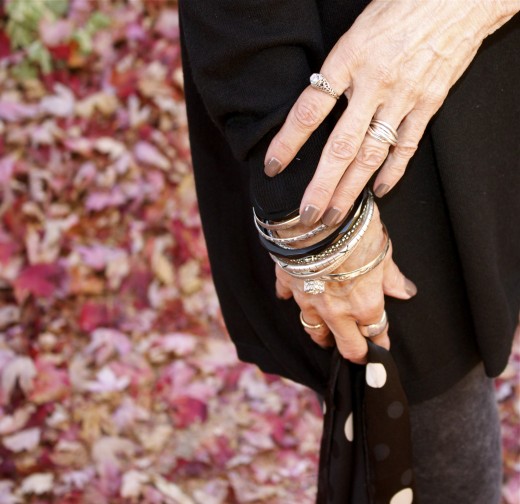 I have embellished crone hands and wrists with adornments which have been lovingly collected over the years.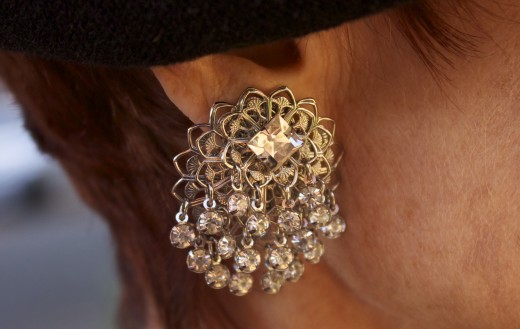 One can never go wrong with rhinestones, during the day or the night.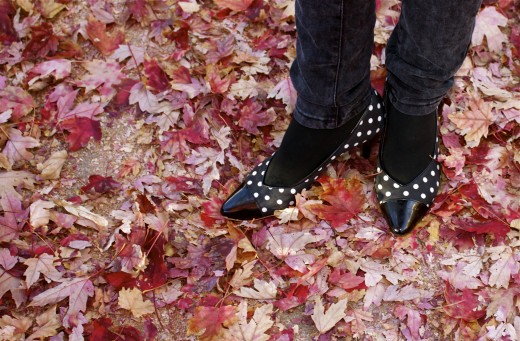 Or polka dot pumps, which make a swishing sound in the fallen leaves as I walk through the neighborhood with Dan, not wanting to wander far from home on this first photo shoot since the trip that opened my eyes and all of my senses to the new.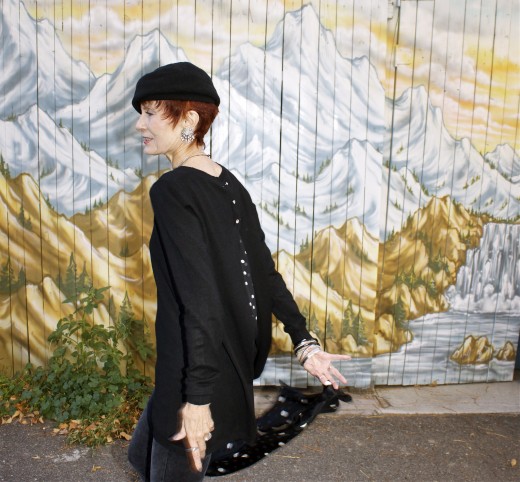 Or twirling in the alley accompanied by a mountain mural painted on a garage door.  I really should get to know these neighbors!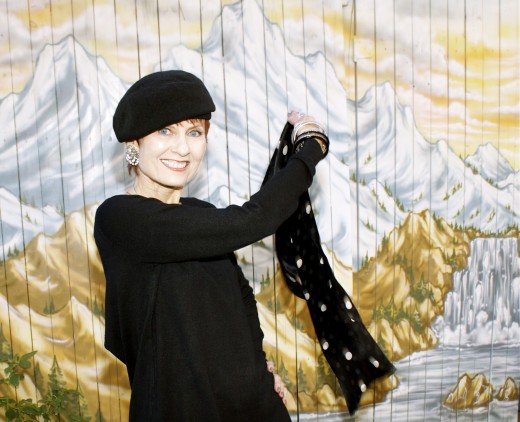 Photos By Daniel
Today I'm grateful to be alive, as I toss my polka dot silk scarf into the wind that carries the organic scent of fallen leaves through the autumnal air.  I have completely fallen for fall!
Long sleeved sweater with polka dot insert and rhinestone buttons – Paris street vendor; jeans – Paris boutique; beret, vintage polka dot pumps and scarf, vintage rhinestone earrings and pendant – estate sales; bracelets, bangles and rings – from everywhere.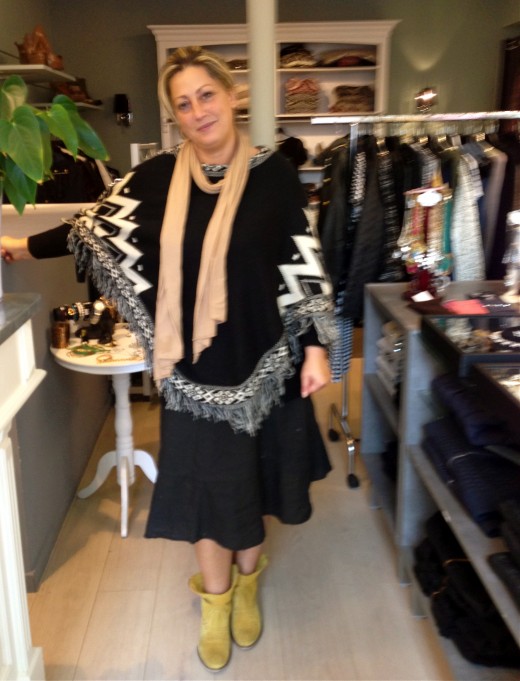 I discovered my new jeans (though I seldom shop retail) in the shop across the street from our hotel, which was in a predominantly residential neighborhood in Paris.  The beautiful boutique owner, in photo above, was fun, interesting and helpful, though we were unable to communicate verbally due to language barriers.  However, as I found to be true during our entire trip, we had a fabulous time together as we connected around a focus of mutual interest and fascination.  As the glamorous Jean of Dross Into Gold HERE has been known to say, "Like music, personal style is a universal language."
I'm linking up with Sacramento's Share-in-Style: Halloween HERE on Mis Papelicos.  The weeping willow tree in the background is my expression of the season.