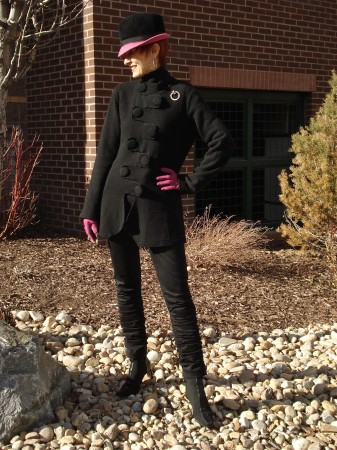 Photo by Diana
Black/fuchsia fur felt fedora by Guy HERE, estate sale black wool sweater with large covered buttons, estate sale vintage fuchsia gloves and silver jewelry on black background.
The sorting of Nelson's belongings is complete, and The SC decided that inviting a few friends over during the weekend to choose items in his honor would be more meaningful and personal than donating.  At least as a first step. What happened in the process was memorable, as each person selected a prize from the many items that were displayed. Everything except the special pieces that Camille and The SC had tenderly chosen for safe keeping. The dining room was filled with clothing, hats, shoes and a limited amount of books. The hats were the most popular item; someone proposed the idea of a 'Nelson Hat Party' where all could gather wearing hats that he had sported over the years.  There were two sizes available; one category from his afro days and another from the times of short hair or shaved head. This allowed for almost everyone to explore the joy of hats from a precious collection.  The SC found herself unready to let go of several items as they came close to walking out the front door.
I felt engaged and appreciated the laughter and stories from the past along with expressions of personal grief.  However, after the departure of the last guest I was overwhelmed with a new sense of loss as though pieces of myself had left, even though in the hands or on the head of a dear friend.  A personal excavation.  I also felt pleasure to know that each item would have a new life  and I could admire Nelson's hats on familiar heads in the future.  And as I donate the remaining items to an organization that advocates for the chronically mentally ill, a vulnerable population that was dear to us during our life together, a deep sadness lingers.  But I am also trusting that the the heart knows when to 'let go.' Another element of this long and seemingly endless process has been completed.
I made the decision to reread Joan Didion's  'The Year of Magical Thinking.'  I needed to remind myself that grieving takes time.  Shouldn't I be closer to a sense of healing and a new definition of self?  I have become impatient with feelings of vulnerability, the inability to focus and make a decision with confidence, the cognitive disruption.  As I opened the book seven months after the first reading,  I noticed that the author began writing her story nine months after her husband's death.  I am at the same point in my transformation. What she had to say provided reassurance and comfort, putting turmoil into perspective.   She spoke directly to my every fear.  As time goes by, and I become more awake, the realization of what I've lost becomes increasingly stark but remains evasive, unclear, unfinished, ever changing.  I have no idea what tomorrow will bring, although I know it will provide hope in the form of an outfit adorned with a hat.