Organizational Intervention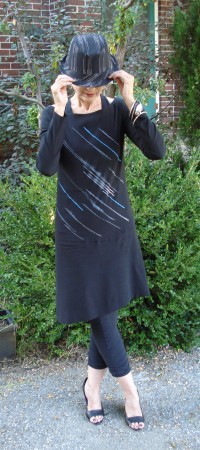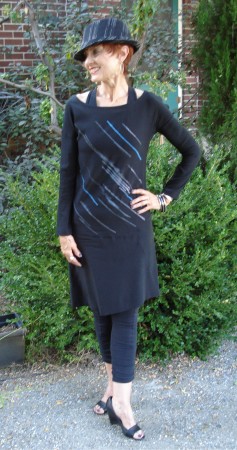 Photos by Kathleen
Speaking of summer uniforms, for months The SC has been throwing whatever item meets her gaze over yoga wear and adding accessories.  Today I reached for this DarylK silk dress with asymmetrical hemline purchased at a NYC flea market, a San Diego Hat Company fedora with strips of color similar to the lines of color on the dress, and shoes from a summer sale several years ago at a Denver shoe boutique.
I am in need of an organizational intervention.  The first floor of my home is symbolic of my core; on the surface it appears relatively organized and uncluttered.  However, the rooms upstairs give the impression of chaos.  The intermittent jagged edges of my emotions mirror the disorganization of my inventory.  Nelson's office and closet remain frozen in time, unchanged since the day of his death.  The basement is in similar disarray, reflecting my feet which are unsure of the path to take to operationalize my goals.  I become immobilized when I seek a starting point, a beginning, a focus, a plan of action.
My solution to this dilemma has been to seek the services of a professional organizer to assist with structure and strategy.  I have decided that I need a 'guide' to direct me and to collaborate upon a list of homework activities that I can successfully accomplish each week between appointments.  To slowly make sense of the chaos in my home is at the heart of my transition and it is my hope that I will feel a sense of control of my inventory and of the new life that unfolds moment by moment.  I long for calm and peaceful surroundings!