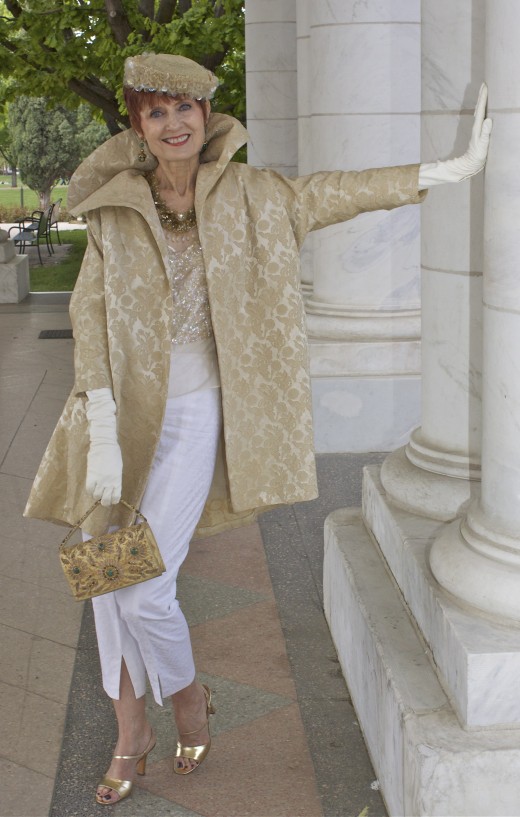 The SC and Daniel traveled the short distance from home to Cheeseman Park HERE for an afternoon of photos.  We started with the Cheeseman Park Pavilion HERE as background to an ensemble which was neutral based, but adorned.  Decorated.   Covered with ornamentation.  Accessorized.  Embellished.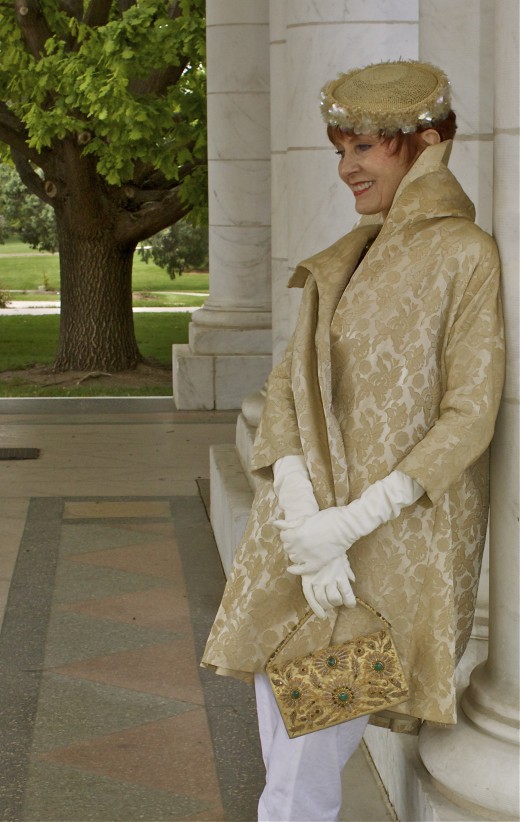 I began today's composition around the 1930's evening bag which instantly caught my interest at an estate sale. Inside the bag was a tag which described the bag as "gold brocade , silver and gold work, double-sided jade and emerald beads."  The perfect illustration of adornment.
Inside the bag is a small and elegant satin pillow which I assume serves the purpose of maintaining its shape when not filled with useful content.  It sits upon my mantel in the living room so that I can reflect upon its beauty daily, thereby adorning, enchanting and enhancing my life.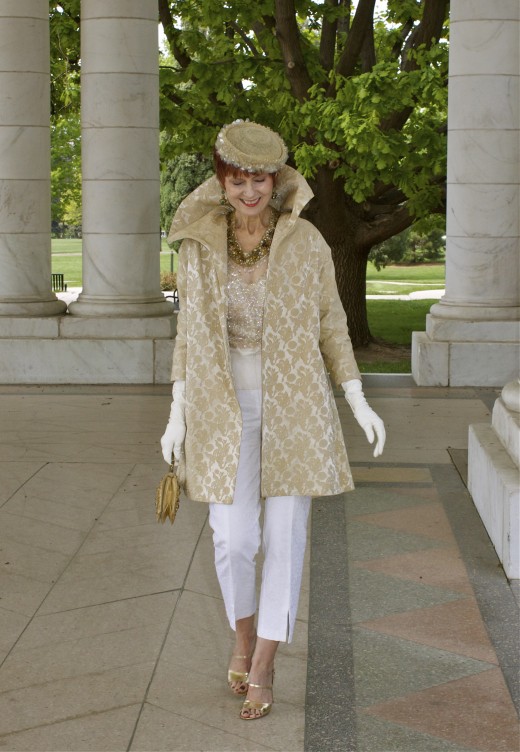 'In all ages, far back into pre-history, we find human beings have painted and adorned themselves.'  ~H.G. Wells, The Work, Wealth and Happiness of Mankind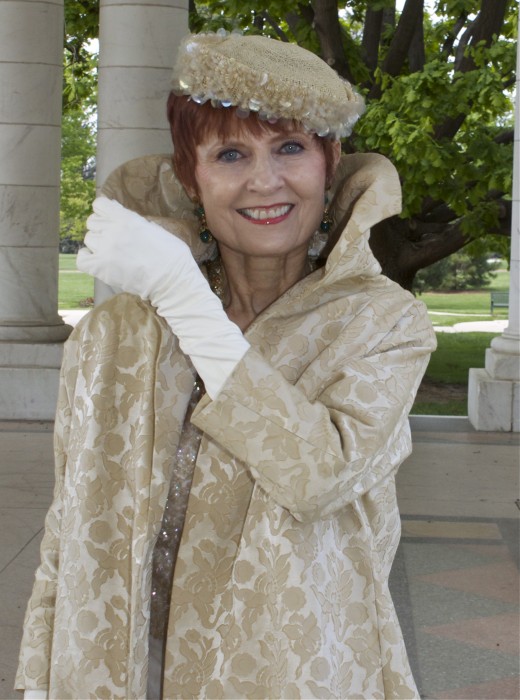 I feel the concept of adornment deeply.  My daily ritual.  My art.  My self-expression.
I've learned not to judge it, but rather to enjoy how it feels.  Not to question the presence of its impulse, but to go with its process.  Adornment is second nature to my humanity.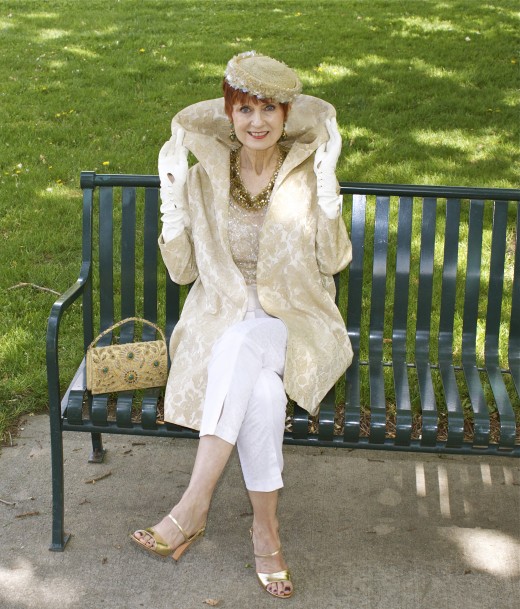 Sequins are the perfect example of adornment.  They shine.  They glitter.  They serve to celebrate.  A small, shiny disk sewn as one of many onto clothing for decoration, they brighten the day and lighten the night.  I have been sequin-inspired by Tamera of the blog Tamera Beardsley HERE, who is the master of these magical disks.  
Swinging through the hat room and my closets, I was greeted by the sequin treasures of an estate sale vintage headpiece and sleeveless top.  The sequin and beaded neckpiece has a permanent place on my bedroom dresser, and is another example of how accessories serve as home decor.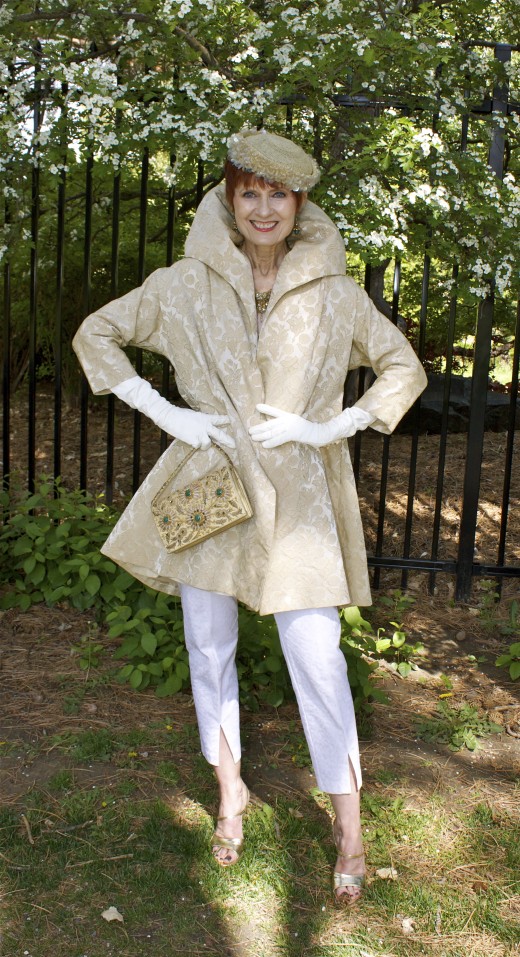 The Denver Botanic Gardens HERE are adjacent to Cheeseman Park, and the fence dividing the two provides background to the estate sale vintage gold brocade jacket with stand-up collar.  The white cropped pants were a retail sale find during my trip to Florida in 2012.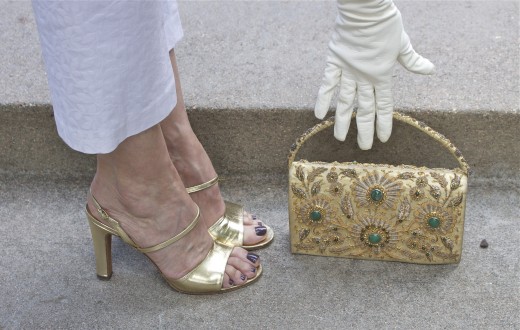 The estate sale gold heeled sandals adorn crone feet and accessorize the focus of today's ensemble.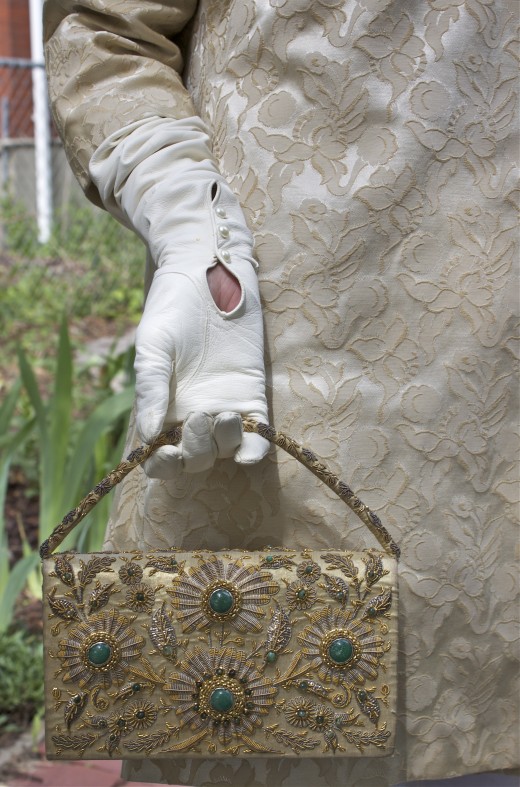 Photos By Daniel
I love any opportunity to pull on the luxurious estate sale vintage long off-white leather gloves with pearl button closures.  They are as soft as any gloves that comprise my beloved glove collection, which lives happily with the residents in the hat room.  I could rename the room "The Gathering of Adornments" if I were so inclined.
I'm linking up with the other visibles at Patti's Visible Monday HERE at Not Dead Yet Style.  Patti has adorned herself with a lion patterned blouse today!