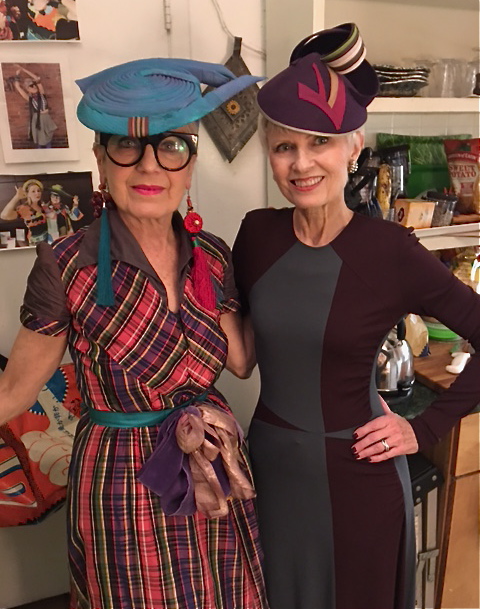 One of the most wonderful things about blogging is that I have documentation of experiences that I can always look back on and recall how they made me feel.  These peak experiences include the beautiful, intelligent, creative, talented and interesting people who I have met since I began blogging in 2010.  Unfortunately I was unable to include photos of everyone who I admire, as my focus was constantly diverted.  That means I will catch you next time!
My trip to New York was filled with heartwarming and thrilling moments.  In this post I capture a few of these exhilarating points in time with my trusty iPhone.  In the above photo I'm with Debra Rapoport, visual artist and hat maker HERE, at a holiday gathering in the home she shares with her partner Stan Satlin, singer and songwriter. Debra is wearing accessories of her own design. Their apartment is filled with art and kindness.  Thank you Debra and Stan, for throwing such a delightful party.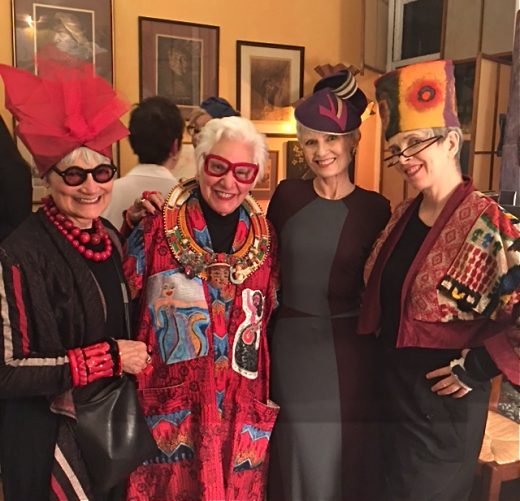 Jean (on the left) and Valerie (on the right) of the Idiosyncratic Fashionistas HERE never fail to "give great hat."  The amazing artist Sue Kreitzman HERE stands to my left, dressed in stunning jewelry of her own creation.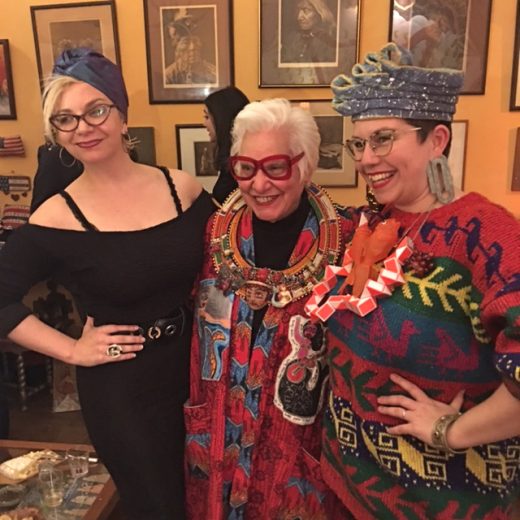 If I were a more efficient blogger, I would remember the name of the gorgeous woman on the left standing next to Sue Kreitzman.  To the right is jewelry maker Jocelyn McKenzie HERE, wearing her unique and beautiful jewelry, along with a hat by Debra Rapoport.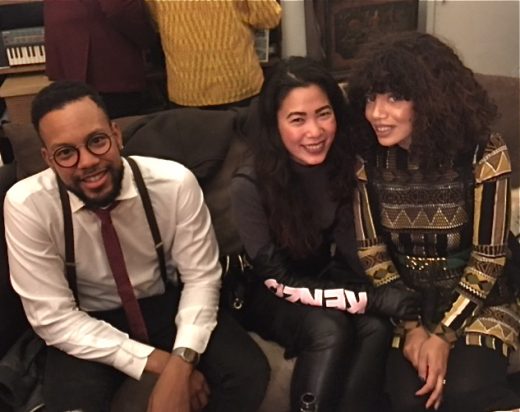 I loved the arm warmers worn by the stunning woman in the center of this photo.
Debra flanked by beauty in the kitchen of her fascinating home.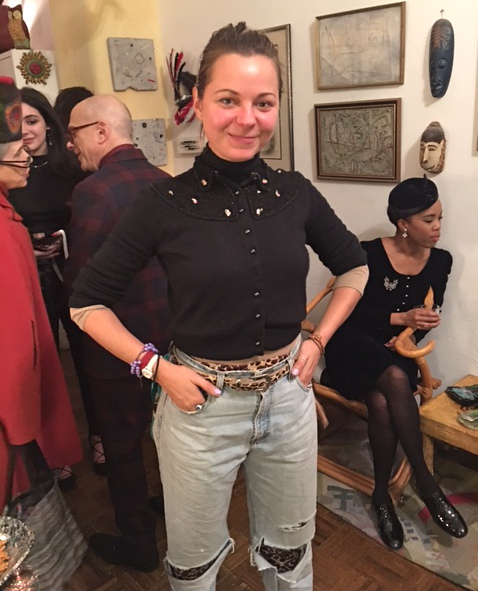 Filmmaker Lina Plioplyte HERE was in NYC for the weekend.  Lina filmed Ari Seth Cohen's Advanced Style: The Documentary HERE, in which Debra was one of the stars.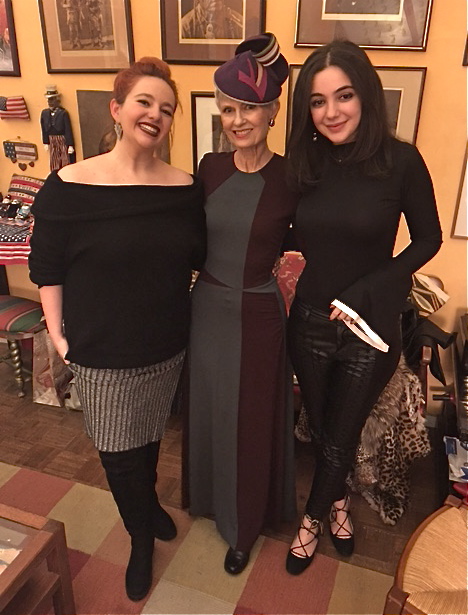 I always love talking and laughing with beautiful Antoinette Grande (to my left) who was in NY from Germany, and visiting her glamorous friend (to my right).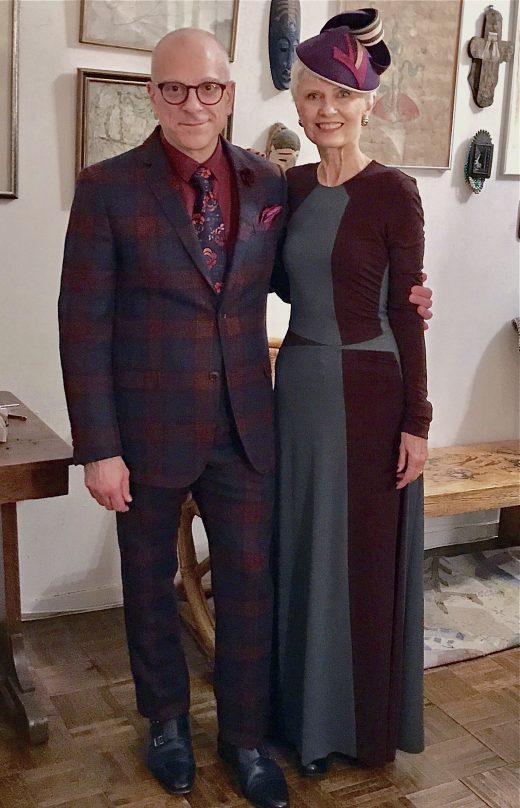 My outfit harmonized with the dapper ensemble worn by Instatgram star Ricky Aloisio HERE.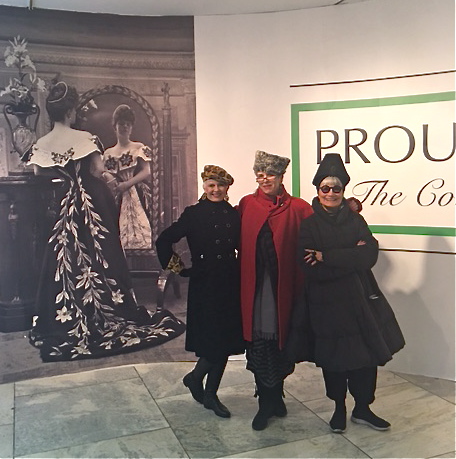 As always, Jean and Valerie took me to one of the best museum exhibits in the city. Here we are at The Museum at the Fashion Institute of Technology HERE, after taking in Proust's Muse: The Countess Greffulhe HERE.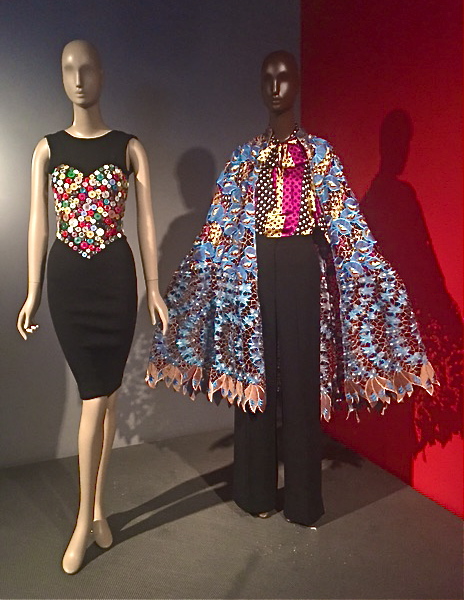 We also saw Black Fashion Designers in the Fashion and Textile History Gallery HERE of the FIT Museum. Patrick Kelly HERE designed the dress of wool and plastic on the left, with his signature heart motif and mismatched button.  Duro Olowu HERE created the designs on the right, embracing vibrantly mixed colors, prints and textures.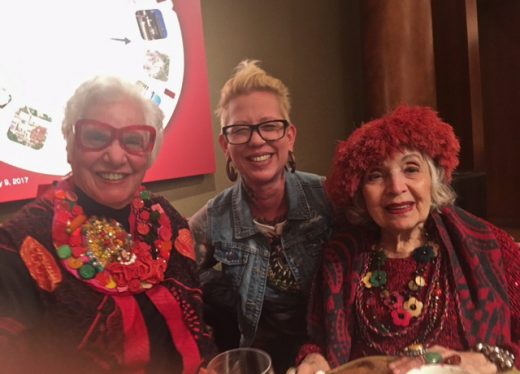 After the museum, we walked to the Rubin Museum Cafe for a bite to eat, and were pleasantly surprised to run into Sue Kreitzman, and new friends artist Erica Marie Scudder-DeLuca HERE and folk artist Malcah Zeldis HERE.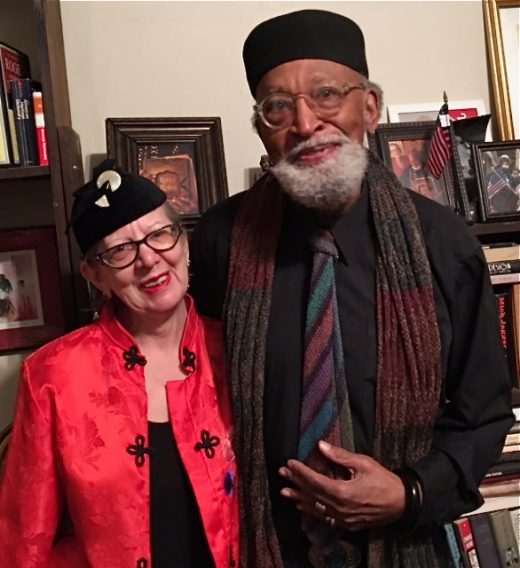 One of the high points of my trip was meeting Bill and Eva Kobus-Webb, who I interviewed for Ari Seth Cohen's Advanced Love Project HERE.  It felt like I had known them all of my life.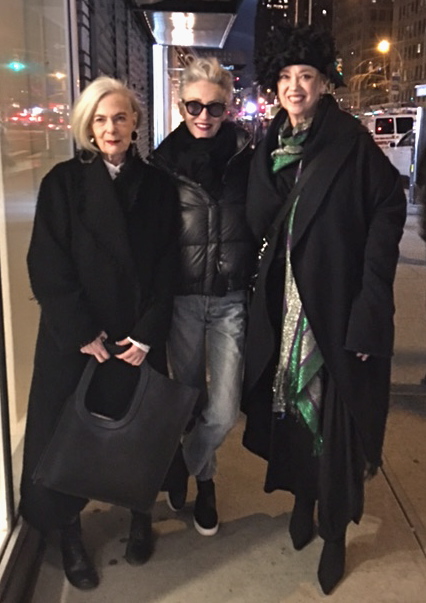 You never know who you're going to run into on the streets of NYC.  While walking with bloggers Lyn Slater of The Accidental Icon HERE and Jean Barrett of Dross Into Gold HERE, we met the inimitable Linda Rodin HERE.  She was on her way to pick up her beloved dog Winky.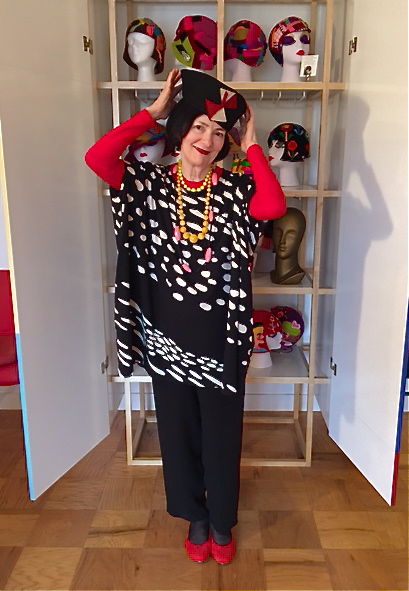 When in NYC I always visit artist, milliner and blogger Carol Markel of Femme et Fleur HERE and her husband artist Richard Cramer.  I couldn't possible miss the opportunity to browse through her hat-shop-in-a-box!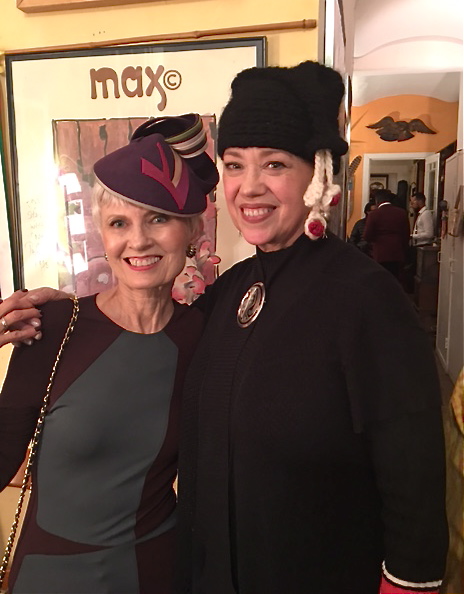 Thank you again, Jean, for inviting me to the opening of Imperfectly Perfect, the amazing exhibit by Rebecca Moses HERE. Because of you I have these magnificent memories to take me into 2017!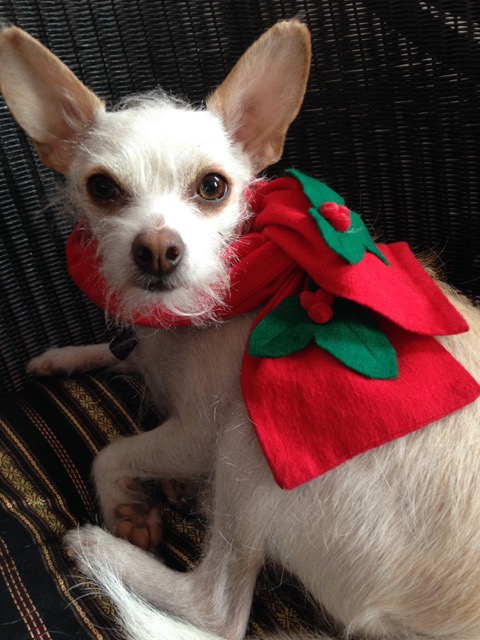 I stayed with my friend Jackie during my time in NY, and fell in love with her precious dog Pinky Lee, who personifies the spirit of the holidays in the photo above.  Happy holidays to all of my wonderful readers and to those of you who comment on Style Crone.  However you celebrate, or don't, I am very grateful for your support, and look forward to more adventures in the coming year.
Thank you to Ari Seth Cohen for including Style Crone in his "Holiday Outfit Inspiration" post on Advanced Style HERE.  It's an honor to be included alongside so many incredible women who I admire.