The Mexican Bag From Santa Fe

The rain in Denver continues, and a series of technical difficulties caused challenges for The SC and Daniel during today's photo shoot.  Just as with aging, adjusting saves the day.  Today's frustrations were not an issue of life or death, and led to improvisation and an unexpected flow.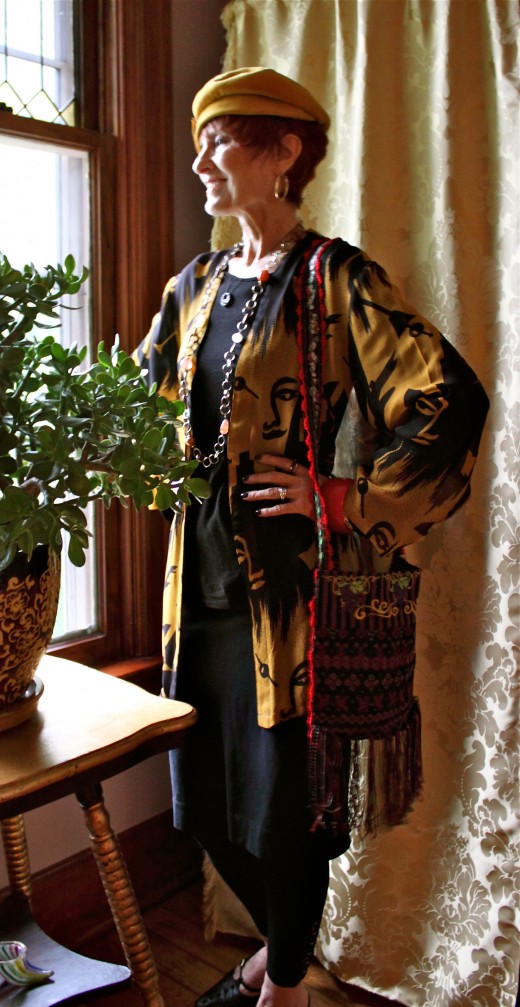 Without a flash for the camera on a day without sun, we decided to use the lighting from the window in the shoe room/office for a few shots that we would not otherwise have considered.
My ensemble today was centered around the Chatino handwoven bag that was gifted by Mr. J during our trip to Santa Fe.  It was discovered at La Boheme, a shop on Canyon road and was created on a backstrap loom in Oaxaca, Mexico.  This piece of wearable art is always on display for me to admire, hanging from a chair next to my desk, evoking memories whenever I enter the room.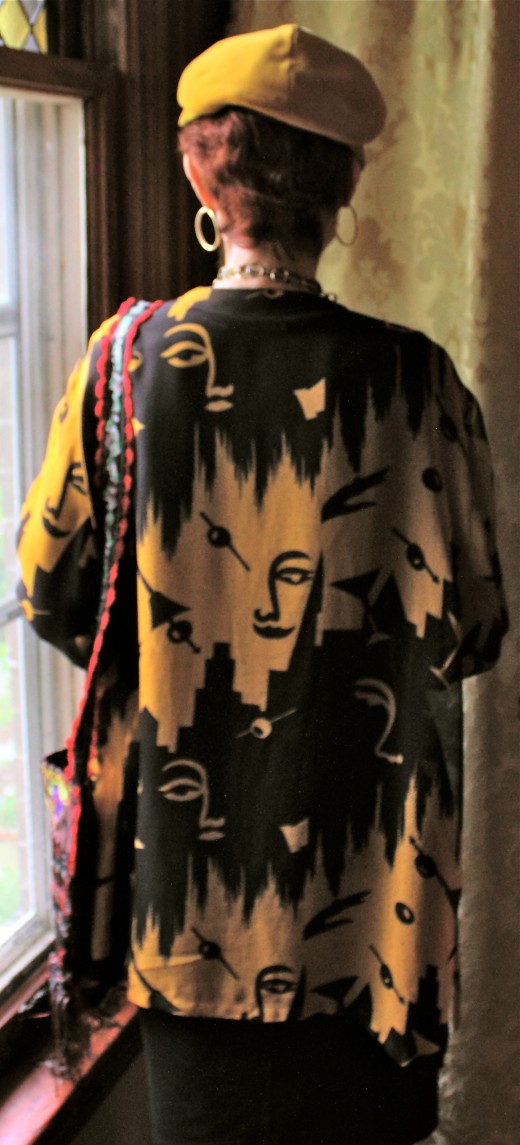 The patterned jacket was discovered at a West Village boutique years ago in NYC.  The shop's proprietor drew me in with her eccentricity and her unique choice of pieces which were reasonably priced.  The name of the boutique escapes me, but the feelings of wonder that I experienced when I entered her space remain with me today.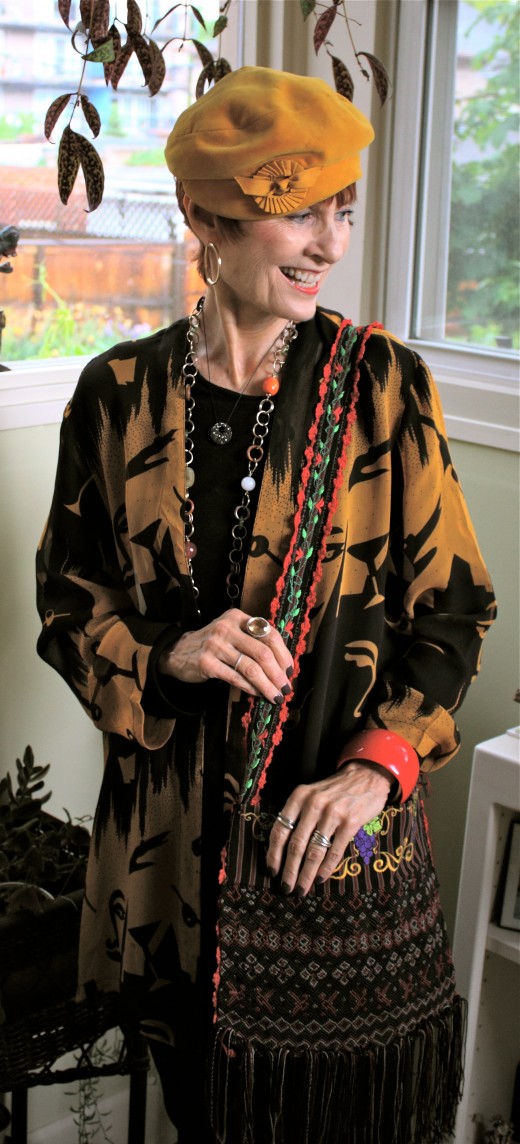 The vintage velvet beret with detailed trim was an estate sale find, and is framed by the hanging plant in the back porch.  I love to combine pieces from different eras and origins.  What better form of self entertainment on a cold and rainy day?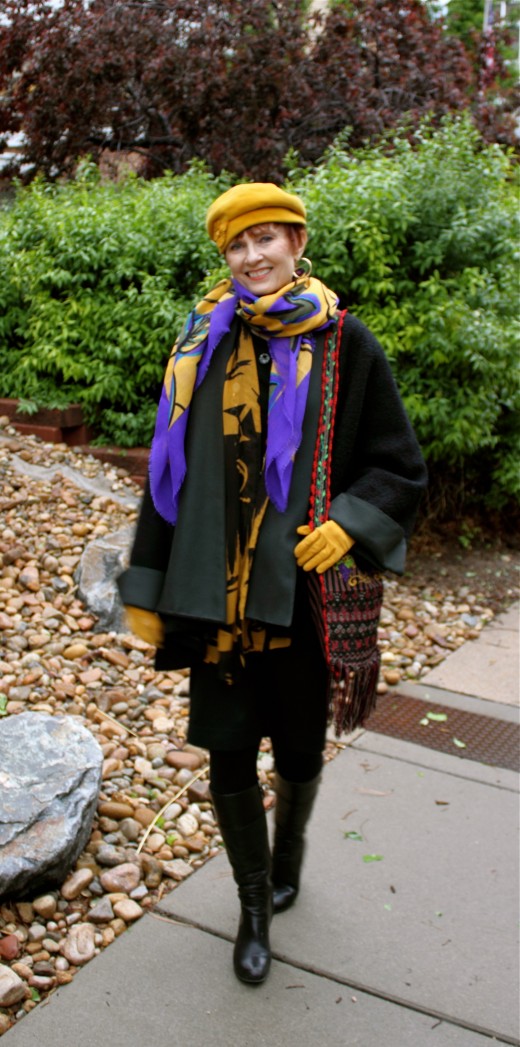 Going out to eat after our photo shoot, The SC had the opportunity to return to layers, which included an estate sale patterned scarf which picked up the purple in the fringed Mexican bag.  The fragrance of rain lingered heavily in the chilled evening air, as my Fluevog boots took me to a restaurant a block from home.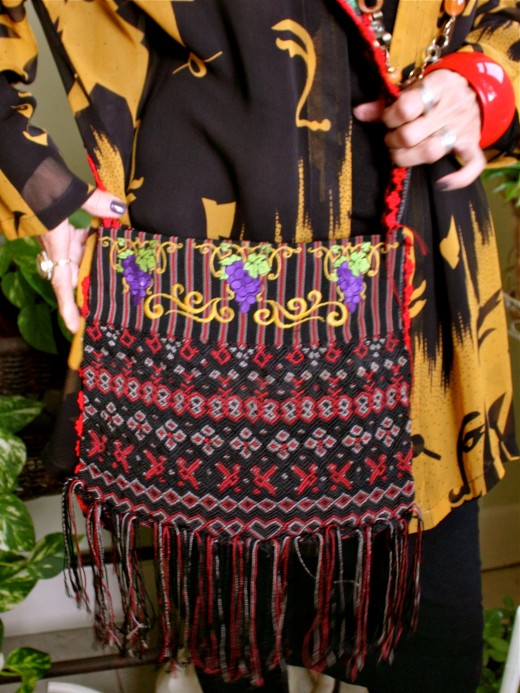 Photos By Daniel
All pieces included in my ensembles, except for the boots and jacket, were gifted or acquired at estate or yard sales.  My life is rich and full!
I'm taking my Mexican bag over to Sacramento's Share-in-Style at Mis Papelicos HERE. The purple grapes which adorn this piece of art fit in with her theme of fruit.  And I wouldn't miss Bella's Secondhand First at The Citizen Rosebud HERE and the opportunity to share my recycled pieces!  I'm also linking up with Sheila's Shoeshine at Ephemera HERE.  She's wearing the most beautiful cobalt blue Fluevogs!