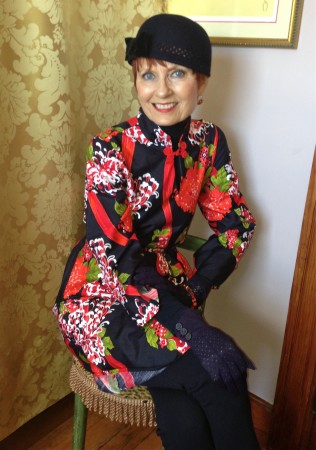 As I reflect on the party and the past year of renovation, I feel a touch of disorientation.  I was so focused on one point in time, and now I feel adrift or unsettled.  It's not that I don't have things to do. Although I had promised myself to sort through everything I owned, I wasn't able to complete the magnitude of that task. Time ran out as other projects took priority.  And I have designated this summer to be the season of the garden, which needs its own renovation.  And the headwrap project is waiting for my attention.
But I no longer feel driven and can allow myself to relax into the beauty and comfort that my home provides.  I feel a huge sense of accomplishment and can take some time to enjoy the changes. Otherwise, why do it?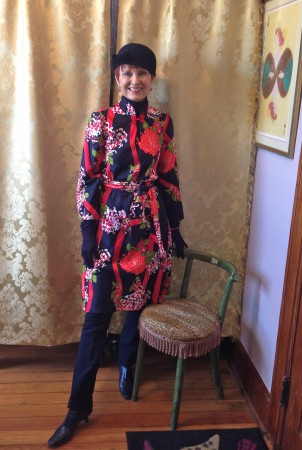 I realized that the woman who was on the dance floor, organizing the entertainment and party details, and loving the gathering of friends in my home was a part of the woman who Nelson fell in love with.  I managed to bring her back to life after a long hibernation, if only for an evening.  Now I know that she remains within and that she can make a visit when I call upon her. We all wear many hats in life, and party headwear is not to be denied in this new decade.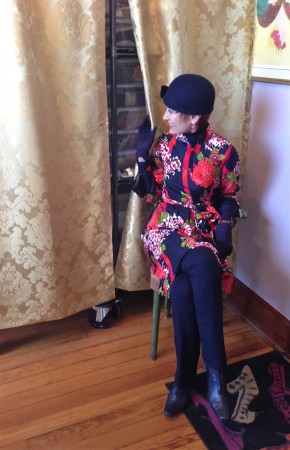 My shoes have been stored in clear plastic containers and organized on industrial shelving, and the gold silk damask curtains which cover the sides of the shelves facing the door to the room were created by Diana, a woman of many talents and skills.  The 'shoe rug' was discovered at an estate sale several years ago.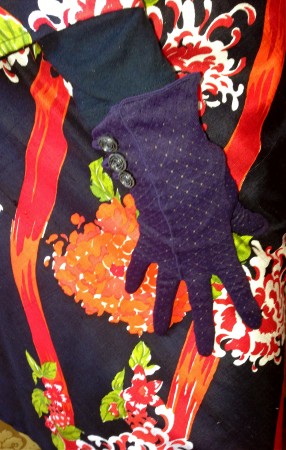 Photos by Rachel
Vintage silk floral patterned Hawaiian dress (an invitation to spring) – vintage store years ago, navy felt cloche – gifted, navy pants – consignment store, vintage navy gloves – estate sale, navy turtleneck and booties – retail.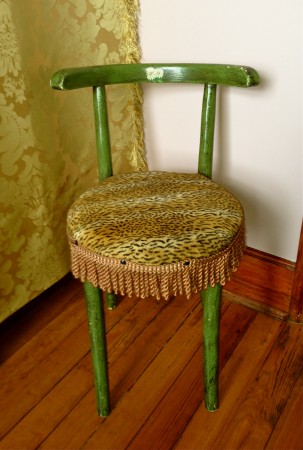 Treasured birthday gift created by my dear friend Kathleen.
Though my party is now a memory, I will keep it alive with photos at the bottom of my current posts. Today I celebrate Camille, my daughter who has brought limitless meaning to life during the past two years.  Her empathy and dazzling smile have the ability to brighten even the darkest of days.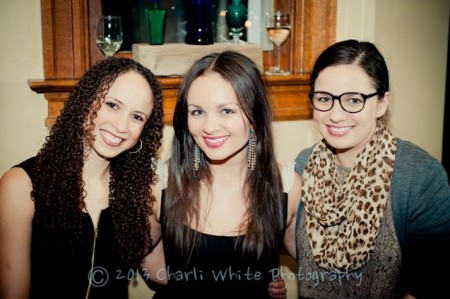 Camille with friends.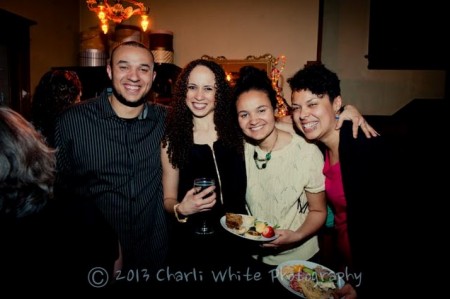 Camille with family.
Camille with the youngest dancer Malakai and his grandfather Donald.
The SC is off to join the gathering not to be missed at Patti's Visible Monday HERE at Not Dead Yet Style.