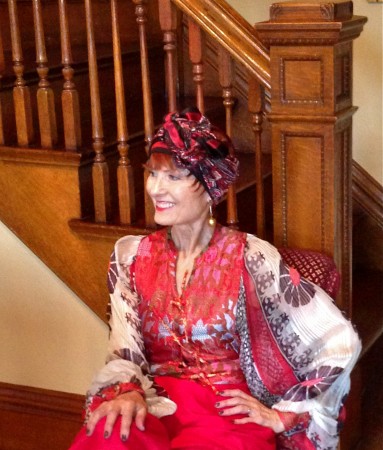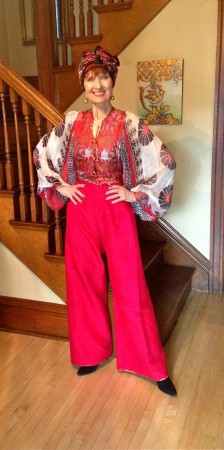 Photos by Camille.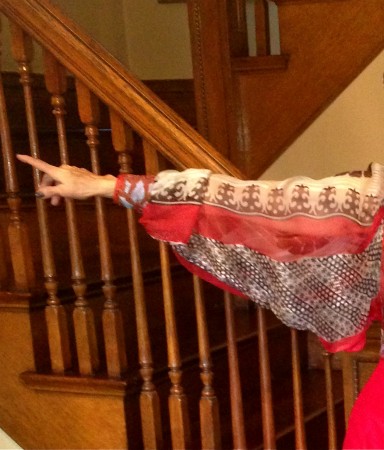 The sleeve.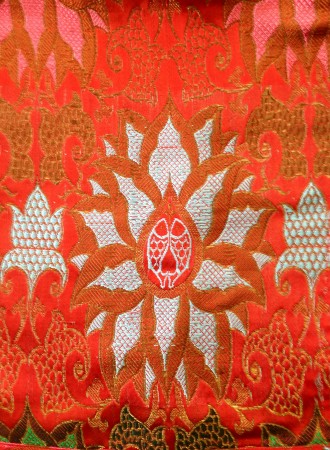 Back of jacket.
Sometimes the days before a holiday are more intense than the day itself.  The SC found Thanksgiving to be festive, with 12 for dinner and friends stopping by in the evening.  Laughing, eating, drinking, telling stories, my infamous chocolate cake devoured by all.
Perhaps it was the outfit that I wore that hadn't been seen seen since a party in the 70's that brightened my day. I came upon it in a closet that I've been exploring, tucked away for safekeeping along with other memorable garments.  It had been gifted by Nelson from a no longer existing import store that was popular during that time.  The wrap around raw silk red pants were trimmed with the same fabric as the silk brocade jacket and the patterned sheer silk sleeves took a dip in the chocolate frosting adorning the cake.  The gifted scarf that a friend brought from Jerusalem several years ago became a headwrap. The scarf was chosen from a rack of newly organized scarves that are offered up for outings, suddenly becoming visible.  The black suede consignment store booties finished off the ensemble, along with gold dangling estate sale earrings.
Some outfits are timeless and make themselves known at the right time in the right place.  It reinforces my theory that if a piece can be worn once every 25 years it's definitely a keeper.
Thank you so much for the warm and supportive comments on my last post.  Every word was appreciated and your significance in my life is highly valued.
I'm dropping by Patti's Visible Monday HERE, with my newly discovered celebratory silk that is making a comeback in November of 2012.