The Poinsettia By The Staircase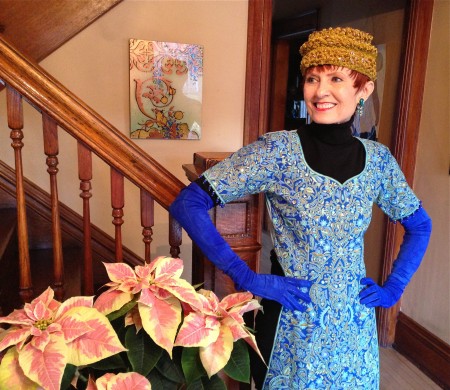 Blue/mustard multicolored garment embellished with beads and rhinestones – yard sale, vintage mustard knit hat with gold sequins and vintage long blue gloves – estate sales, black suede booties – consignment store, earrings- gifted, all on black background.
Decorating for the holidays is a minimalist activity this year.  A poinsettia and perhaps I will throw some jewelry on a small faux tree that I acquired by trading with a hat two years ago.  I intend to simplify.
The most important part of the holidays for The SC is to spend time with the people I love and focus on the peaceful moments, minimizing the stress that unpredictably floats through the season.  Decorating myself in festive attire, with the usual meditative mode, will be enough for me.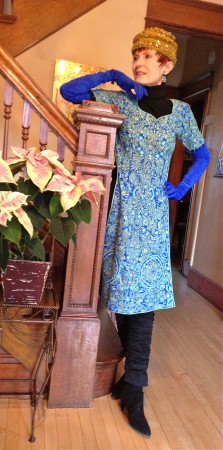 Photos by Diana
I discovered this garment in the same closet that held my Thanksgiving outfit.  The upper back of the piece, which ends above the waist, is tattered in places and the front forms a panel which ends below the knee and the short sleeves are trimmed with beads.  It's never been worn until today, and I've decided to have it repaired and take it out into the world for a special occasion.  Like a self date on a Friday evening or to dinner with friends.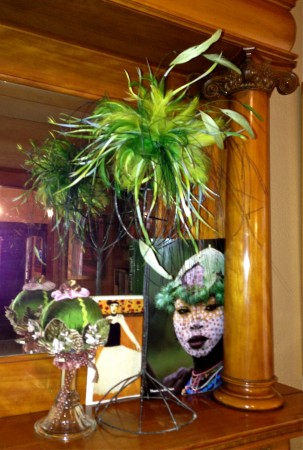 Feather Fascinators Frolic every day of the year on the mantle.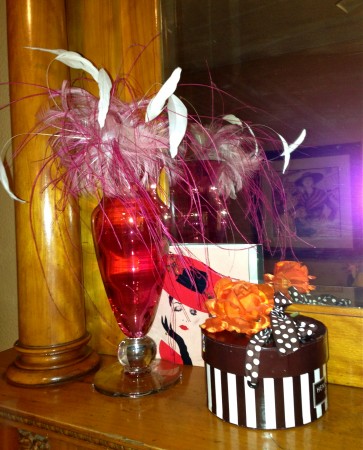 Decorating with headwear is always cause for celebration.
And it's always cause for celebration to connect with Patti and the crowd at Visible Monday HERE.