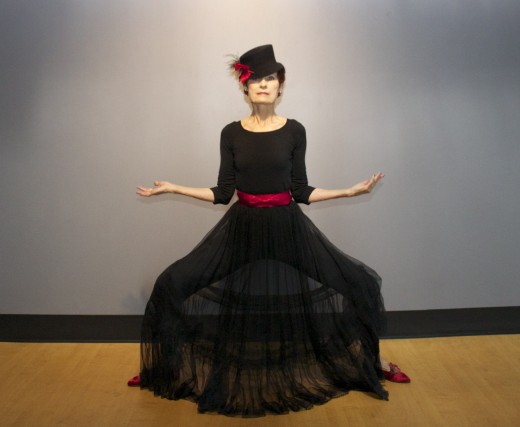 Goddess Pose
My love for the practice of yoga was inspiration for today's post.  I was planning on photos in my traditional yoga attire, but when collaborating with Daniel, the usual is not the order of the day.  He suggested an outfit, and my brain took over from there.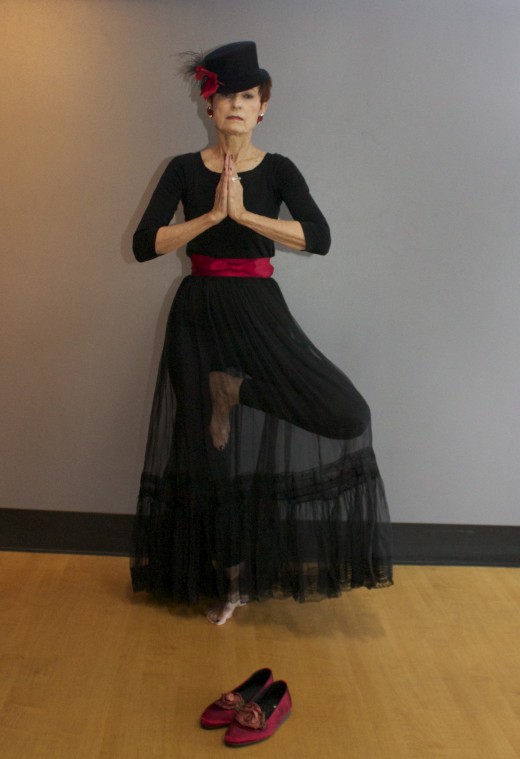 Tree
I have never practiced in a hat, or in an estate sale vintage black silk chiffon maxi skirt with lace trim accessorized with ruby-red floral embellished satin slippers, vintage clip-on earrings and ruby-red satin belt.  One should never say never about "What To Wear To Yoga."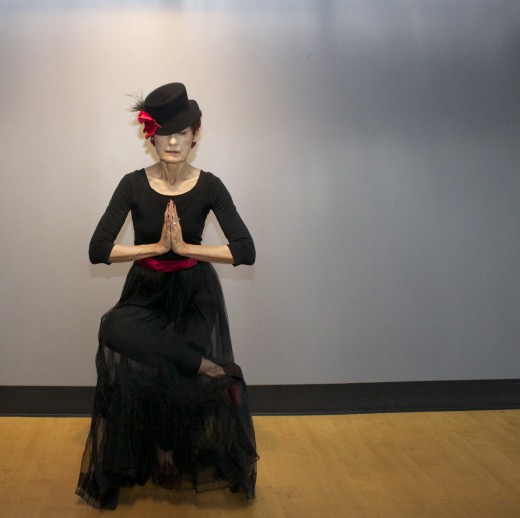 Figure Four
Yoga provides a continual challenge in all areas of my being; physical, emotional, mental and spiritual.  It has been a lifeline for me during difficult times. And an addition to my well-being when life soars.
Every class is different, but intriguing.  Teachers vary.  The music diverse and enhancing to movement.  The class may be crowded and mat to mat.  Or small with unlimited space.  Yogis practice at every level, but competition does not reign.  Rather, there is a vision of what's possible, based on experience and factors having little to do with age.

Eagle
Yoga is an analogy to life off the mat.  I strive for balance and mindful flow.  I long to stretch and grow, with attention to the power of the breath and the profound opening of the heart.  If I enter a zone of pain, it's time to draw back and assess, but then try again with a renewed focus on correcting my position or making a small meditative change in my approach.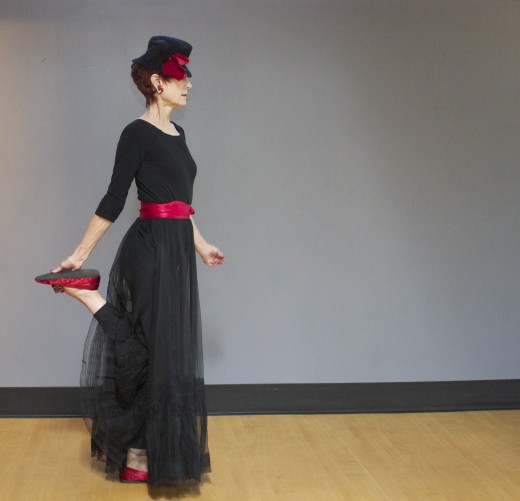 Entering Dancer
I want to express myself with flexibility and strength.  My poses are far from perfect, as compared to the masters that I have observed.  But yoga and life are not about perfection. Rather, a space for experimentation and exploration, at times loosing one's balance and making mistakes, always moving toward connection with intention.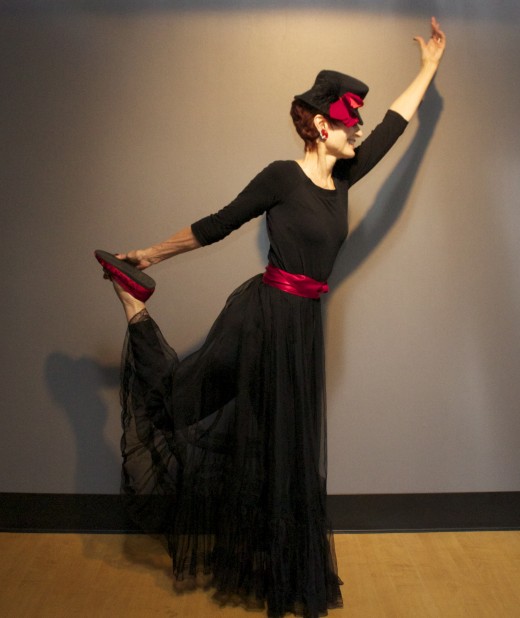 Dancer
As in life, even the smallest shift can produce significant change.  And when holding a pose becomes difficult, that is when it has just begun, with the knowing that it will not last forever.  It comes down to me, my mat and a knowledgeable guide.  And a respect for limitations related to injury prevention, knowing what's best for my body.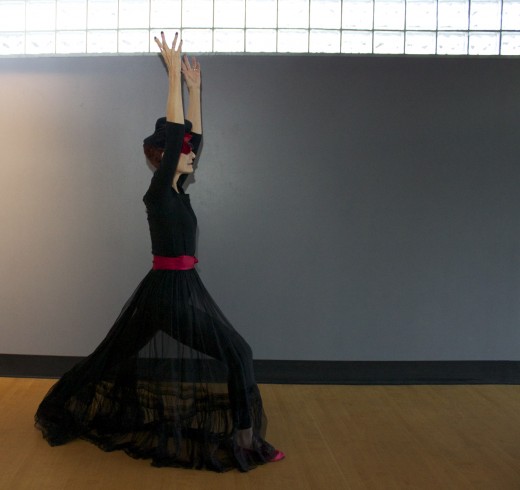 Crescent Lunge
My daughter Camille introduced me to yoga in my 60's, and at first I had difficulty completing a class.  I persisted in level one, and she encouraged me to try level two heated after a year.  I never turned back.
Exercise has always been important to me. But never before have I loved a form of movement to this degree, looking forward to every class no matter what's happening in my life.  Now at the age of 71, I continue to make progress and realize benefits that I can see, which is its own reward.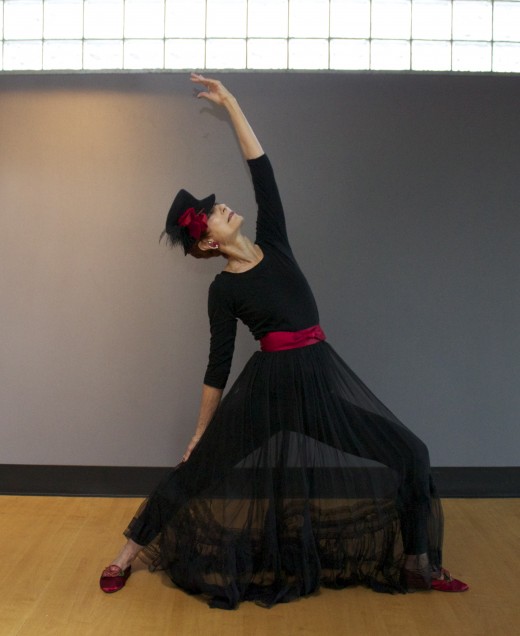 Reverse Warrior
Months back I decided to focus on the physiological changes that my body experienced during yoga, and I became aware that my response was the same every time.  The poses and twists produced  droplets of sweat that appeared in the same places and in the same order without fail.
If this was happening to me physically, I wondered about the internal process that was taking place as a result of my practice.  Research has shown that it's a positive transformation with many benefits HERE, and I hope to continue to practice until I wear my last hat.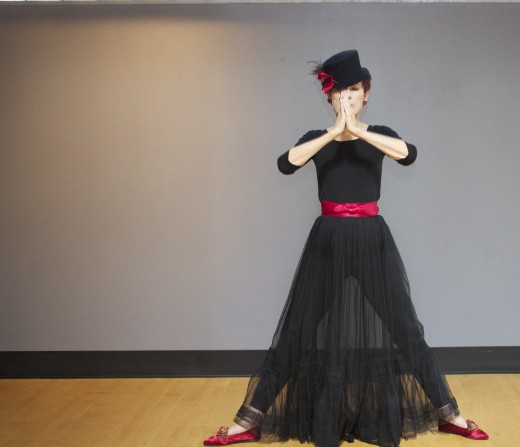 Photos By Daniel
Namaste
Yoga Part II – Later
I'm taking yoga over to Patti's Visible Monday HERE at Not Dead Yet Style and Sacramento's Share-in-Style HERE at Mis Papelicos.  I'm looking forward to both parties, which always contributes to my well-being and quality of life!