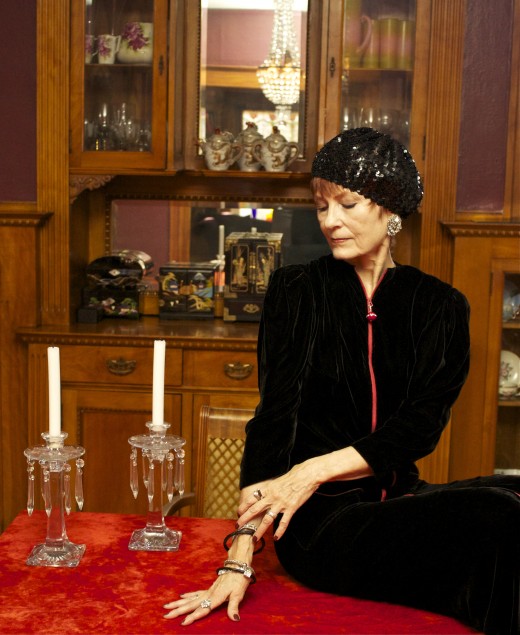 I have a confession to make.  I adore gowns.  Vintage gowns in silk velvet, silk satin, taffeta, lace, silk chiffon and rayon from the 40's.  I've collected them from estate sales since the 70's.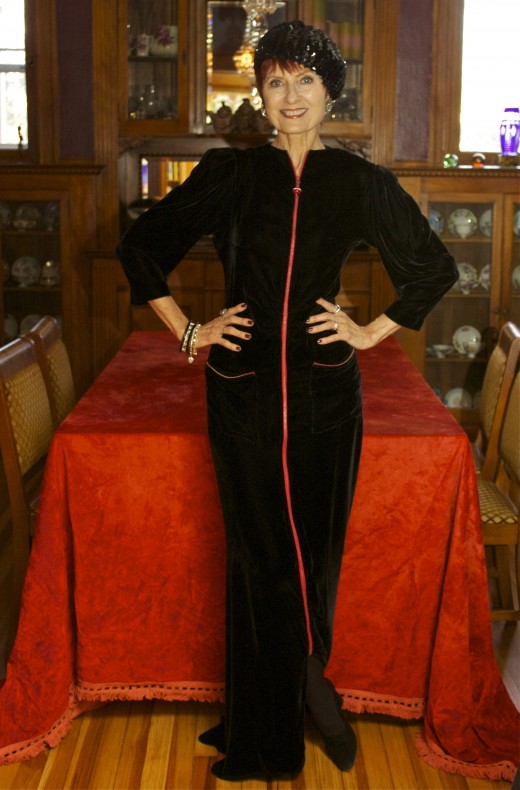 I love how they feel and how they move with me when I walk.  They give me great pleasure, which is reason enough to wear them whenever possible.  I love their textures, details, and unique elegant ways.  I think about their past lives and wonder about their adventures. I pair them with small hats and berets, headpieces, or fascinators, as they are usually worn in the evening.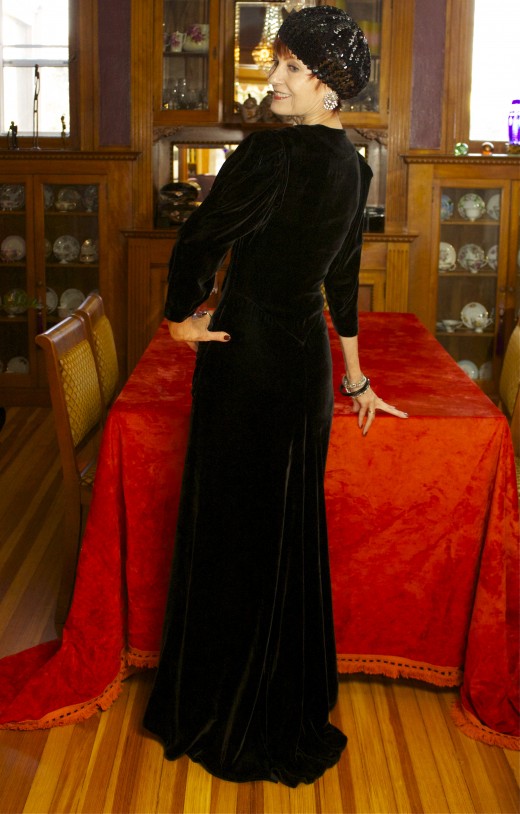 This black silk velvet gown with red trim has been in my closet for years.  I chose it for Thanksgiving, as traditionally I host dinner in my home in celebration of my favorite holiday.
The black sequin beret was happy to share an event with a gown that has a small train, which puddles on the floor next to the red velvet tablecloth with tassel trim.  The tablecloth was actually a bedspread, but multipurpose is my middle name and recycling my game.  When using the table for dinner, I cover the red velvet with another tablecloth to protect its holiday beauty.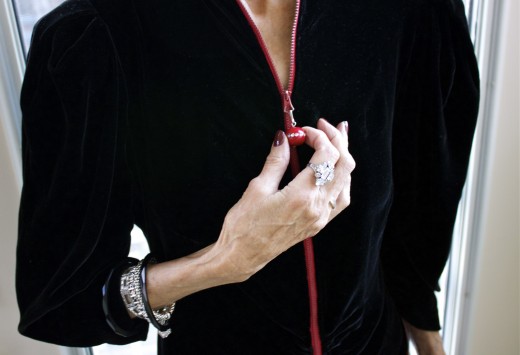 Everything that I'm wearing was discovered at an estate sale except for a flea market bracelet and gifted rings.  The dining room is also exclusively estate sale.  I surround myself with pieces that are as vintage as moi.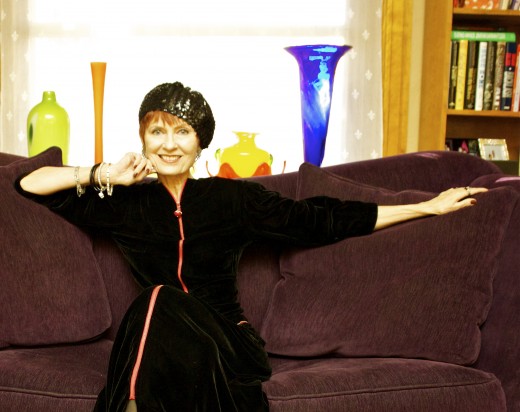 I wear vintage gowns to holiday parties, and have for years.  My friends expect nothing less and shower me with the treasured and priceless gift of acceptance, for which I am eternally grateful.
The next few posts will feature a few of my favorite vintage gowns.  It's very clear that it's that time of year!
Thank you for your kind and thoughtful comments on my yoga posts.  For those of you who are interested, Margaret Manning of the incredible 60 & Me website HERE, has a series of gentle yoga videos HERE.  Check it out if you are interested in beginning or continuing a yoga practice.  Rebecca, one of my followers, commented that she is happily using these videos.  Thanks Rebecca, for the recommendation!
I'm taking my vintage gown over to the party at Patti's Visible Monday HERE at Not Dead Yet Style.  Patti's looking very chic in a thrifted gray dress!