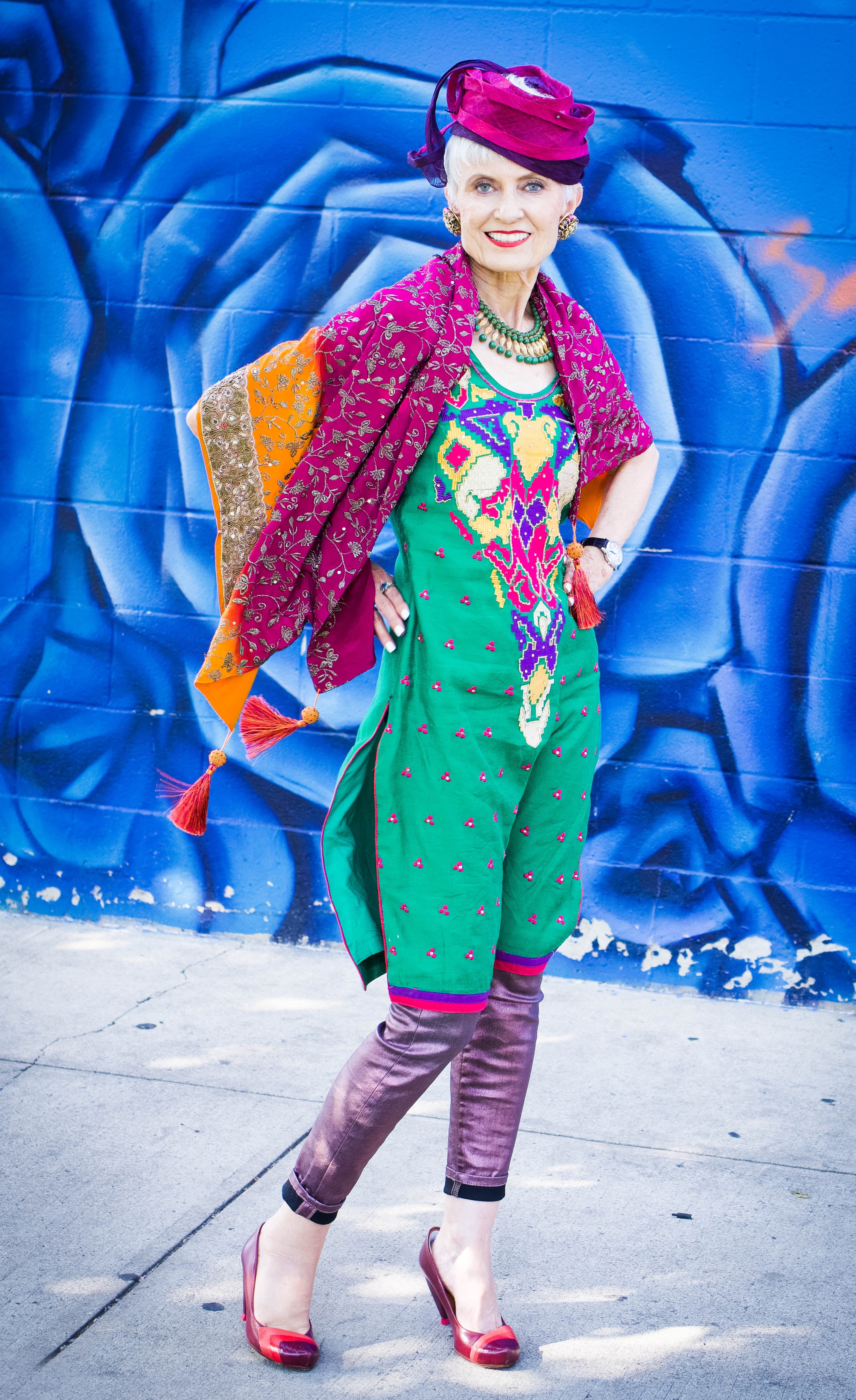 It gives me great pleasure to mix pieces from my travels, both home and away.  Vintage with contemporary. Disparate countries and regions of origin.  Contrasting colors and textures. Discovering what somehow fits together in a composition is both challenging and meditative. Sometimes ideas come to me in yoga or spontaneously pop into my mind as I wander through the rooms of my home and my closets. My entire home has become my studio and for now, it fits for me. Creativity is my drug of choice.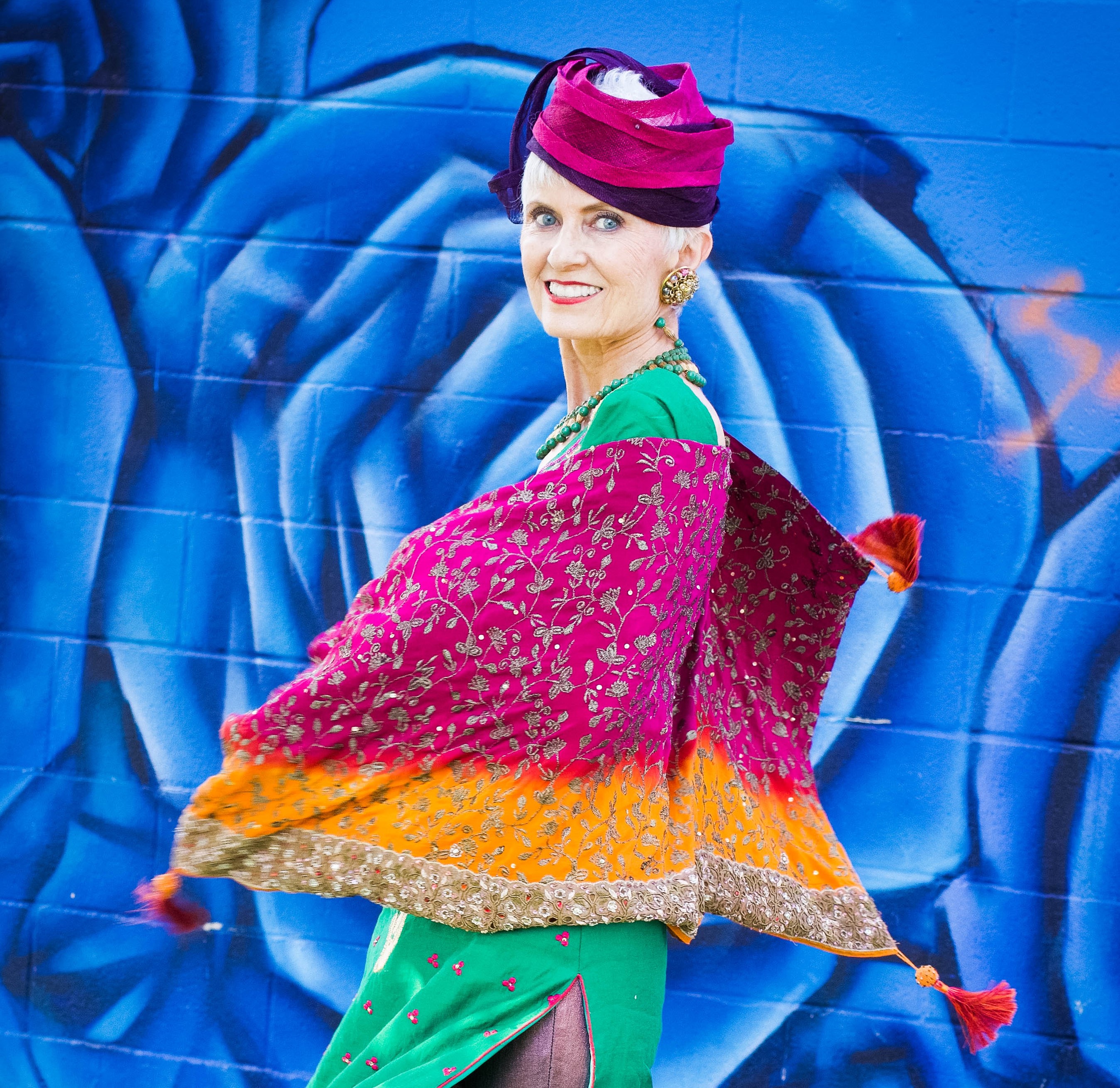 On a hot and windy day in Denver, Daniel and I traveled to the River North District, which never fails to provide a background no matter the ensemble.  Blue roses were chosen for this colorful composition, which began with this green dress made in India, embellished with multicolored beads, textured fabric and embroidery.  I discovered this beauty at a flea market in Florence, Italy, and have been enamored with it ever since.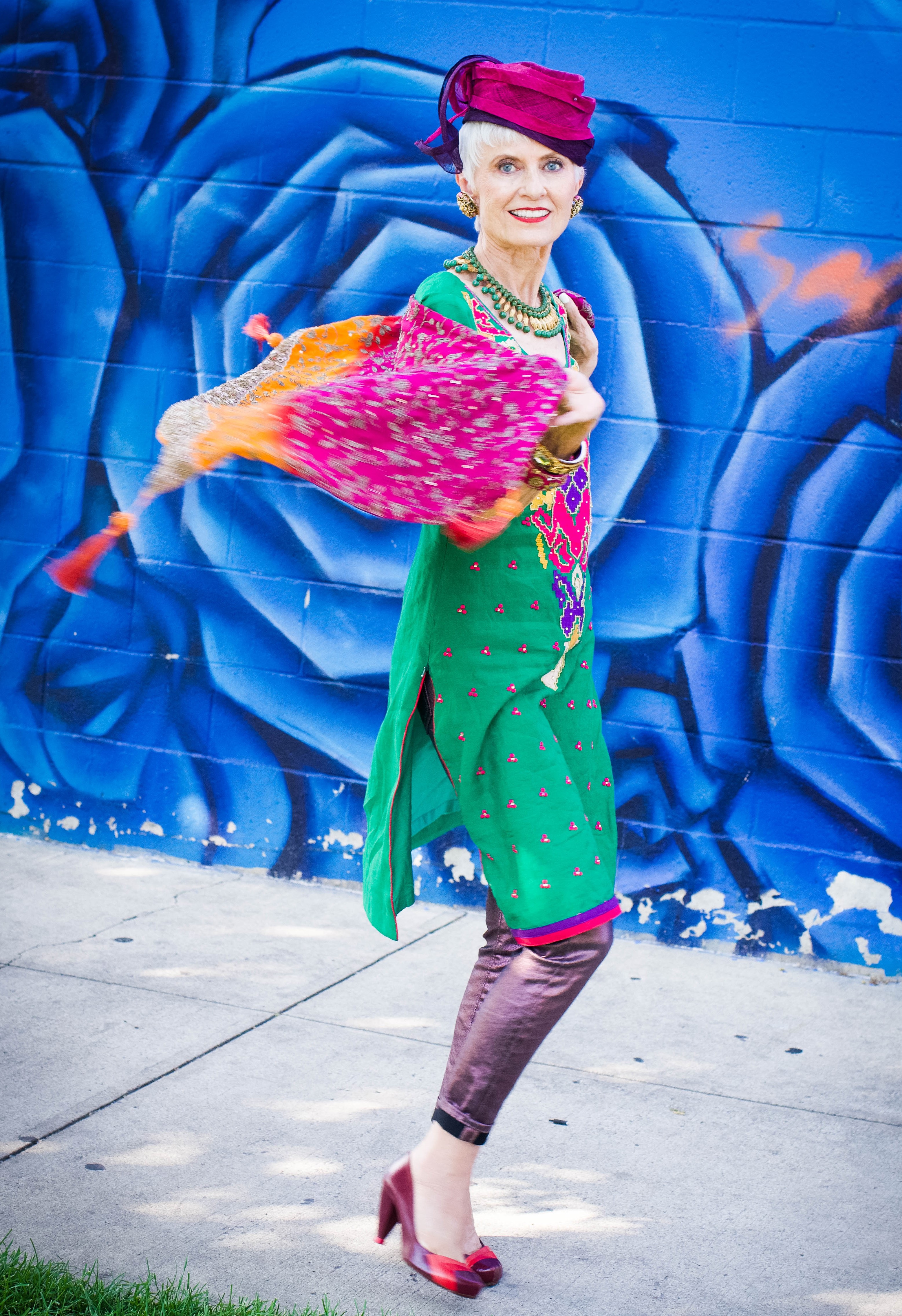 The magical scarf with tassels and the two dazzling bracelets were purchased at Serrahna, a shop in Oakland, California, which stunned me with it's magnificent India inspired designs for women. The straw turban with open crown was created by Della Goheen Millinery and caught my eye at the Cherry Creek Arts Festival in Denver several years ago.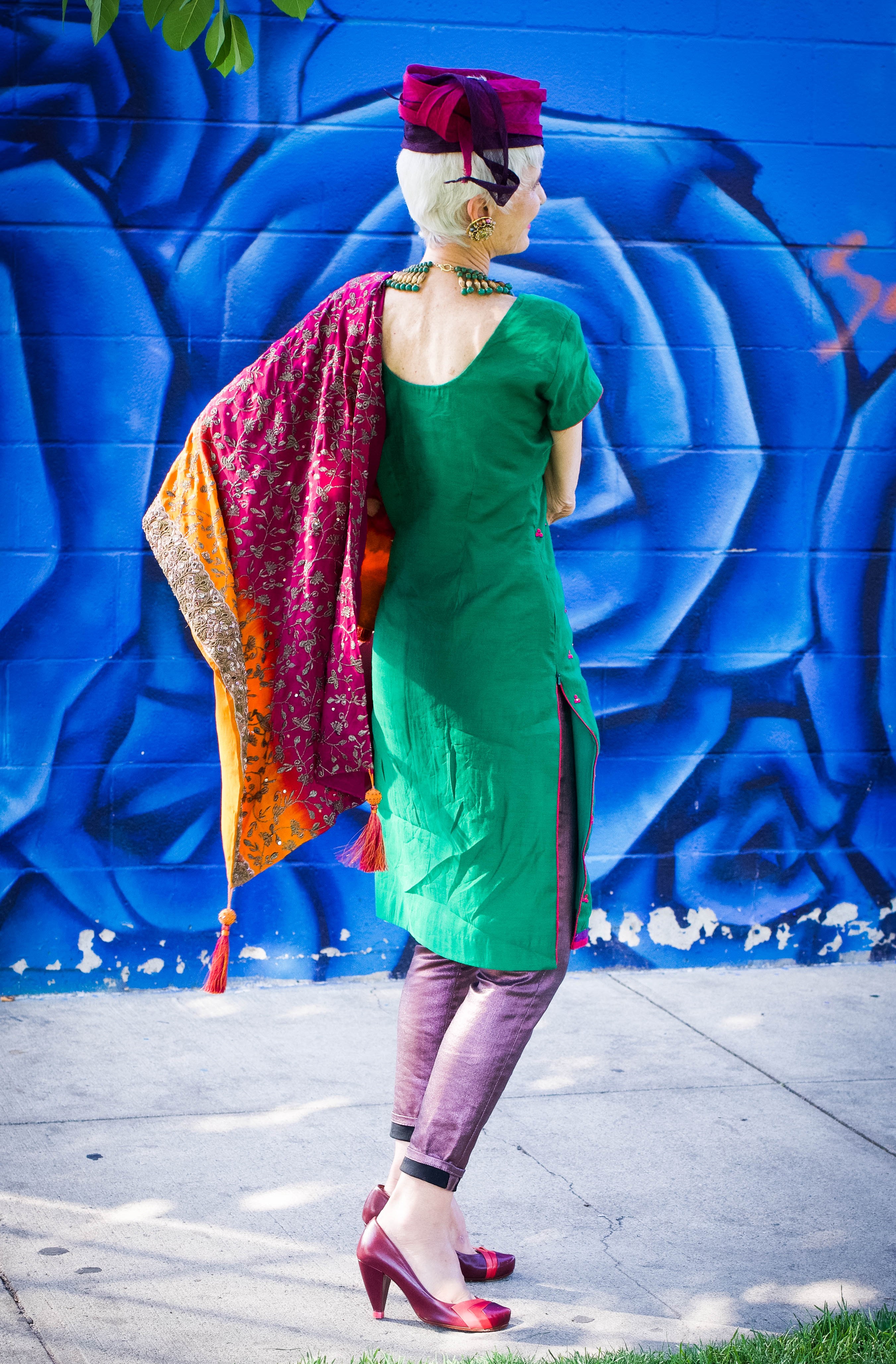 I purchased the green and gold statement necklace at a Denver estate sale and the vintage gold and multicolored earrings at a flea market in Nice, France. The metallic skinny jeans called to me at another Denver estate sale and the vintage shoes were thrifted in Denver.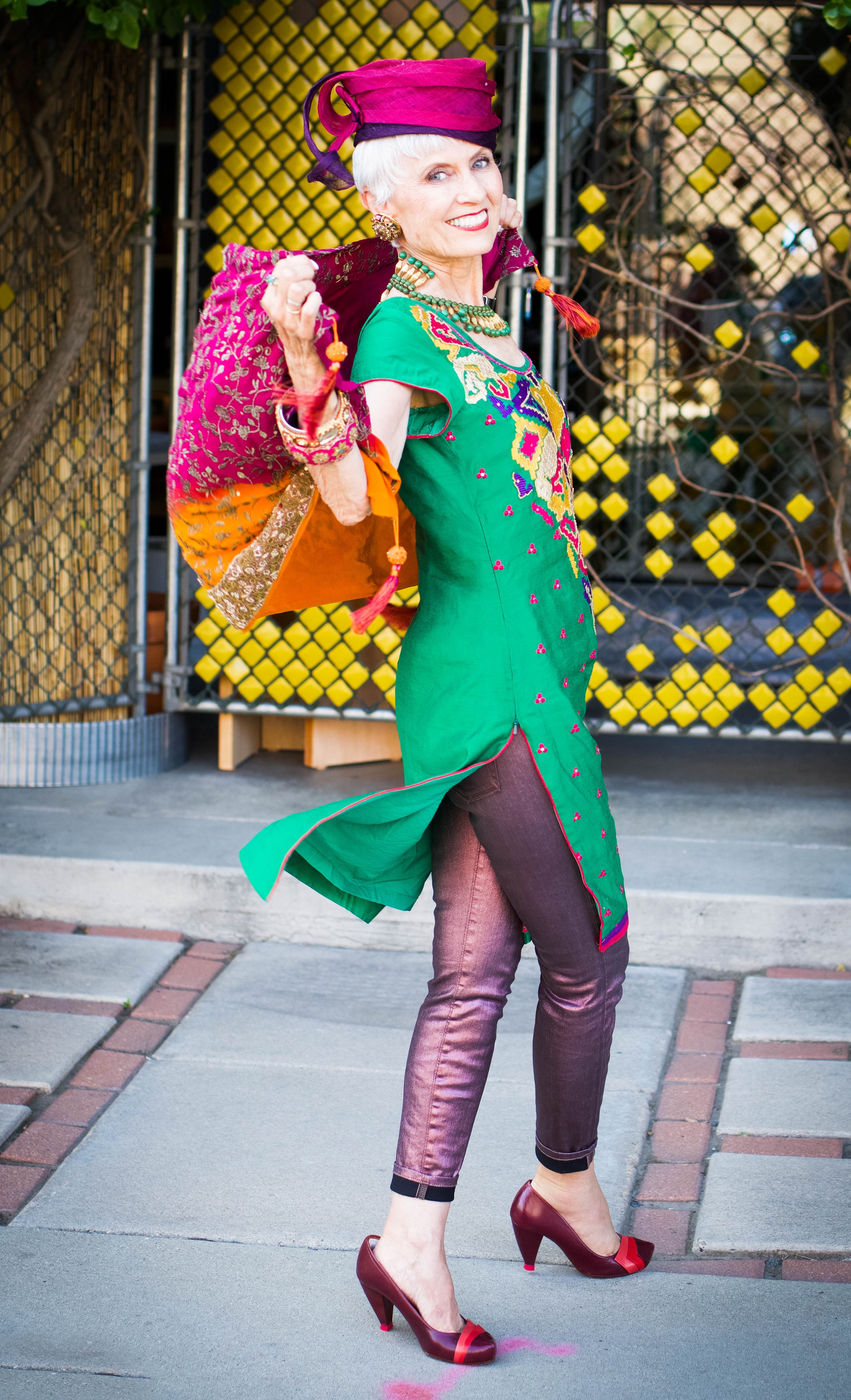 Photos By Daniel
The last photo in this post presents a different background, and was found two blocks from the blue roses. Why not mix up the background in celebration of an ensemble that draws from my travels, both at home and away.
Linking up with Patti's Visible Monday HERE, Catherine's #iwillwearwhatilike HERE at Not Dressed As Lamb and Cherie's Shoe and Tell Fashion Link Up HERE at Style Nudge.