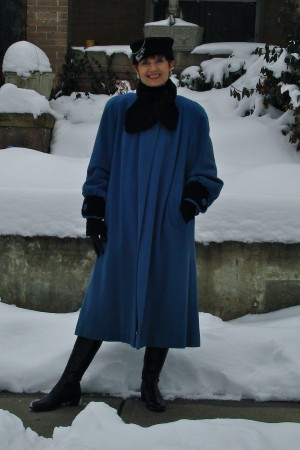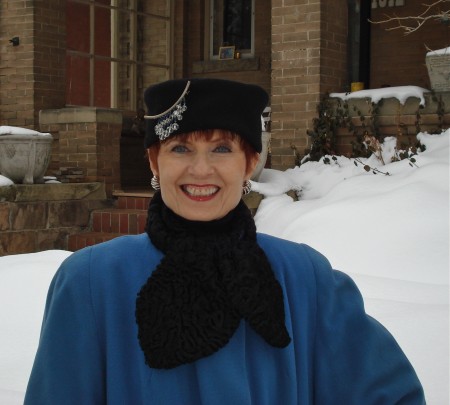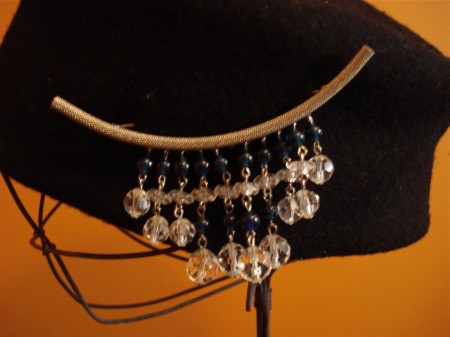 Photos by Diana and The Style Crone
Vintage blue wool coat with faux persian lamb trim – gifted, jewels – estate sales, vintage black handmade wool fabric hat – vintage shop, knee high all weather black leather boots – retail winter sale.
This past weekend brought snow that covered everything in sight.  The SC was entranced with the softly falling blanket of white.  Even though I felt like staying home in my warm sanctuary, I was driven to continue with my schedule; the structure that keeps me moving.  Why allow an intense winter storm to cloud my internal vision?  I fear immobilization, lethargy, the couch.  The possibility that I could stiffen in a single position and not get up for days.
I was rewarded by this quote from my yoga teacher – 'Create the self that you will be happy to live with for the rest of your life, fanning the tiny inner sparks of possibility into flames of achievement.'  This phrase was held closely in my thoughts for the remainder of the cold and snowy day, as I wandered into the winter coat inventory looking for a small fiery particle of inspiration.  I realized that this gifted blue winter coat had never been worn, so as soon as the snow stopped falling, I took it out into the grey, frigid but quietly beautiful day.  With the embellishment of jewels!