Lilacs With Felt Hat And Gloves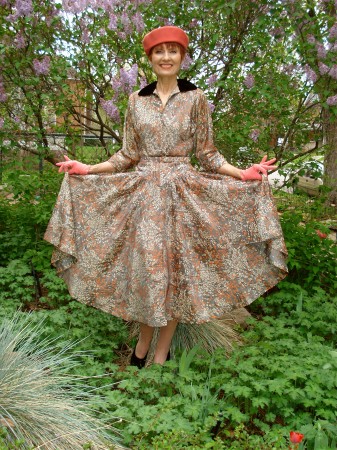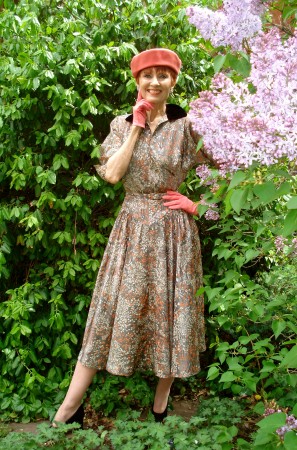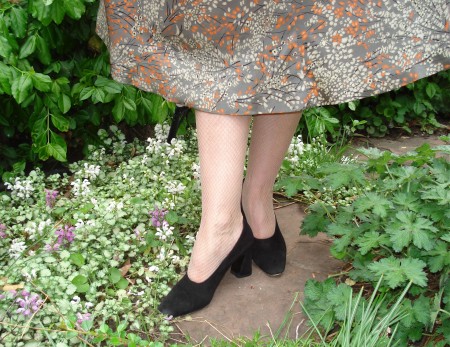 Photos by Diana.
Vintage coral structured beret, vintage jewels and suede YSL pumps – estate sales, 50's silk taffeta print dress with velvet collar and vintage coral fabric gloves – purchased from a friend's inventory, and nude fishnets.
The lilacs are blooming and though I have resisted the reality of spring this year, reluctant to see the blooming trees, daffodils and tulips, I am in love with the fragrant lavender blossoms that wave in the spring air in my front garden.  They greet me, embrace me as I walk by, coming and going.  I gather sweet bouquets that grace my home until the lilac display outside my front window sadly ends.
As I have described before on Style Crone, the hat room transition takes place in spring and fall.  The twice yearly ritual is announced with the blooming trees, and the fall/winter hats are cleaned and tucked away in their tissue paper and boxes.  The spring/summer hats come out on the racks and sit waiting to be chosen for the outfit of the day. However, it's tricky; if the weather is chilly, the felt hats and fabric gloves remain in the mix, making this transition complex.  But then April is tricky and complex.
In the middle of the hat room transition, in the middle of the seasonal transition, in the middle of The SC's transition – an outfit of transition was created with the inspiration of lilacs.
And now, over to Patti's Visible Monday HERE to join a creative group of bloggers.