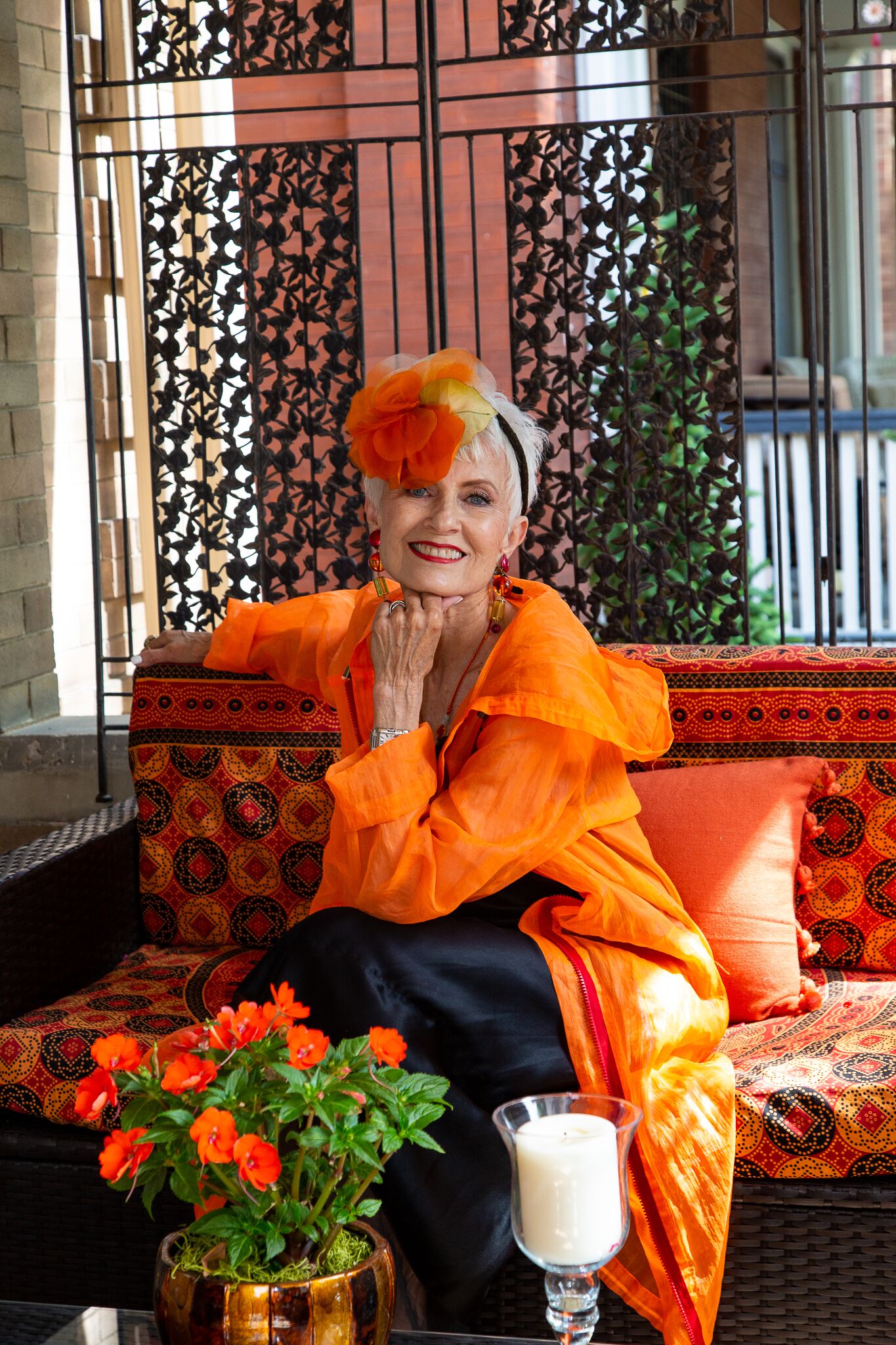 Several weeks ago I blogged about my front garden, and talked about how I planned to feature all the areas of my home on Style Crone. Today is the second episode in this series. The front porch has been recently redesigned, with the help of my friend, the talented artist Sarah Ashford. At this point in my life, I seldom do anything new to my home without her input. We have been friends for many years, and I trust her taste and opinion.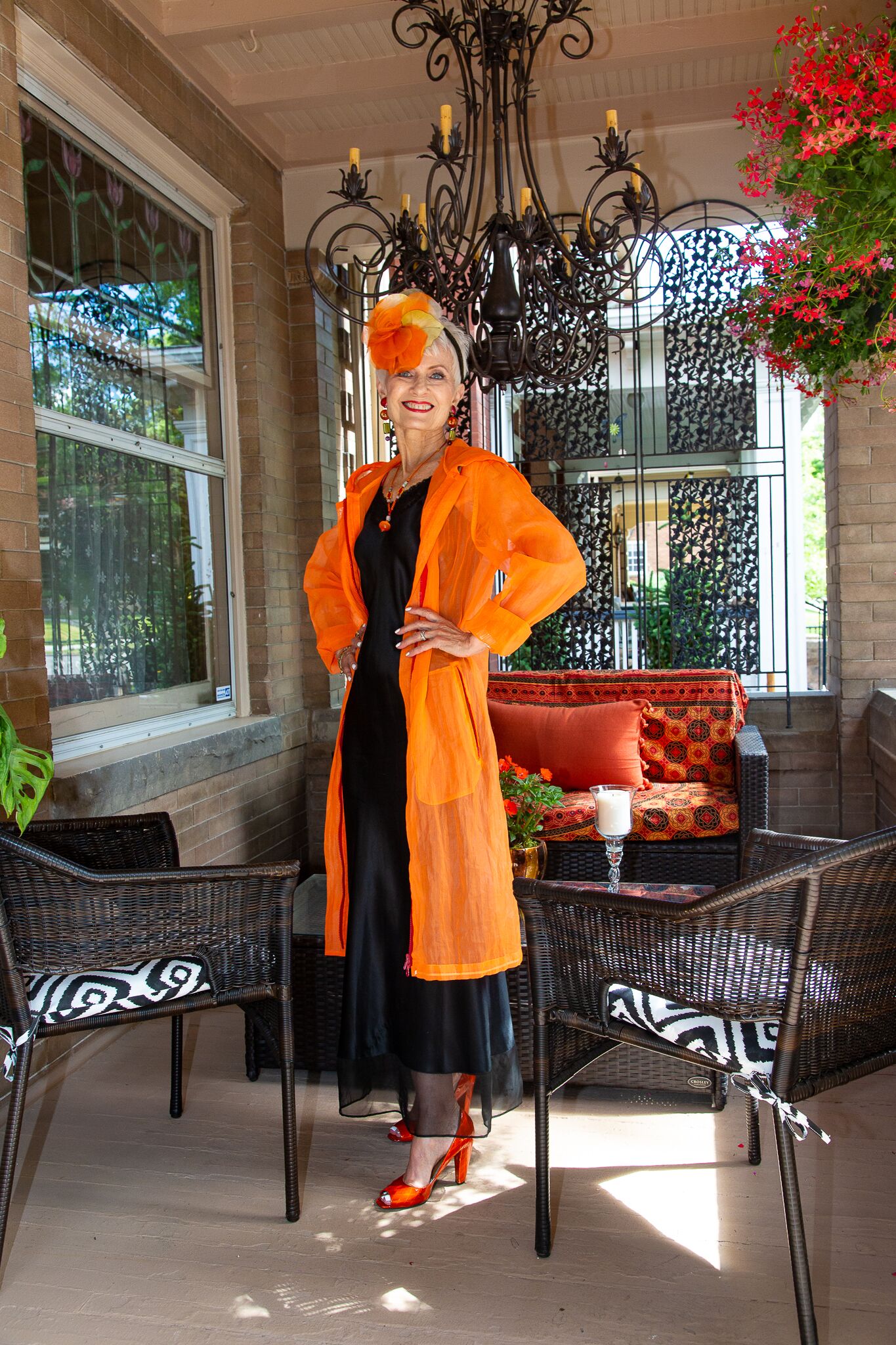 Orange is one of my favorite colors, as indicated by my ensemble, and the gifted tapestry which covers the pillows of the loveseat in the background. The orange pillow with tassels on the loveseat adds another accent of my current orange obsession. The hanging plant chimes in from above. The black screen behind the loveseat had been living on the veranda off my upstairs bedroom. It seemed to fit better on the front porch!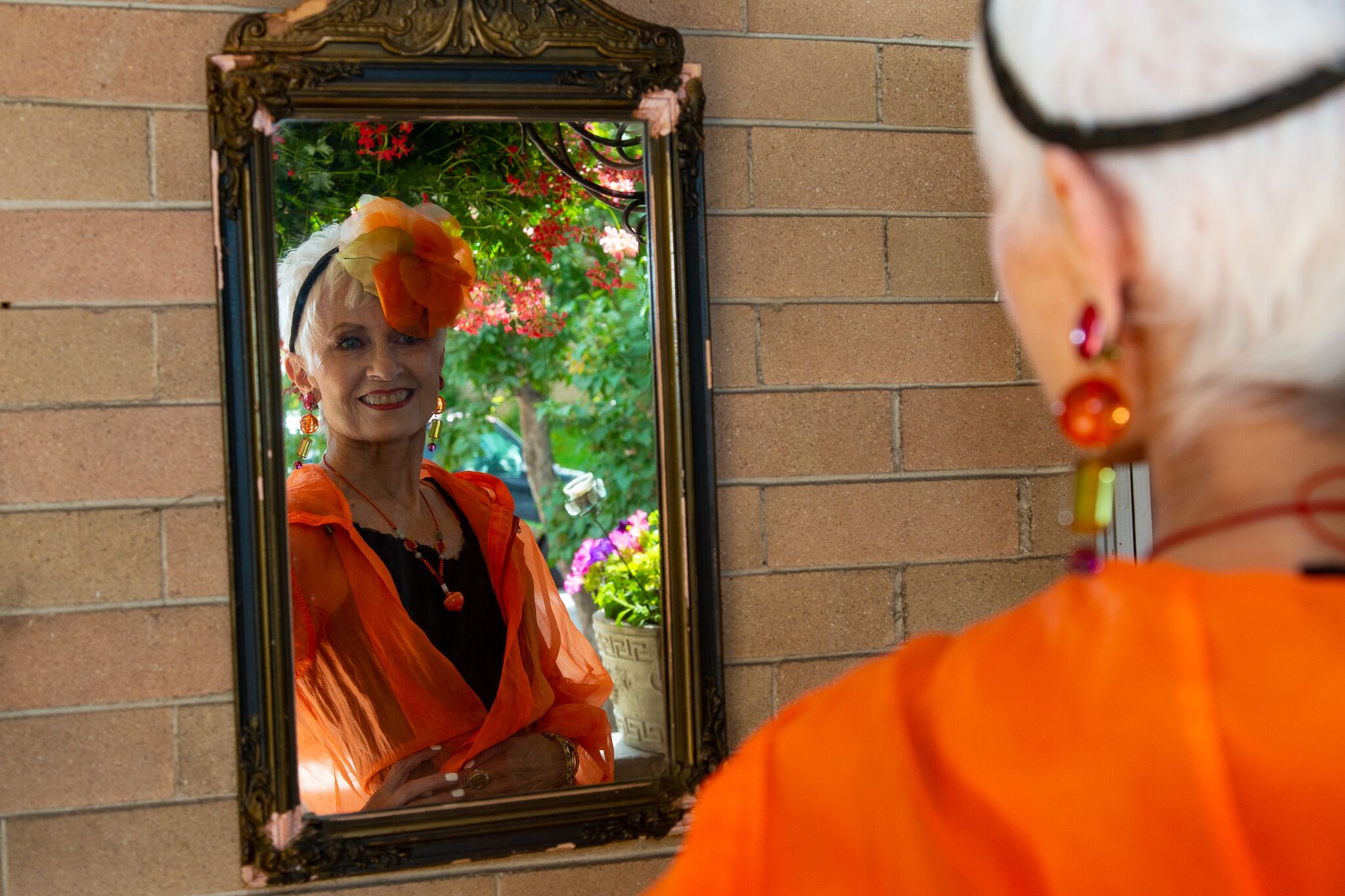 I discovered this distressed mirror at an estate sale, and it immediately found it's place on the porch. It's been hanging in this spot for years, and I'm sure that it will continue to offer a quick hat check as I leave the house for years to come. I have designated the porch as just another room in the house, especially during the summer.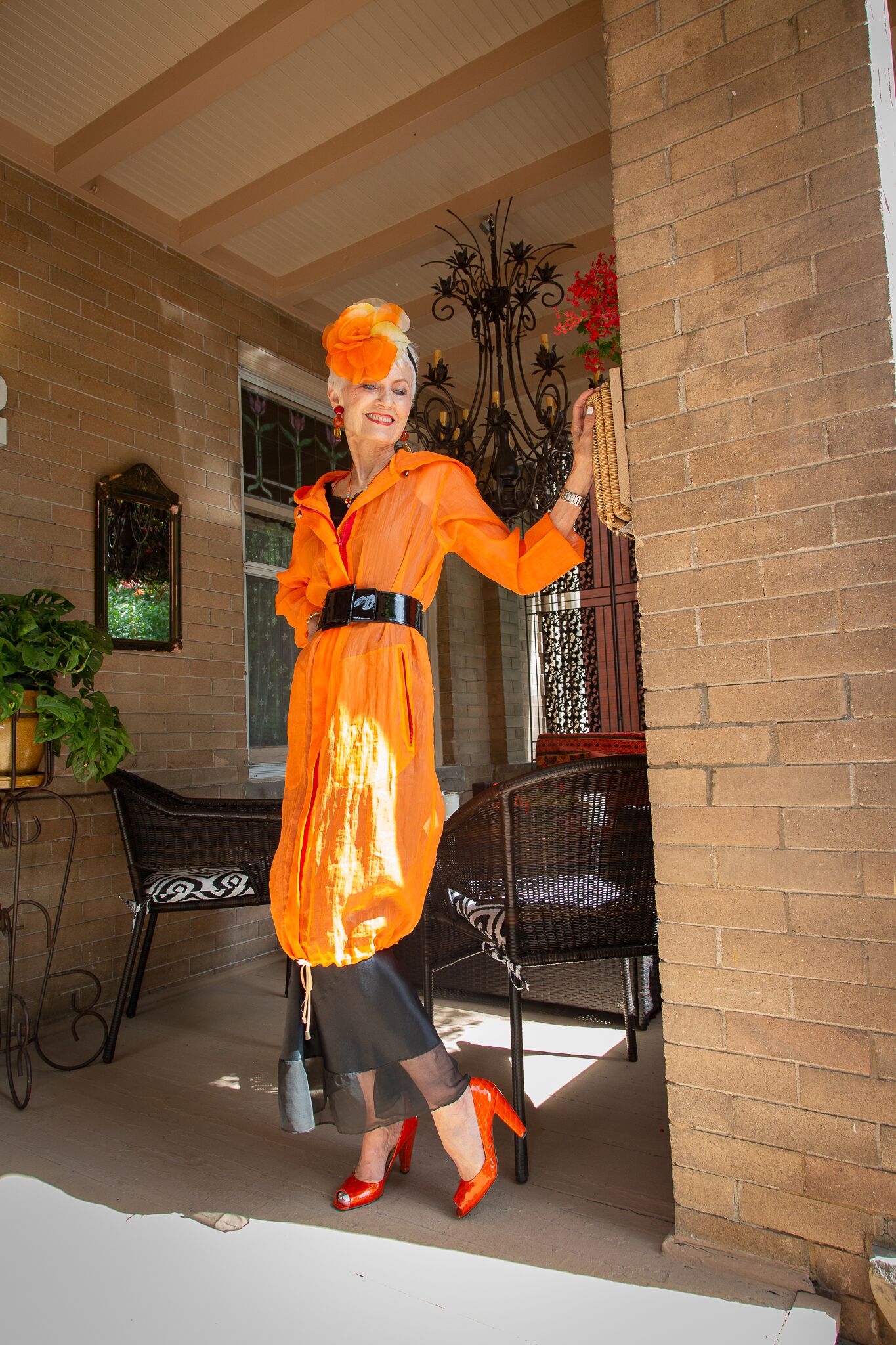 I began collecting chandeliers over the past year, and I am always on the lookout for them at antique markets and estate sales.  This iron beauty hangs above the glass covered table between the loveseat and the brown wicker chairs, which creates a conversation area that has been frequented by whoever has stopped by to visit this summer.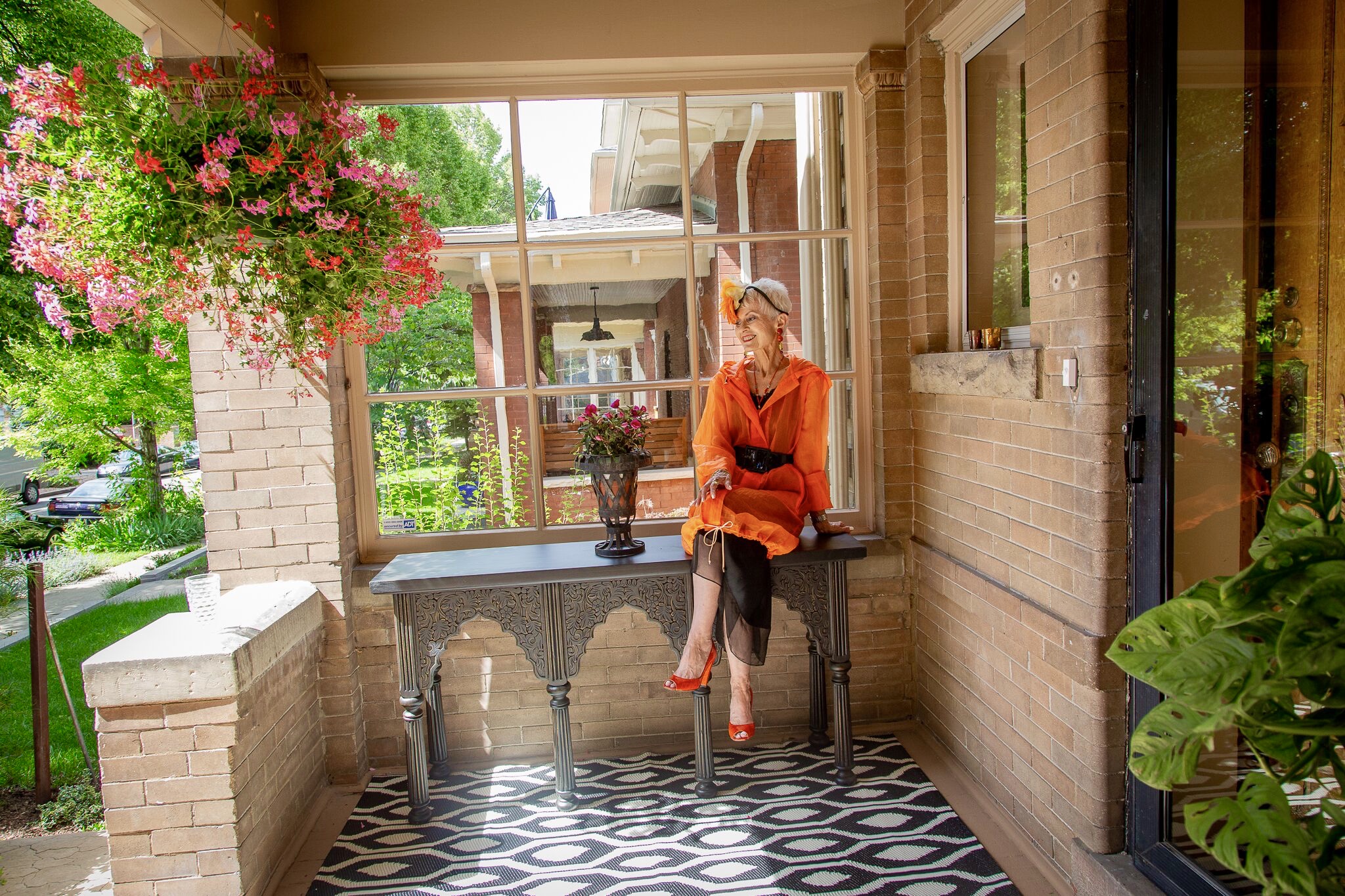 Photos by Nicole Marcelli
The above photo displays the opposite end of the porch from the conversation area. The console table and black and white patterned outdoor rug greet all who enter my home. I have embellished the area with plants and have the ability to change whatever I display on the table according to season and desire.
Today I'm wearing a vintage orange silk flower headpiece, vintage long silk slip, vintage patent leather belt, and multicolored earrings – estate sales, orange hooded jacket – consignment shop, and my favorite orange open-toe pumps – retail sale years ago.
My "new" porch has changed my life this summer. I love sitting outside in the evening, people watching and enjoying the Colorado evenings, which are alway more cool than the hot summer days. The changes that I've made have not only offered me visual pleasure; they have altered how I spend my time when I'm at home.