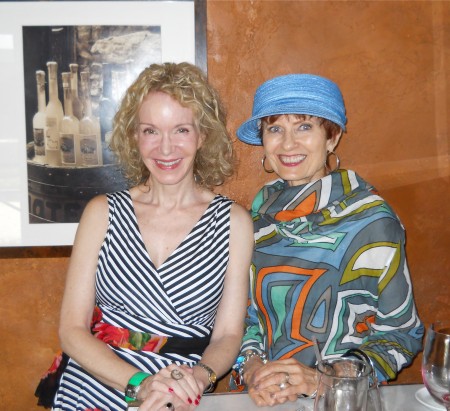 Lunch with Patti of Not Dead Yet Style HERE  (Patti's photo).
As soon as I knew I was going to Florida, I checked in to see if Patti lived within striking distance of my location.  I was thrilled to hear that it was possible to meet for lunch.  One of the high points of my trip was meeting Patti, who was even more beautiful, witty and fun in person.  We discovered that we had much in common, including our careers in the mental health field and a love for digging deeply into issues.  Thank you Patti, for taking time out of your busy schedule to meet for lunch, laugh and talk about outfits and life.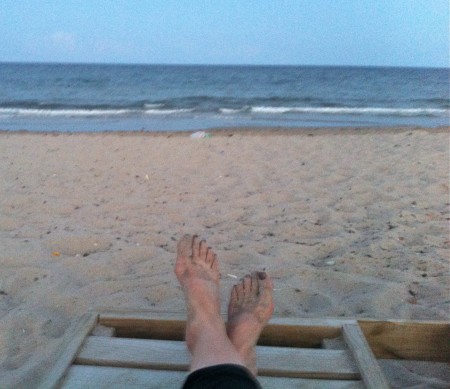 Sand covered crone feet on Delray Beach, Florida.
My visit to Florida was fruitful and I notice that changes have occurred in that my troublesome thought patterns have decreased and I have a technique to intervene internally when they begin to rattle around in my brain, approaching the deep groove that in the past embraced their negativity.  I feel lighter and more engaged with my life, and my intermittent overwhelming sense of grief has transformed.  The triggers that fill my home that brought devastation now feel less invasive and I can smile at the many memories that will always remain in my heart.
Upon my return over dinner, Camille shared with me that it felt as though she had her mother back. It's meaningful to receive feedback from others, as internal measures are not always readily apparent. Much of the clearing that I experienced was below the conscious level, and my new mantra, 'nothing needs to be done by me right now,' applies to almost everything that comes up when an unpleasant emotion or thought presents itself.
Secondarily, I learned that I can travel by myself to an unfamiliar area and navigate the world quite effectively.  I filed this trip in the category of 'self date,'  a personal practice that I enjoy and savor.  I find going out to dinner by myself to be not only interesting, but also brings a sense of empowerment. I drove my rental car to Miami and hopped on a bus that toured the city and South Beach.  I loved learning the history of this vibrant and diverse city and the drive past the deco hotels on the beach was a personal favorite.  And then there were the consignment/vintage/thrift shops that magically appeared along my path, which are thrilling to discover in places that are new, reflecting the area's culture and diversity.
Time will tell how this affects my life and if these changes remain permanent. I'm aware that challenges are a part of human existence!   I will be happy to share more with anyone who wants information or detail.  Just send me an email. I'm fascinated by the brain and how I can improve my life and release barriers with the application of new research and methods of treatment.  A self experiment of sorts. It's a way to focus on wellness as opposed to pathology, and improve quality of life.  That in and of itself has a ripple effect, as we are all connected.  Feel good to do good!  Is that a goal too lofty?
Linking up with Visible Monday HERE has special meaning today!