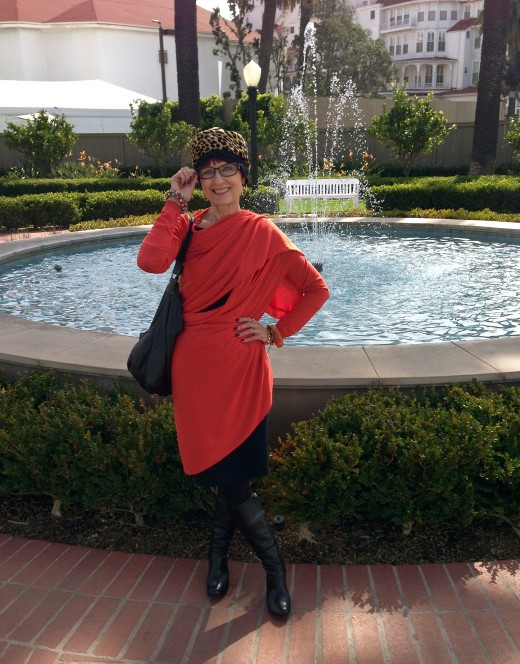 The SC traveled with a friend to Coronado Island HERE, across the Big Bay from San Diego, California, for a weekend reprieve from the Colorado cold.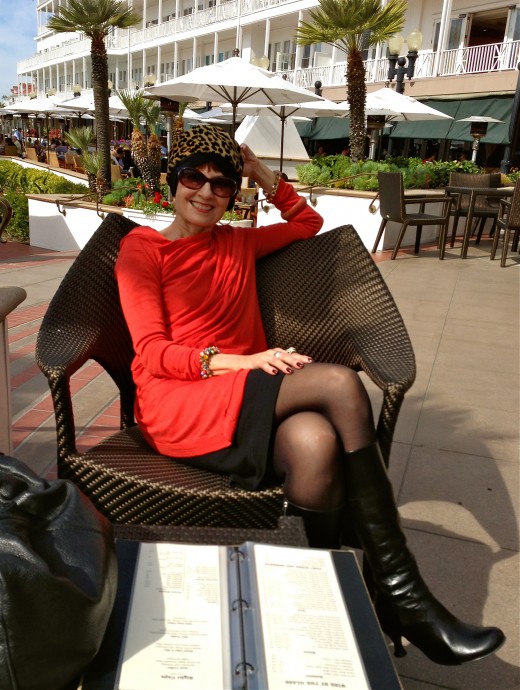 There's nothing like relaxing on the spacious grounds of the magnificent Hotel del Coronado to remind me that every moment is precious, that life can turn on a dime in a good way and that a leopard print turban can be enjoyed in any location.  Wearing a black background and adorning with color is my strategy for traveling with carry-on only.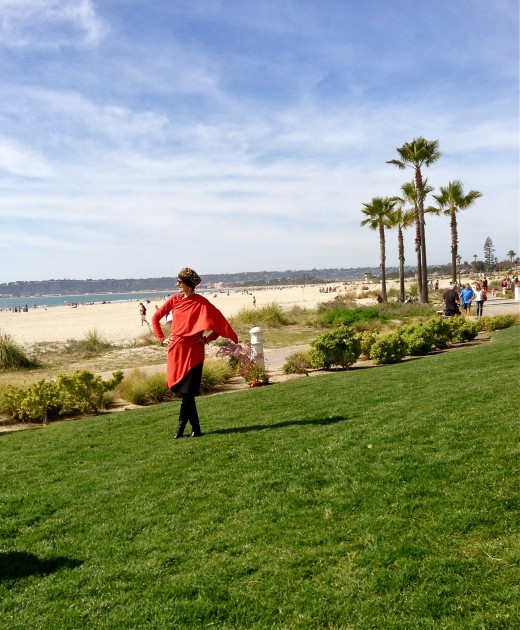 The beach, the Pacific Ocean and palm trees were a wonder to behold and a welcomed change from the snow-covered terrain in Denver.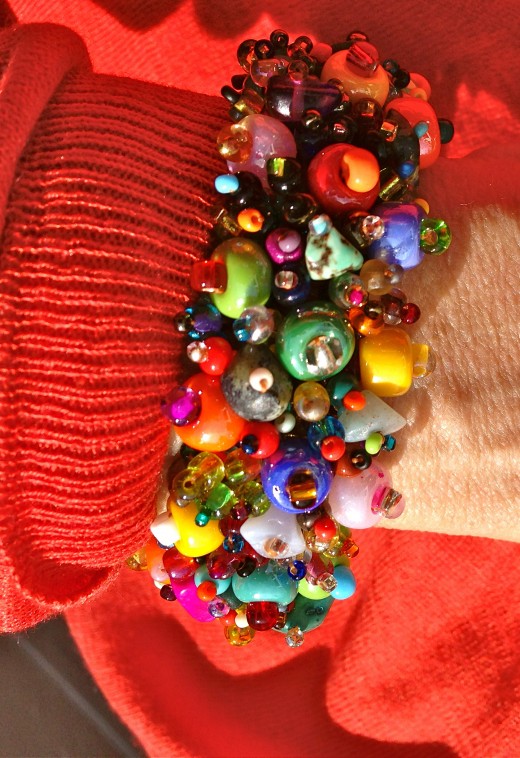 A visit to D Forsythe HERE (a unique shop which I learned about on Advanced Style HERE) showcased a wonderland of jewelry from around the world that was a paradise for the senses.  This beaded bracelet from Turkey immediately caught my eye with its multicolored beauty.  It landed upon my wrist without a second thought, catching a ride back to Denver, waiting for its Colorado debut.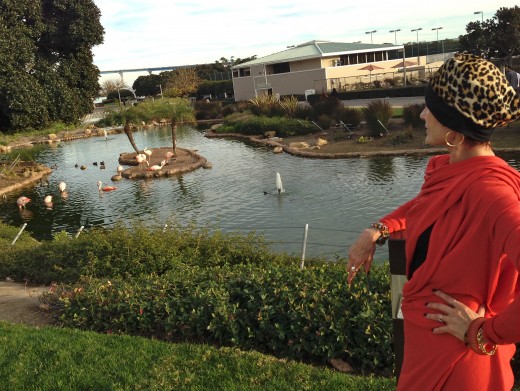 The flamingos on the island captured my attention, with their elegant poses and graceful demeanor.  I was accompanied by the draped red Donna Karan tunic which was discovered at a consignment shop in NYC on my most recent visit.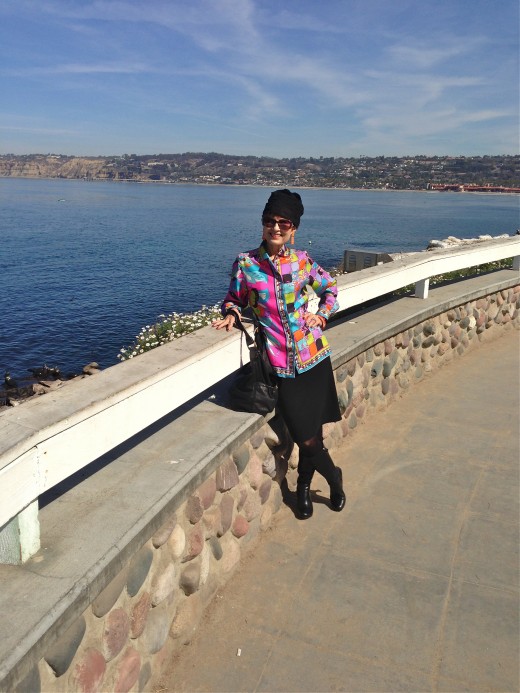 A drive to La Jolla, a beach community in north San Diego, offered breathtaking views of the Pacific Ocean and an opportunity for an outing for the estate sale vintage silk multicolored Pucci blouse.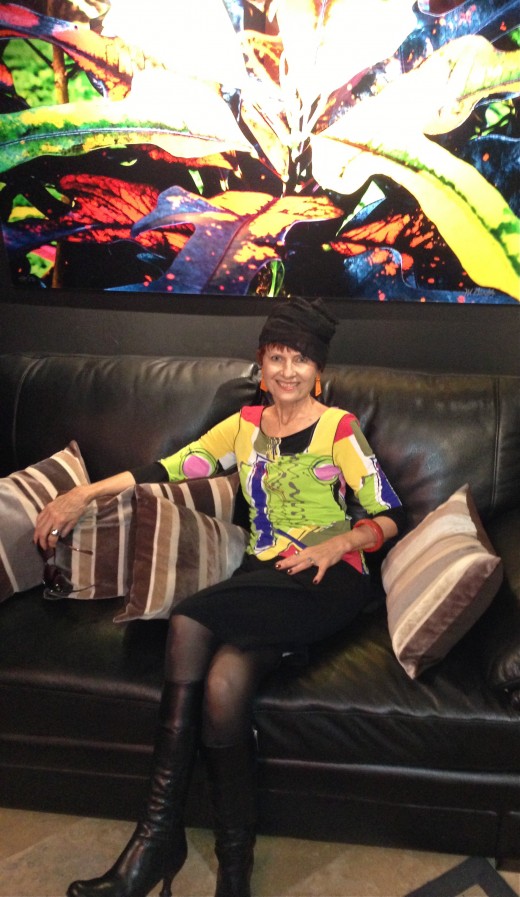 My gifted Eva Varro tunic just happened to pair nicely with the art in a gallery that appeared upon our path.  The black fabric headwear is by Brigitte NYC.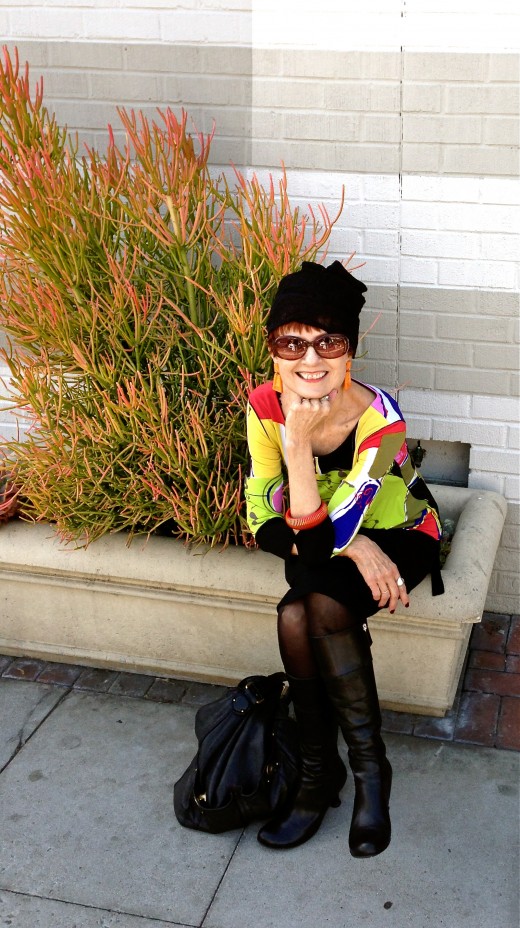 And the coral vegetation on the street played parallel with my plastic vintage earrings!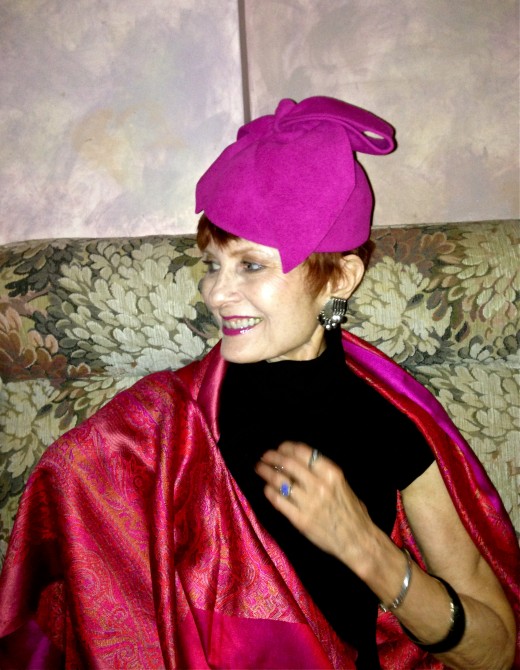 Photos by J
The pink bow hat by Erin Saboe appreciates coastal views! Last seen in Harlem HERE, it enjoyed an outing on the West Coast with an equal amount of enthusiasm.  The pink/red silk scarf was purchased during my recent trip to NYC at the Bryant Park Holiday Street Market.
Thank you to Ari Seth Cohen, who recently featured "Winter Style Tips From The Style Crone" on Advanced Style HERE.  I was thrilled by and grateful for the honor!