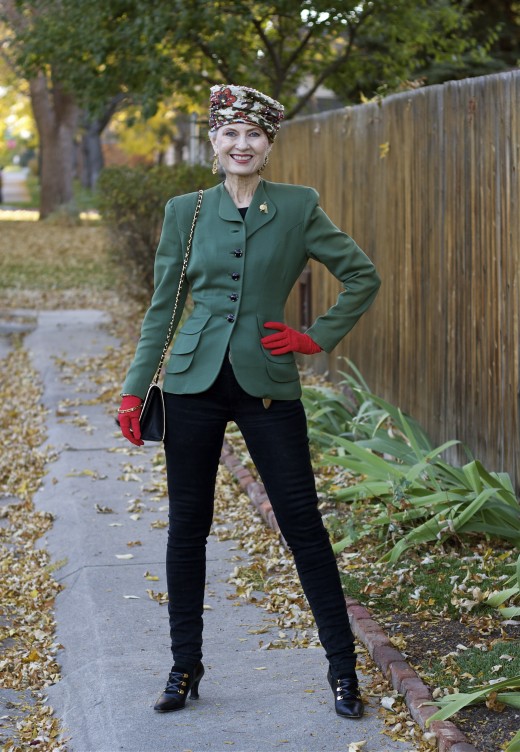 Turbans!  I don't know when it happened. When I first became enthralled with their tantalizing appeal.  Suddenly I realized that I had been captured by their allure, and that it had been going on for some time.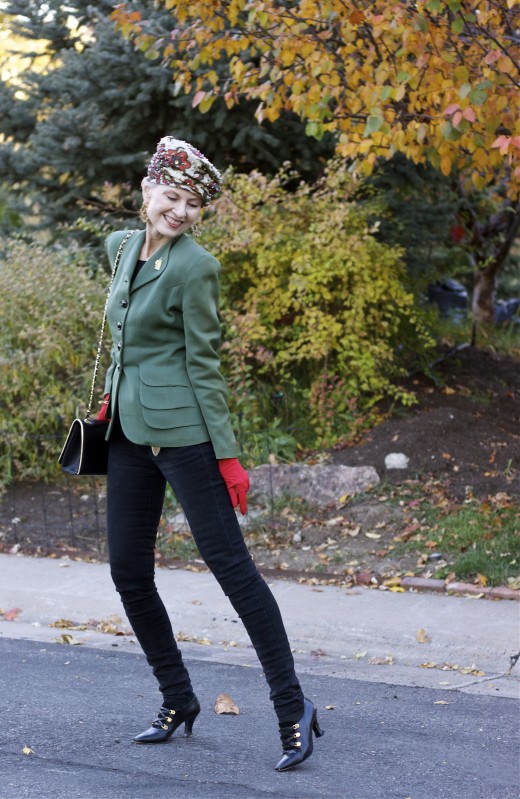 I tend toward the vertical with my headwear and I love the height and versatility of a turban or headwrap.  Not that I don't adore brims and a multitude of shapes when I'm scanning for a crone crown.  But at this point in my life, turbans catch my attention in a heartbeat.  But then I've had headwear crushes before!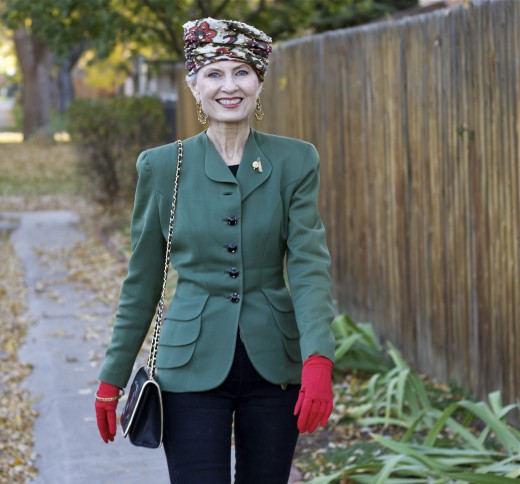 The turban that I wear in these photos had been patiently waiting in the hat room for its debut.  I discovered it over 20 years ago on sale in a vintage shop that closed long ago.  This year it was accidentally placed amidst the red hats, and I fell in love with its pattern adorned with multicolored beads.  Surrounded by its red sisters, which gave prominence to its details, I suddenly realized its potential.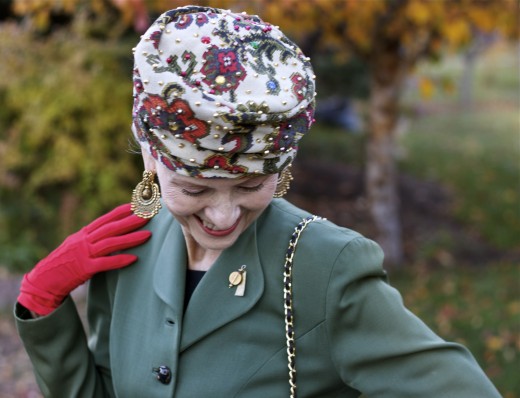 In the process of falling in love, I remembered the green vintage jacket that reflected one of the colors in the turban's pattern.  And the ensemble developed rapidly from there.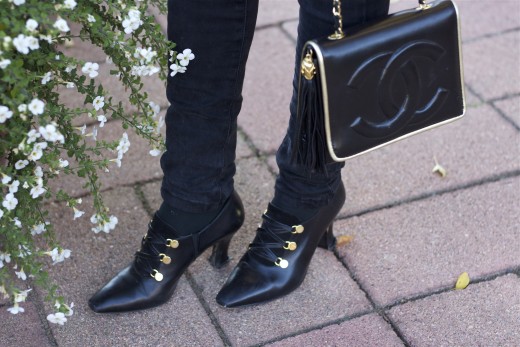 Estate sale shoes and bag with gold trim finished off the outfit in a flurry of inspiration.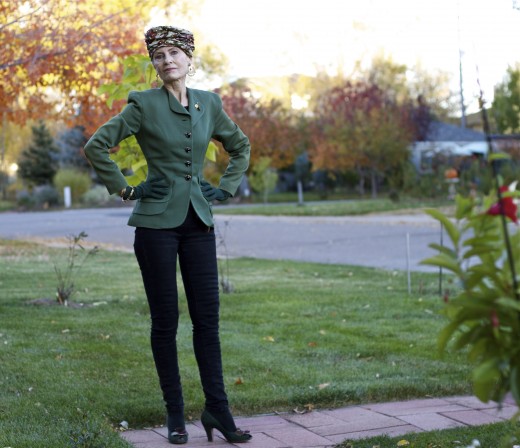 As with all beloved ensembles, there are alternative accessory choices within my reach.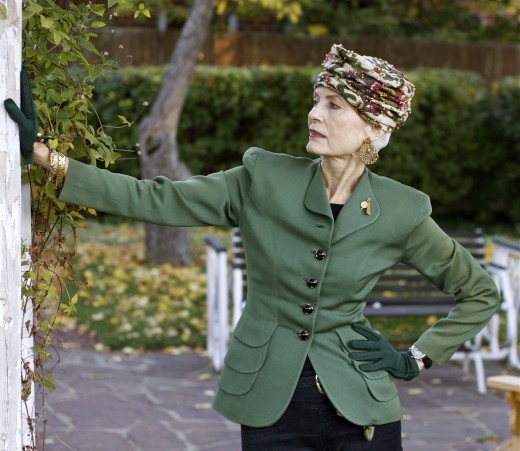 Especially when my collections are lying in wait for the a creative swirl of energy that comes with the discovery of a turban that had escaped my eye for years.  I don't follow the rule of eliminating a piece from my inventory if it hasn't been worn for a year.  How many outfits would never exist with this limiting practice.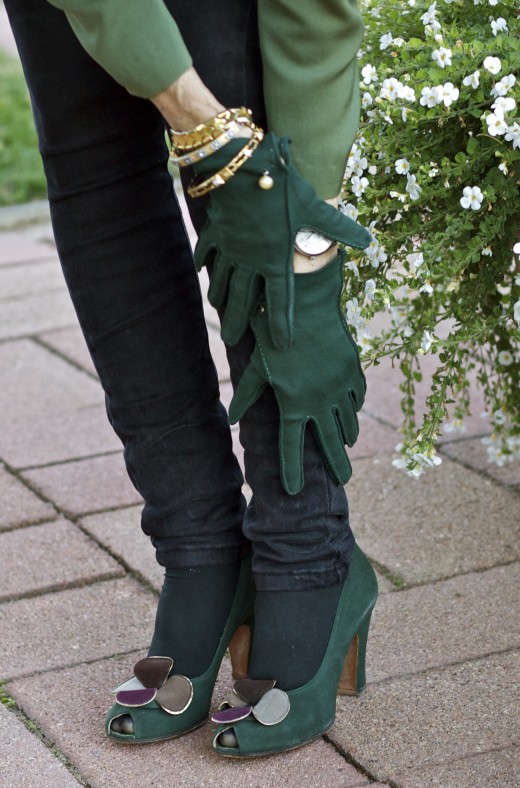 These vintage shoes have been waiting for two years for the perfect combination, and I couldn't resist adding the green gloves to replace the red.  As long as I have storage space and the love of sartorial adventure, I'm keeping the pieces that I view as beautiful and endearing.  I know that sometime in the future, if I live long enough, they will find a way into my heart.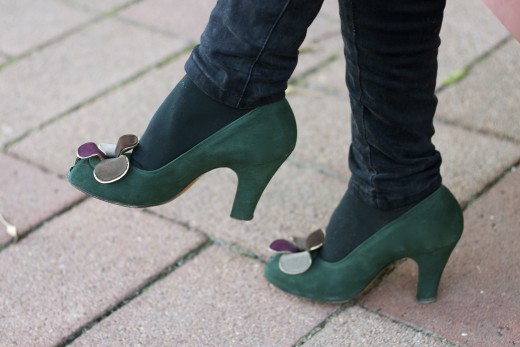 Photos By Daniel
Vintage turban – vintage shop;  vintage green jacket, both pair of vintage gloves, both pair of vintage shoes and bag – estate sales, black jeans – Paris boutique, gold earrings – consignment shop, bracelets and watch – estate sales and gifted.
Linking up with Patti's Visible Monday HERE, Catherine's #iwillwearwhatilike HERE and Cherie's Shoe And Tell HERE.