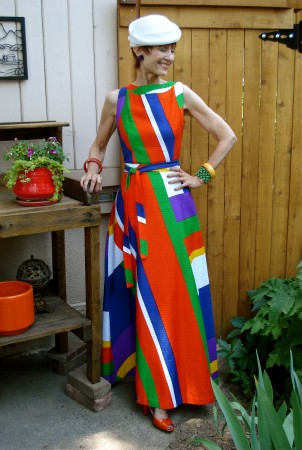 Photo by Diana
The Maeve Carr white straw hat gets its first outing in years accompanied by an estate sale vintage multicolored Malia of Honolulu maxi dress with vintage bangles and earrings, and grounded by the orange patent leather peep toe pumps that have been a SC favorite for several summers.
Things are looking up.  It's been raining off and on for three days and the temperature has dropped significantly.  In fact, it's raining softly as I create this post. The raging fires are close to containment, leaving much damage and loss in their wake.  A collective exhale can be felt across the state, with hopes that the remainder of the summer will be more peaceful and allow much needed space for recovery.
I drove to yoga in the rain this morning and today's teacher had chosen soulful blues for the class soundtrack.  She asked us to consider ourselves as the rain and to think of one thing we wished to cleanse from our life.  I ran with the first thing that came to mind and moved through class as though each movement was effortless.  Sometimes a slight shift can create a more ideal pose, as a small change can form a new and more healthy thought or behavioral  pattern in my life off the mat. Even a barrier that arrived pre-language can present itself for consideration, emerging from deep within the unconscious, coming out of the blue, following the strains of the blues. The class flew by as though it were five minutes and as I walked out of the studio, rain, sweat and tears merged and fell down my cheeks creating a beautiful, cleansing, healing sensation verging on exhilaration.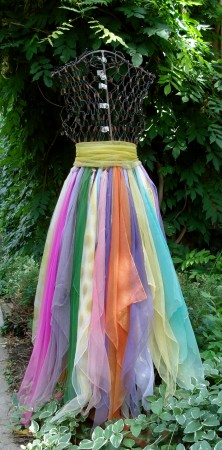 Upon my arrival home, I noticed the scarf manikin in my garden.  She's been my summer companion for many years since her character was developed for a backyard party in celebration of a friend's birthday.  I'm always on the lookout for vintage nylon scarves to refresh her skirt as it responds to the sun, wind and rain.  When I want to know the status of the wind, all I have to do is look out the window for her billowing display.  I've been known to change her attire for special events, but that was years ago, during more frivolous times.
Interestingly enough, I've found myself planning another outfit for her over the past few weeks.  I may have found the perfect piece in my travels and she really should have a name.  Maybe she's a symbol of my evolution, providing me feedback with information that I would not otherwise possess or notice. Surely this must be a sign!
The SC is taking the scarf manikin over to the party at Patti's Visible Monday HERE.