Wearable Art At The Pavilion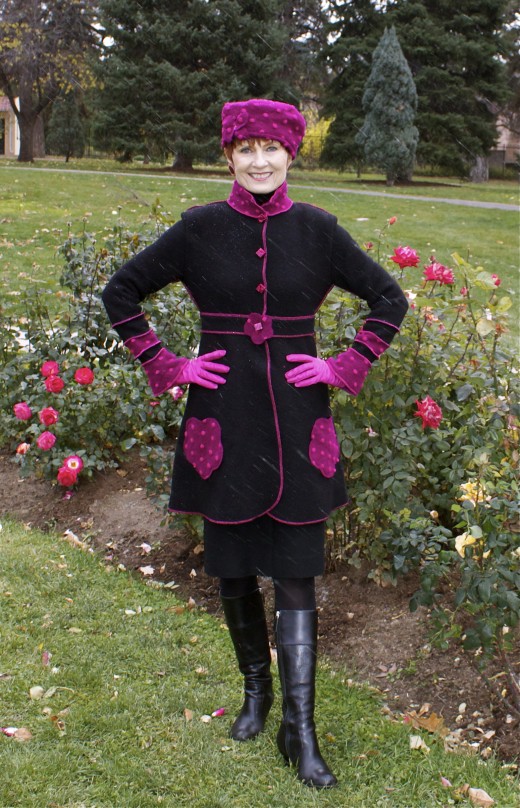 The weather suddenly shifted, as The SC and Daniel braved the chill and the beginnings of snow to play at the Pavilion at Cheesman Park HERE.  I've blogged about this location in the past, but always during the spring or summer.  In the photo above, the snow shows up on my jacket with streaks of white.  The roses continue to bloom, but I daresay not for long.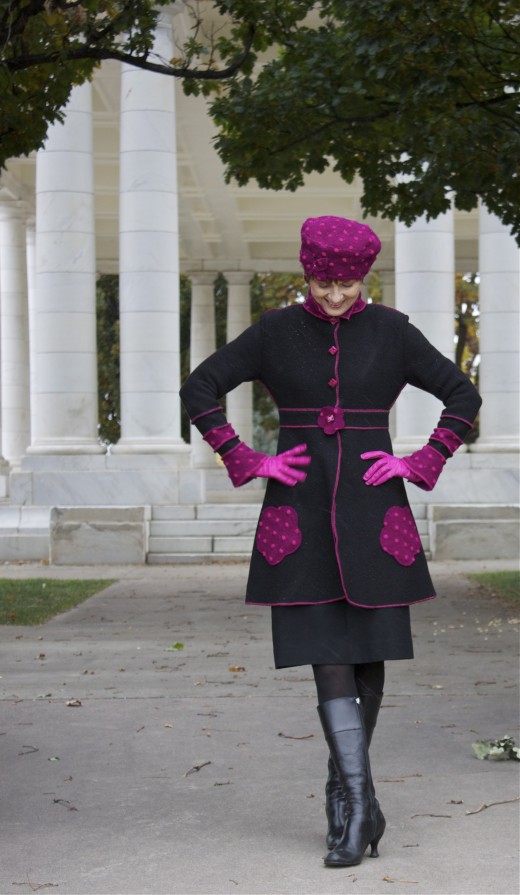 Last month I discovered this boiled wool coat and hat in Nice, France.  I was strolling with Mr. J on the narrow streets of Old Town HERE, when I spotted hats and a multi-colored mannequin in the window of a small storefront by the name of Coat d'Azur.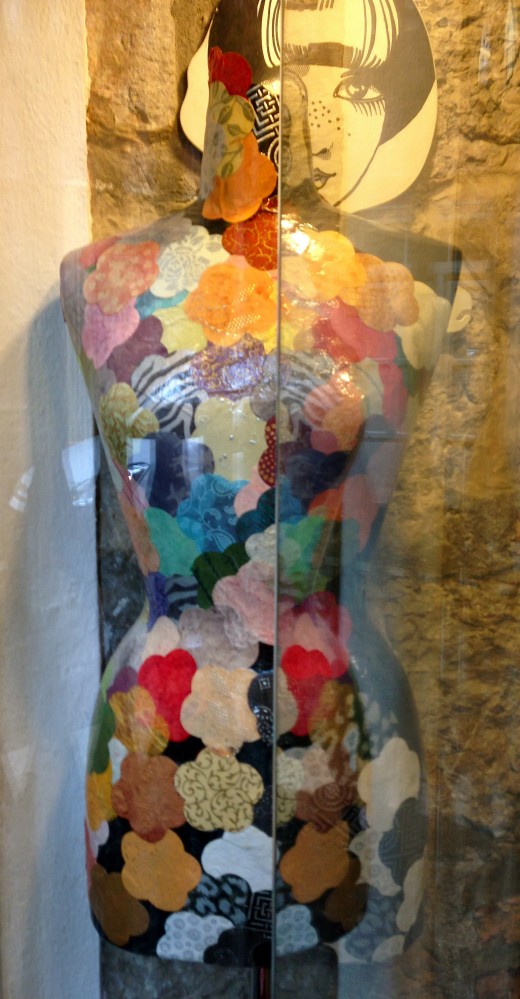 An immediate "Hat Alert" registered in my brain, which has become an automatic reflex similar to breathing, as my thoughts connected involuntarily to my motor neurons.  I made an immediate turn to the left and walked into the door of Sabine Lebeque's studio and showroom.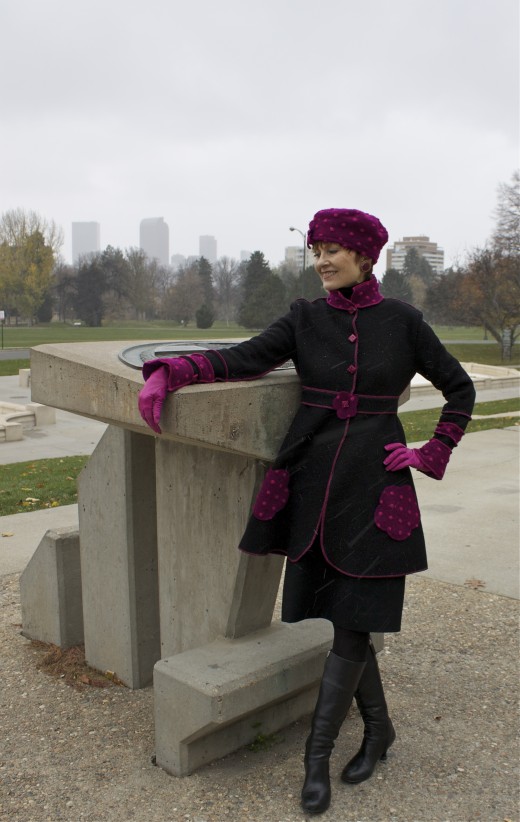 Suddenly I was thrust into a wonderland of color and creativity.  As I scanned the perimeter, my gaze rested on this pink with purple combination in polka dots, which magically floated to my head. The accompanying jacket, trimmed and adorned with the same fabric as the hat, was destined to leave the boutique and return with me to Denver.  I would love to share a link, but at this time Sabine does not have a website for her talent and artistry.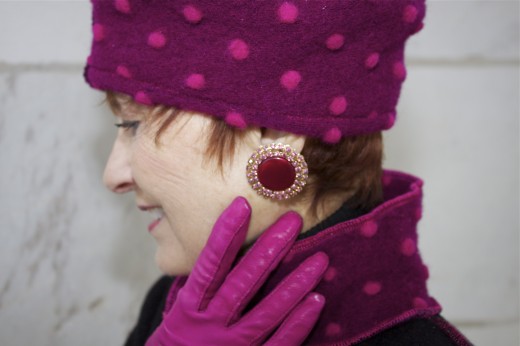 The square buttons of the jacket were hand painted by the artist and her sense of playfulness appealed to me.  I love to support artists whenever possible, whether it be a painting for my home, or in this case, wearable art.  The art of millinery or hat making is close to my heart, though I wear it on my head.
I just happened to have these estate sale vintage earrings, vintage pink leather gloves and vintage pencil skirt that fit with my vision for the composition of the day.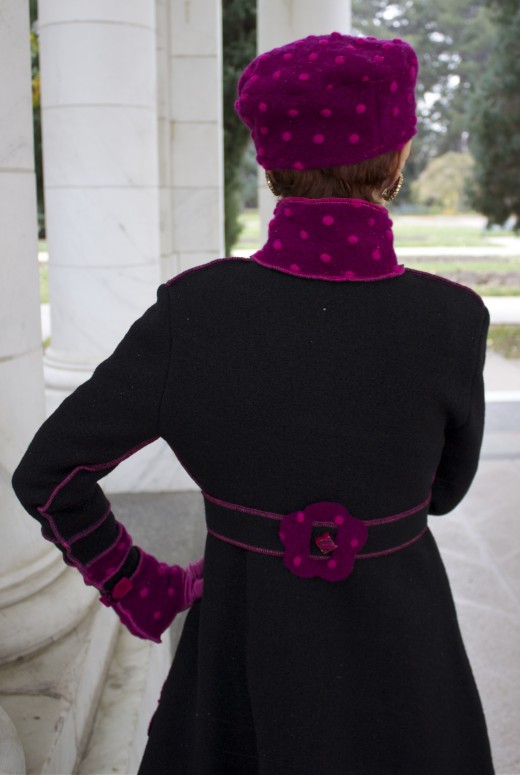 I've been slowly integrating what I learned on my European adventure, and feeling more clear about my focus and intentions as I move forward.  I feel an opening space, as I settle into the next step.  I'm aware that my primary goals continue to revolve around health and relationships, which are closely linked.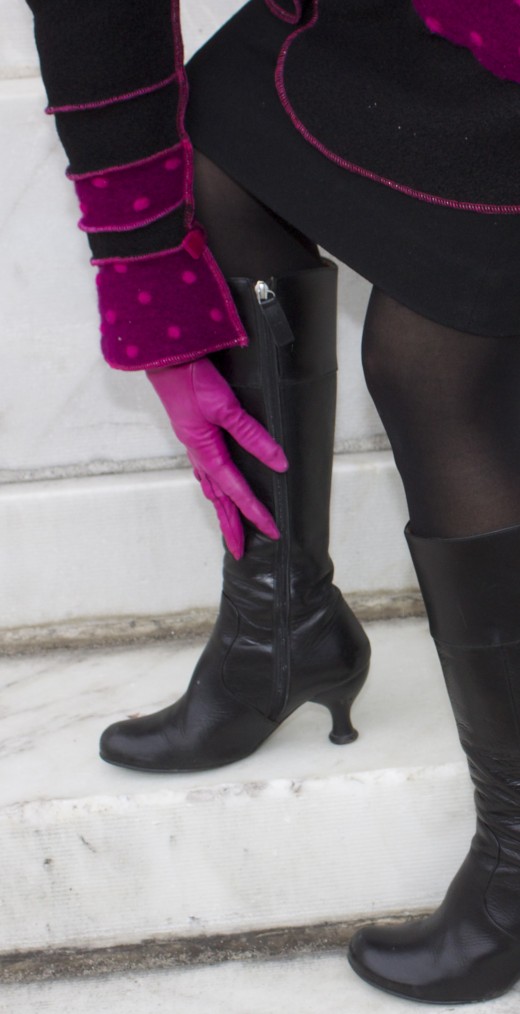 Over and above the structures which health and relationships provide, I continue to enjoy participating in the movement which is changing how our culture views aging.  A drop in the ocean of the efforts that many are engaged in and actively pursuing.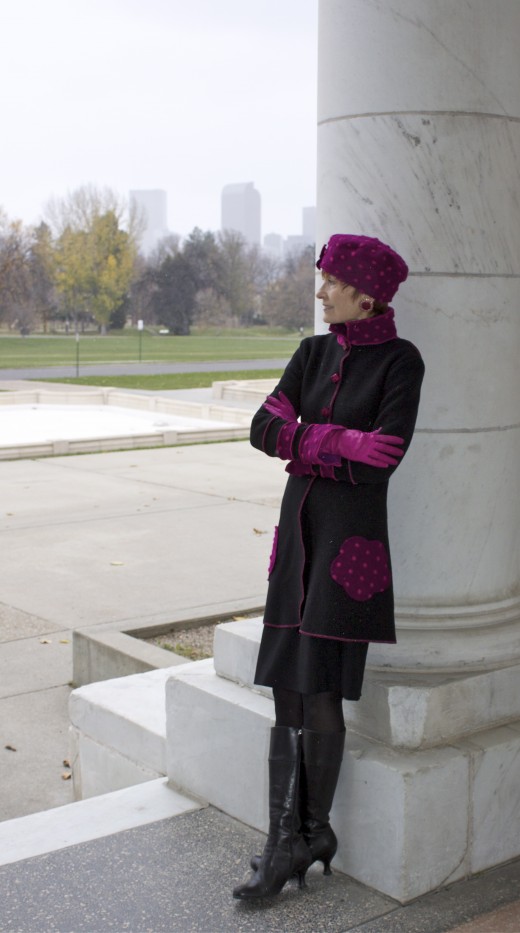 I also desire to be, in my own small way, a part of that which improves the health of the millinery industry.  I'm filled with new and exciting ideas and possibilities.  I feel best when I pursue my passions and my interests, connecting and growing with others that are like-minded.
I'm not sure how this will all play out, and my aspirations could change at the drop of a hat.  But for now, this is where I stand, by the columns of the Cheesman Park Pavilion on a frigid day in Denver, with the cityscape on the horizon.  I've found that intentions bring their own power and energy and the results seldom look like that which I picture the end game to be.