Hat Attack #41 – Iva Ksenevich Millinery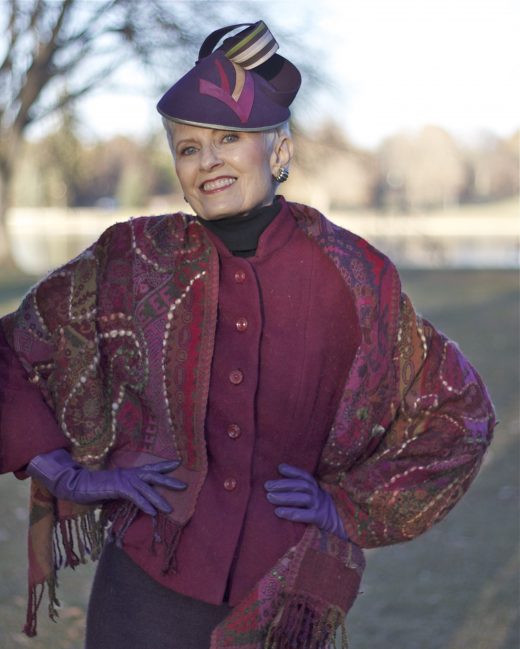 December's Hat Attack features a collaboration with Iva Ksenevich HERE, an international milliner based in Moscow, who has customers in France, Italy, the USA, Shanghai, Finland, Serbia, Russia, Germany, Libya, Israel, Australia etc.  I met Iva on Instagram, and was fascinated with her magnificent designs. I'm honored to wear Iva's creation for this month's Hat Attack.
"This hat is a special piece from my collection '13,' which consists of 13 hats. All the hats have geometry, which I love. This particular violet one was my experimentation with static geometry and movement.  This piece was also featured at the Fashion Crowd Challenge global contest, where I entered, along with 15 top designers from around the globe, and went to Shanghai to make a show in 2016. So you may consider it the lucky one! The materials are felt, silk and cotton."….Iva Ksenevich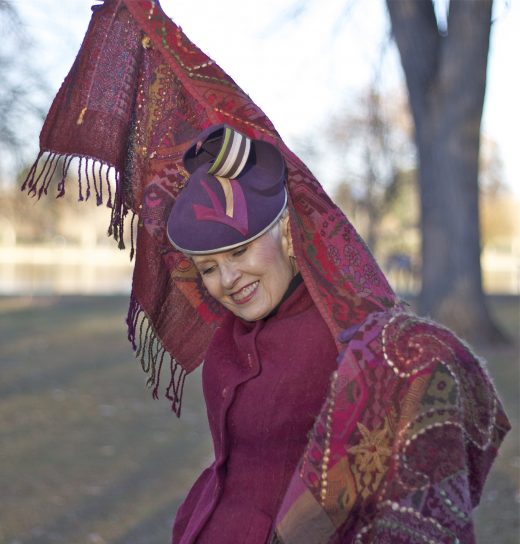 The Story of Iva Ksenevich Millinery by Iva Ksenevich
"I grew up in a small provincial town in Belarus. Being raised in the place of plants and factories, I would have never imagined that I would start making couture hats.. It all happened by accident when, after receiving my university diploma in teaching foreign languages and literature, I decided to never ever work at school. All this boring system, things, that you have to explain over and over again – no experiments, no fun, no everyday challenge. Thus, to the shock of my parents, I decided to go for hairdressing, which became my job for almost 10 years, until I got bored with the hair too. At some point, when braiding and crazy colors were popular, I did a lot of arty things. But when I moved to Moscow, it all started looking like a factory again – same blonds, hair extensions, long hair. Moscow is quite conservative on this matter; all girls want to be sexually attractive, well in their understanding. They are scared to wear hats there, to be different."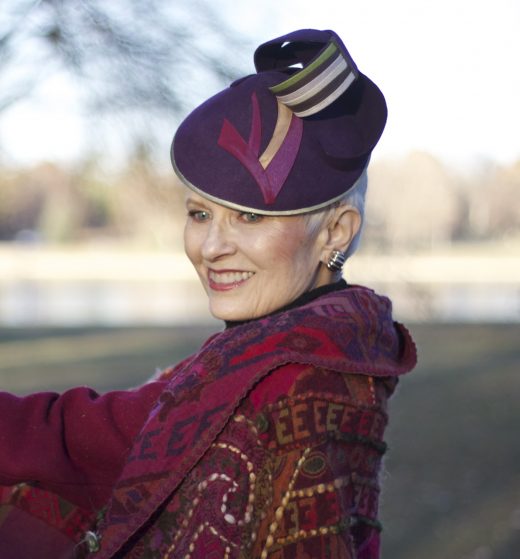 Photos By Daniel
"One day everything changed, when by an accident I traveled to London. I was mesmerised by the styles people wore there. All these hats, crazy combinations with clothes, yet quite sophisticated and extremely stylish. I understood one thing – it's the hat – that makes all the style complete. And since there was a bit of free time and a bit of money, I decided to go for it and try to take a course in millinery.
My first teacher was Rose Cory – an oldish funny lady, who made hats for the Queen, had an adorable sense of British humour and was in love with hats since she was 13. You should have seen her hands, when she was working – these were butterflies! I have never seen such fluency in handwork.
After Rose, I traveled to Paris – to study with Estelle Ramousse – a French diva of millinery, experimental, energetic, daring. Her atelier, situated in a small Parisian street became my home for about a week. We worked a lot, we were super tired, but super happy with the result! Voila – these two weeks, one in London – and one in Paris made my base. After this, for three years I have been self educating, experimenting, trying to find out new techniques, making first shaky steps into the world of Millinery."….Iva Ksenevich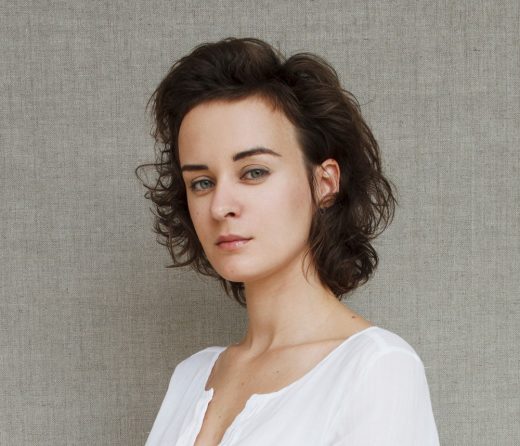 Iva Ksenevich
"What I love about millinery can be described in one phrase: 'Millinery is a lost form of Art.' For me it is creating, thinking, finding the ways of making it and combining the piece with a character of a person. It has the power. I love millinery! It makes our lives more colorful and hearts full of joy!"….Iva Ksenevich
Now it's your turn to throw a little headwear my way. Give The SC a DECEMBER HAT ATTACK and kindly link to Style Crone somewhere in your post. The link-up will be open through December 31st.
Anyone can participate in the celebration of headwear!  All you need is a URL, which can be acquired from Instagram, Facebook or your website.  All forms of headwear are appreciated:  hat, headwrap, headscarf, headpiece, fascinator, hair flower, headband or other adornment for your head that you enjoy.  Multiple photos are encouraged!
[inlinkz_linkup id=681296 mode=1]