A Scramble For The Finish Line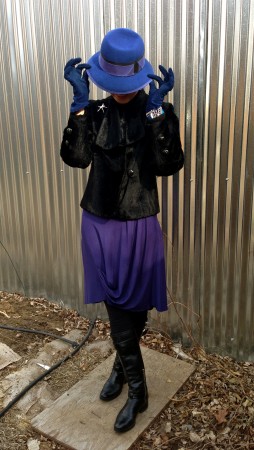 A swirl of activity escalates as I check off the items on my long to-do list.  Just as I put together a renovation ensemble last summer, now is the time for errand outfits. This is one of the compositions that's been rushing around the city this week.  Not nearly as glamorous as Vix of the Vintage Vixen's outfit HERE ,which she wore as she shopped for wine a few days ago.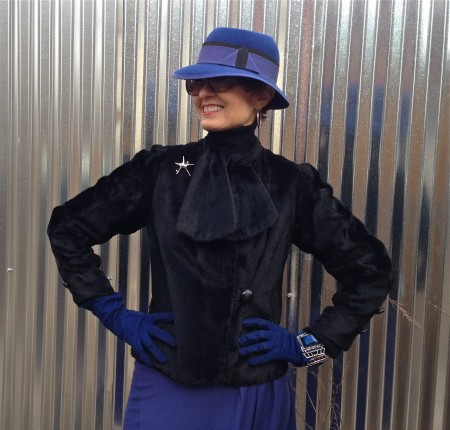 The SC has been eyeing this metal structure in my neighbors' back yard for some time, thinking it could serve as a great background for photos.  Today my request for access was granted and my errand outfit on metal was one of the highlights of my day, prior to dashing off to another destination on my check list.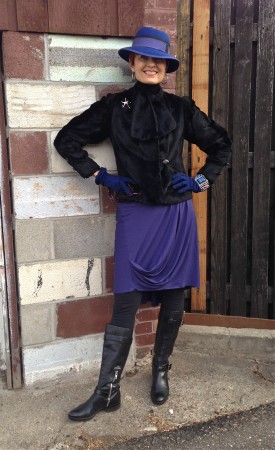 Photos by Diana
As Diana (who has yet to be revealed) and The SC passed through the alley from the neighbors' back gate, another background became irresistible, making a few more photos mandatory play.  In my constant search for photo backgrounds, who knew that 'sweet spots' as long as my limitless list existed behind my own back yard.
Lucky for me, the blue gloves have been documented in these photos.  They were lost somewhere on my travels today, or at least I think they are gone forever.  One of the many small and transitory losses in life.
Sometimes items turn up again in the most unlikely of places.  Just yesterday I lost my favorite pair of boots somewhere in my home, and later they magically appeared in a space that I had earlier scanned. What I was looking for was right in front of me, which is often true when searching for internal states of mind such as peace, harmony or oneness.  Too bad I didn't find any of that while scrambling wildly for my boots.
Blue fedora with black trim – hat shop in the 80's,  vintage black jacket, vintage bracelet and vintage blue suede gloves – estate sales, silver star pin – gifted, sterling hoops – retail, blue drapey skirt – Meiko Mintz winter sale, tall leather boots with zippers – years ago at Century 21.
I'm rushing over to Patti's for her weekly gathering that means so much to me.  Visible Monday HERE provides structure, structure, structure.  Thanks Patti, for all that you do for this vibrant community.