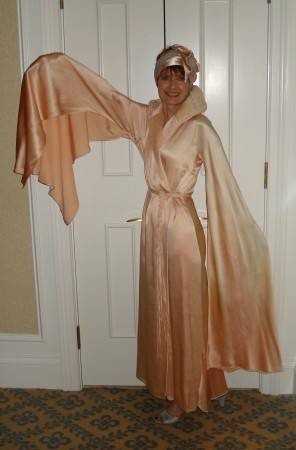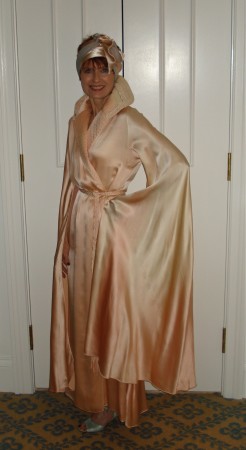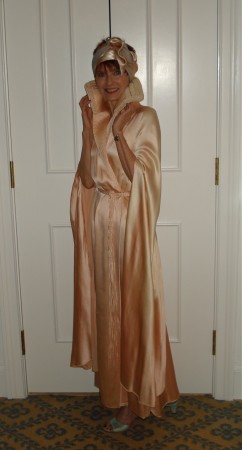 Photos by Nelson
Vintage light peach silk satin dressing gown-estate sale, with belt of previous gown as head wrap.
The Broadmoor gown series is complete as The Style Crone poses for Nelson.  I feel as though I can take flight with this buoyant luxurious fabric which has its own memories in its folds.   I would like to envelop/wrap/encircle Nelson in wings of satin and fly away to a glorious place free of dis-ease. Maybe that's what these two days of reprieve have been!
The 'Emperor of All Maladies' has been our constant companion for over six years.  At times he has hovered in the background, has been a late night stalker, or an omnipresent giant.  His influence has varied over time.  We have fought him with intensity, hoped for his disappearance, viewed him from afar, lived with him daily in close up,  and now watch as he takes commanding control without question.  Is he a part of Nelson or a separate entity?  What would happen if I begin to embrace him as a part of Nelson?  To even love him and accept him?  In my struggle to conceptualize reality, I wonder if he would release his grasp on Nelson because of that acceptance.  My thoughts are as futile as the most recent treatments have been.  But paradoxical, delusional or magical thinking can do wonders for a few moments!  I find myself considering varying internal strategies and bargaining for relief.  Perhaps embracing 'The Emperor' would release me from fears of the future and provide another dynamic for today.  Just as comforting as draping oneself in wings of soft and soothing silk satin.