"Shoe And Tell" And The Gown Series: #4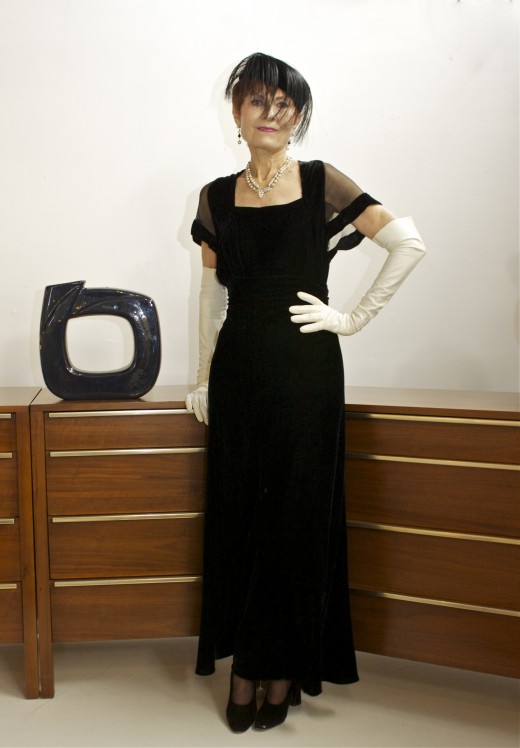 I'm delighted to be co-hosting Shoe and Tell with the gorgeous Cherie at Style Nudge HERE.  Cherie is a self described "stylist and life long collector of unique things." It was an honor to be asked to contribute to her link-up featuring shoes, which are nearly as important to me as hats.
What better way to celebrate this event than traveling to Mod Livin' HERE for another afternoon of photos.  There are an unlimited number of background opportunities at this location that have been spinning around in our brains since last week.  How could I forget this sculptural ceramic planter and the set of cabinets circa the 50's by William Palmann?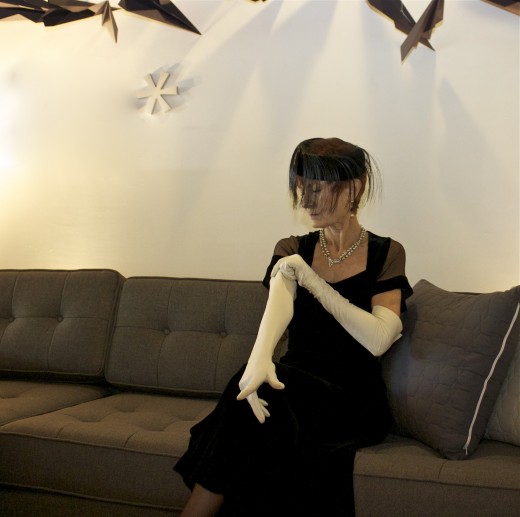 These long buttery-soft vintage leather gloves have been waiting for the light of day for years.  What am I saving them for if not a Thursday afternoon hanging out at Mod Livin'. They have a luxurious feel to them as I pull them over my elbows, nearly meeting the velvet and sheer silk chiffon sleeves of the gown.  They play nicely with "The Jane" sectional sitting on the showroom floor.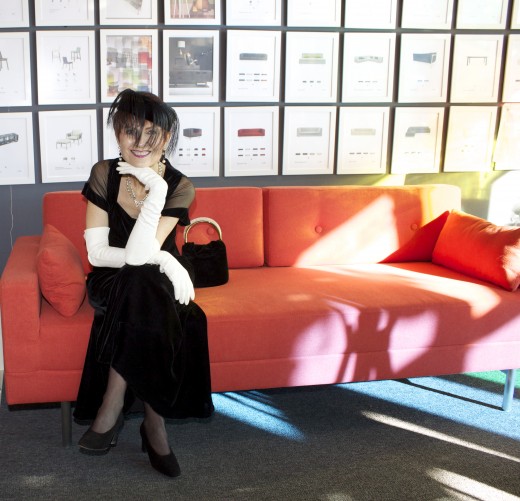 The sun creates shadows through the window with its warm light, unto the orange sleeper sofa by Blu_Dot, cleverly named "The One Night Stand."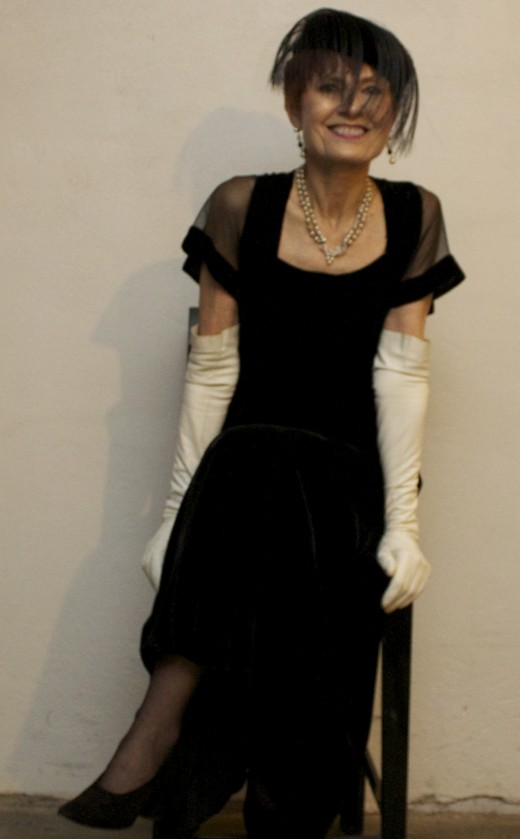 Photos By Daniel
I last wore this gown to a holiday party at a friend's home.  I can feel the warm energy of the memory today, as it makes its appearance accompanied by the burnt ostrich feather headpiece.  And for the gloves?  I'm ready to wear them again soon, and will be thinking about how they can accessorize another outfit in the future. I believe in wearing the good stuff now!
Everything that I'm wearing in this post was discovered at estate sales over the years, except for the pearl and rhinestone necklace, which was created in the 80's by my dear friend and brilliant artist Lonnie Hanzon HERE.
I'm linking up with Patti's Visible Monday HERE at Not Dead Yet Style.  Patti is wearing a Karina dress that looks like it was made for her.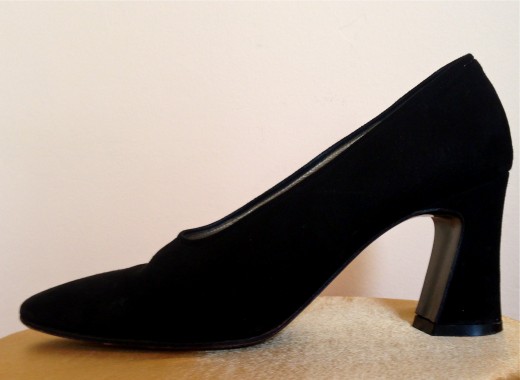 The estate sale vintage YSL black suede pumps are the featured accessory for Cherie's Shoe and Tell.  Show your shoes or your entire outfit in the link below!
SHOE AND TELL AT STYLE NUDGE HERE
Join my Shoe and Tell Link Up every Monday to share your favorite shoes, old or new, shoes you own, or shoes you wish you owned. Feature just your shoes or share with us your entire fabulous outfit, shoes and all!
Every Monday I feature a pair of my shoes and tell a little bit about them. Shoes make the outfit and who doesn't love shoes. Shoes have a story to tell, like where you were when you bought them, what event you were at when you first wore them, who you were with when you wore them, etc.
To join the link up follow these steps…
1. Please follow your Host on Facebook, Instagram, Bloglovin and/or Pinterest Thank you!
2. Feature your entire outfit or just your shoes.
3. Visit other link up blogs. It's a great way to get to know other style bloggers, as well as their shoes!
4. Every week I will be selecting my favorite shoe/outfit post. The chosen blogger will be invited to be the next Shoe and Tell co-host the following week.
5. Please link back to Style Nudge by posting a link in your post or grab my Shoe and Tell widget below and paste to your link up post.
Link-up will be live every Monday morning. Click to join below…



_