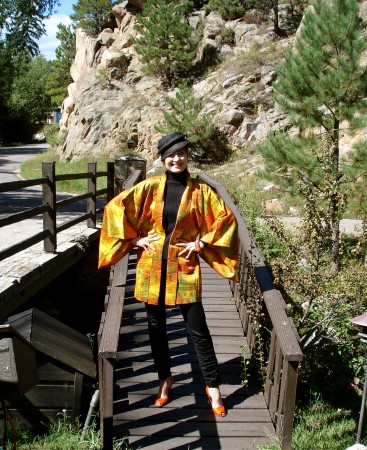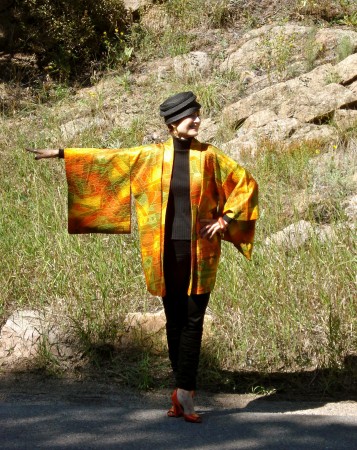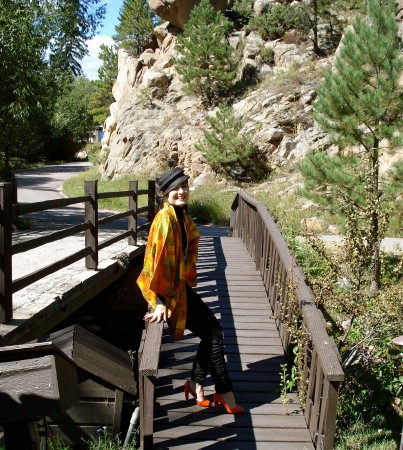 Photos by Camille
The Style Crone and Camille planned an overnight escape into the picturesque foothills of the mountains of colorful, magnificent Colorado.  About 40 minutes from Denver lies the community of Evergreen, where we enthusiastically embraced the experiences of a night at The Highland Haven Creekside Inn HERE, relaxing massages, dinner at a charming bistro, and a long luxurious stroll through the the streets in the morning.  The SC discovered a fabulous consignment store to explore, which falls under the category of  'mood elevation' and ensures more frequent visits to this magical place.  We shared precious time together, discovering that even one day removed from the usual rhythm of life is healing and provides a new perspective.
To celebrate the occasion, The SC wore a kimono purchased from Iman of  Mishaps and Miracles HERE . The description on Iman's Etsy site reads,  'This  is a silk haori, a shorter kimono usually worn as a light weight jacket over longer kimono. It's done in wonderful shades of orange, green, and light brown. It's quite unusual and this adds to its beauty.'  I discovered Iman, who blogs from Japan, through the extraordinary Terri of RAGS against the MACHINE HERE.  The internet provides beautiful and meaningful connections, reflected in the orange of the fabric of this kimono.
The brilliant sunny day called for a Diane Harty HERE straw hat and orange patent leather open toe heels found at a Nordstrom's summer sale several years ago.  The pumps shone as brightly as the sun and as radiantly as the time that was spent with my elegant daughter, highlighting a highly valued connection!